Campaign Monitor Vs Mailchimp, which software is a better option in 2021?
Read this ultimate Campaign Monitor versus Mailchimp comparison to make a smart decision.
Everyone wants to grow their business and forge a better relationship with customers.
There are many ways in which you can achieve this. One of them is email marketing, which remains one of the most effective mediums when it comes to delivering the right message to the right audience.
An obvious reason to opt for a reliable email marketing tool is that it puts you in control of communication with customers, as you can decide how many emails to send and how frequently.
Further evidence lies in stats.
The number of email users across the globe is set to go beyond 4 billion by the end of 2021 and is projected to approach 4.4 billion by 2023. 
Email marketing also makes perfect sense from a strictly money-making point of view. Estimates suggest that every dollar spent on email marketing helps you earn $38, translating into a 3,800 per cent return on investment.
However, choosing an email marketing tool that best fits your needs (and within your budget) is a daunting task. It's not because such tools are rare. It's simply because of the opposite: there are too many, including ActiveCampaign, Aweber, Campaign Monitor, GetResponse, Klaviyo, Mailchimp, etc.
Each email marketing tool has its strengths and weaknesses, and it's up to you to learn about them as much as possible. You can even try these tools, as most of them offer limited free versions or money-back guarantee.
In this article, we are going to compare Campaign Monitor and Mailchimp, two of the most famous names in the email marketing world.
Campaign Monitor, founded in 2004, is used by more than two million marketers at about 250,000 businesses the world over. Mailchimp, founded by the Rocket Science Group in 2001, boasts millions of customers and has become synonymous with email marketing.
In this comparison, we will examine both products side by side on different metrics and tell you which of them performs better in each category.
Comparison at a Glance
1. Features
Winner: Mailchimp. Mailchimp provides better overall features, especially when it comes to segmentation and automation.
2. Deliverability
Winner: Mailchimp. Mailchimp has excellent deliverability score according to an independent evaluation. Campaign Monitor was not included in that assessment.
3. Integrations
Winner: Both. Both email marketing platforms offer excellent integration options.
4. User Interface
Winner: Both. It's quite easy to get started with both marketing platforms. They provide a straightforward and easy-to-navigate interface.
5. Pricing
Winner: Mailchimp. Mailchimp provides slightly more affordable pricing options compared to Campaign Monitor.
6. Customer Support
Winner: Campaign Monitor. Campaign Monitor enjoys a better rating in the customer support category by its existing users.
Short Verdict
Mailchimp is our overall winner as it offers a more robust feature set, including analytics, A/B testing, segmentation, and landing pages. Mailchimp's generous package also sets it apart from other email marketing tools.
1. Features
Features are what set an excellent email marketing tool apart from an ordinary one. A tool lacking advanced features gives little value for money, no matter how low its price is.
Let's see what Campaign Monitor and Mailchimp bring to the table in this section.
Email Templates
The first step to engaging more and more people in your business is to create well-crafted emails. Therefore, providing an excellent email builder is always the priority of an email marketing tool.
Let's see what Campaign Monitor and Mailchimp offer in this category.
Campaign Monitor has some beautiful email templates that you can use to create campaigns within minutes. It also offers a lot of options if you want to create your emails from scratch.
With Campaign Monitor's drag-and-drop email builder, you can seamlessly add new text, images and social buttons (Facebook, Instagram, Twitter) in your email. The platform also lets you test your campaign before sending it to your contacts.
Campaign Monitor guides you until you get the design that satisfies you. So, if you're new to email marketing, it is a great platform to get started.
Mailchimp offers more than a hundred well-designed and eye-catching templates. Like Campaign Monitor, Mailchimp also lets you make changes to built-in templates so that you can meet your requirements.
If you don't find these templates helpful, you can design your own templates with Mailchimp's drag-and-drop editor.
After finalizing your email, you can preview it to see how it will look on different devices (smartphones, tablets and PCs) and specific email clients (such as Gmail and Outlook).
Remember that Mailchimp's free plan comes with only basic templates. You need to go for a paid suite in order to access all the templates offered by the platform.
Segmentation
Segmenting contacts depending on specific criteria helps you target the right people with the right message, thus helping you achieve the desired outcome more quickly.
Let's see which among Campaign Monitor and Mailchimp offers better segmentation.
In Campaign Monitor, you can segment your audience using Lists (a group of contacts that you upload in your account) and Segments (groups of individuals that you create on the basis of different custom fields like age, gender, location, etc.).
However, Campaign Monitor doesn't provide the option of 'tags' to create segments, which means you can't be able to find out your contacts' actions in the past like who purchased a product or who registered a complaint about your service.
However, multiple rules can be applied to a single segment, which allows you to create a list of people who, say, live in New York and made purchases from your store in the past week.
In comparison, Mailchimp offers some handy options when it comes to segmentation. You can create segments on the basis of your subscribers' actions like who opened (or didn't open) the email, who clicked (or didn't click) specific links in the campaign, who made a purchase, etc.
Mailchimp also allows you to create segments on the basis of your subscribers' website and social media activities.
However, if you're looking to create complex segments, then you should go for Mailchimp's Premium plan (which is kind of pricey) to access advanced segmentation.
Automation
No individual or business wants to handle their entire email marketing strategy manually. Some sort of automation is necessary to help you work efficiently and to make your life easier.
Let's see which among Campaign Monitor and Mailchimp has better automation functionality.
In Campaign Monitor, you can use the journey builder to create a series of emails that will be sent when triggered by subscriber activity, specific date or event.
You can easily create subscriber journeys in Campaign Monitor. To do this, navigate to the Automation section and click Create a new journey. You can also build multiple journeys for the same segment.
Furthermore, the automation process helps you visualize your email campaigns, including what kind of emails your subscribers will receive based on what actions they take.
Mailchimp also provides excellent options when it comes to automation, ensuring your subscribers get the right message at the right moment.
The platform offers some tremendous pre-built automation types including welcome or birthday messages, abandoned cart email, product recommendation, and more. You can also create your own automated emails with workflow editor and add triggers as per your requirement.
You can also integrate Mailchimp with your website and automate emails based on subscriber activities, such as what link they click or what product they buy from your site.
However, all these automation capabilities come only with Mailchimp's paid plans. The free plan offers minimal automation features, including single-trigger welcome emails and order notifications.
If you want advanced automation, which includes retargeting ads, multi-step custom workflows, and optimizations, then you need to upgrade to Mailchimp's higher-priced packages.
Reporting and Analytics
It's essential to keep an eye on your campaign's performance to get good results.
In Campaign Monitor, you can easily view a detailed report of every email you send, including metrics such as opens, clicks, bounce rate, the number of emails sent and delivered, unsubscribes and much more. If you want to share your report with someone, you can export it to the PDF format.
However, some people may find Campaign Monitor's reporting and analytics quite basic. For instance, Campaign Monitor's reports do not tell you at what time a customer opens your email, which essentially limits your ability to bring in further improvements.
Mailchimp, on the other hand, offers more detailed reporting and analytics. On the Campaign page, you can get an overview of different metrics, including opens, clicks, unsubscribes, bounce rate, campaign engagement, audience growth, etc.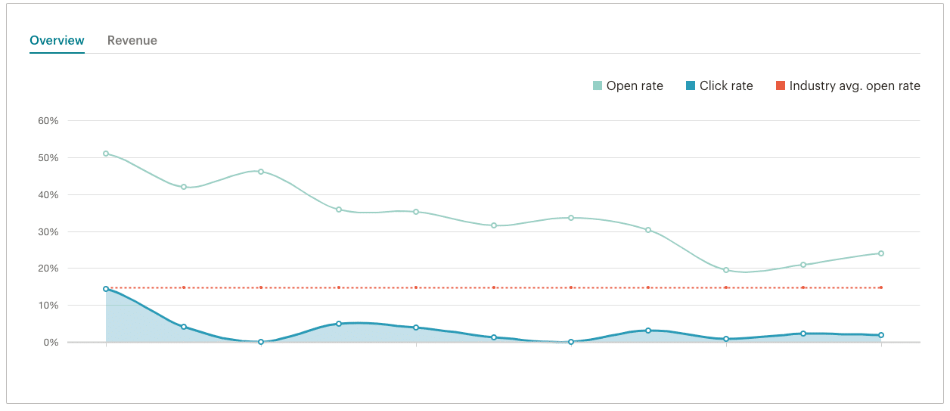 Mailchimp also lets you track your campaigns' progress rate by comparing your email delivery with industry benchmarks.
However, as can be expected of any email marketing tool, Mailchimp reserves most of its advanced reporting features for paid packages.
For instance, the Send Time Optimization feature that comes with the Standard and Premium plans identifies the best time to send emails to your contacts by looking at your current analytics.
A/B Testing
A/B testing boosts the performance of your campaigns, as it helps you identify which version of your email attracted more opens and thus increasing the likelihood of achieving your targets.
Let's see which among Campaign Monitor and Mailchimp offers a better A/B testing functionality.
In Campaign Monitor, you can A/B test any one of the three variables: subject line, from name or email content. Besides, you can create only two versions of the variable to conduct split testing (for example, two subject lines).
To get started, go to the Campaigns page, click Create a new campaign, and then select A/B test appearing on the top of the page.
After setting up different versions, select the subscribers' lists to send to and the size of your test group, and set a length of time to run the test.
It's also up to you to decide the winning criterion, including metrics like open rate, total unique clicks, or total clicks on a selected link. You can't change the metric once the test gets started, but you can monitor all of them while the test is under way.
Once the test finishes, the remaining recipients will be sent the winning version automatically. However, in case the test ends in a tie, version A will be sent to the rest of the list.
Mailchimp also offers excellent options when it comes to A/B testing. However, most features are reserved for paid suites, and the free package lacks many functionalities.
In Mailchimp, you can A/B test up to three versions of one of the four variables of your campaign: subject line, from name, content, and send time.
Afterwards, Mailchimp automatically generates different combinations of your campaign and send different variations to selected test groups.
The winning version will be selected on the basis of the number of clicks, opens, and total revenue. However, it's up to you to choose the winner automatically or manually.
Once the winning version is determined, it will be sent to the remaining subscribers.
Mailchimp also provides multivariate testing with its highest-priced plan. With this feature, you can test up to eight campaign variants at once.
Winner: Mailchimp. It's a close call, but Mailchimp is the winner here on the back of its advanced segmentation and automation functionality.
2. Deliverability
Sending your email right to your customer's inbox is the primary job of an email marketing tool. If your emails are ending up in recipients' spam/junk folders or in the Promotions tab (in Gmail), you may need to change your email marketing service to achieve better deliverability.
According to recent evaluations by EmailToolTester, Mailchimp's overall deliverability rate was 81.6%, which is not bad but not good as well.
Mailchimp managed to place 78.9% emails into the main inbox, whereas 16.8% emails sent through the platform landed in the spam folder.
Data for Campaign Monitor was unavailable, as it wasn't included in the test.
Winner: Mailchimp. We would have to give this round to Mailchimp because of lack of data in the case of Campaign Monitor.
3. Integrations
Campaign Monitor allows you to easily connect with some of the major third-party apps out there, such as Shopify, Salesforce, Magento, RunGopher, Intercom, WordPress and more.
Mailchimp is a boss here. It offers nearly 250 integrations, including all popular apps and web services, such as WordPress, BigCommerce, Magento, Square and WooCommerce.
You can also integrate your Campaign Monitor and Mailchimp with Zapier, which lets you connect with more than 2,000 apps.
Winner. Both. Although Mailchimp offers more integration options, both tools connect with all major apps and web services.
4. User Interface
All excellent email marketing tools offer a user interface that is intuitive as well as easy to use.
Campaign Monitor
Campaign Monitor presents an intuitive and easy-to-navigate user interface.
Besides easy-to-understand categories and visually appealing interface, Campaign Monitor spells out its categories in layman's terms so that even beginners can make use of the software with ease.
The email-building dashboard is also very straightforward. You can experience different features with just a few clicks, easily drag and drop elements as per your requirements and browse through segments individually.
There are also some interesting and handy features which you can access easily. For instance, you can see how your email looks like after landing into your customer's inbox.
Mailchimp
Now, let's see what Mailchimp brings to the table. It is undoubtedly one of the most user-friendly email marketing tools.
The platform offers clear navigation and a lot of flexibility; for instance, it's up to you to add sender info and choose recipients first or create email first and then add the info.
In the campaign builder, there is much room for tweaks when it comes to layout and image placement. Moreover, you don't have to worry even if you are a beginner. Mailchimp's drag-and-drop editor lets you create any design you want or customize built-in templates by adding text, images and custom fields.
Mailchimp offers more in-depth reporting and amazing landing pages as compared to Campaign Monitor.
Winner: Both. Once again, it's difficult to pick a winner here. Both Campaign Monitor and Mailchimp are user-friendly, and you don't have to go through a lot of learning to understand what's what.
5. Pricing
Pricing is a major factor to consider when you are searching for any product or a piece of software. No matter you are working on your own or running a business, the price of a marketing tool plays a pivotal role when it comes to making a purchase decision because, admit it, nobody has unlimited cash flows.
Let's first have a look at the pricing options offered by Campaign Monitor.
Campaign Monitor
To begin with, there are no freebies here, which is a little disappointing, especially when the comparison is against Mailchimp, which offers one of the most generous free plans out there.
Campaign Monitor's pricing structure varies depending on the number of contacts (starting from 500 to more than 50,000) and your chosen plan (Basic, Unlimited and Premier).
For instance, if you want to send emails to up to 500 contacts, then the pricing would be like this:
Basic (Starting from $9 a month)
Unlimited (Starting from $29 a month)
Premier (Starting from $149 a month)
However, keep in mind that with the Basic plan you can send a maximum of 2,500 emails per month. The plan offers all core email marketing features, insight analytics suite, basic automation and email support.
The Unlimited plan comes up with everything available in the Basic plan, plus unlimited sends and inbox previews, time zone sending, unlimited spam testing, and a countdown timer.
The last and the most expensive plan from Campaign Monitor, the Premier suite, offers everything available in the Unlimited plan, plus it also gives you access to some highly advance features including pre-built engagement segments, send-time optimization, advanced link tracking, and email builder section locking. With this plan, you'll get access to phone support as well.
The price goes up – quite significantly – as your email list grows. For instance, the Premier plan for 50,000 subscribers costs a whopping $989 per month.
Mailchimp
The good thing about Mailchimp is that it boasts an excellent free plan. Although this package provides only basic functionalities, it does let you send as many as 10,000 emails per month to as many as 2,000 subscribers.
If you're looking for an advanced feature set, then you should opt for Mailchimp's paid plans. Like Campaign Monitor, Mailchimp's pricing also depends on the number of subscribers as well as features included in the plan. For 500 contacts, your pricing structure would be:
Essentials (starting for $9.99 per month).
Standard (starting from $14.99 per month).
Premium (starting from $299 per month).
The Essentials plan offers all email templates, A/B testing, custom branding, and email and chat support.
The Standard plan comes with advanced audience insight, retargeting ads, custom templates, and event-based automation series.
Under the Premium plan, you will get access to some highly advanced features, such a multivariate testing, advanced segmentation, unlimited audiences, unlimited seats and role-based access and phone support.
Winner: Mailchimp. Although both companies offer quite affordable pricing plans, Mailchimp's price points are slightly better and more flexible than Campaign Monitor's. For example, if you have 50,000 subscribers and you want all the advanced features, Campaign Monitor's Premier package will cost you $989 per month as compared to $599 per month under Mailchimp's Premium plan.
6. Customer Support
The last thing you should bring into consideration while researching for a reliable email marketing platform is to check the customer service provided by the company.
While using an email marketing tool, it's only natural that you need to contact the company from time to time in order to lodge a complaint or to get an issue resolved.
Campaign Monitor doesn't offer too many support options to its users. Its initial plans lack live chat and phone support, and the only way you can contact the company is via email. However, if you want phone support too, then you need to upgrade to the Premier plan.
You can also check out Campaign Monitor's comprehensive and well-organized knowledge database and guides with videos to deal with basic issues. The platform also provides you with forums where you can interact with other users.
Mailchimp also doesn't offer the best support options when compared with other email marketing tools available in the market. If you decide to go for the free plan, then be prepared to serve yourself with the help of knowledge-based tutorials and guides.
With Mailchimp's initial paid plans, you'll get access to email and chat support. However, if you go for its Premium plan, which starts with at least 10,000 subscribers, you will have the phone support as well.
Let's also take a look at how existing users of both companies have rated these tools based on customer support.
According to software application review company Capterra, Campaign Monitor enjoys a fantastic rating of 4.6 out of 5 stars in the customer support category compared to Mailchimp's 4.2 stars.
Winner: Campaign Monitor. Both Mailchimp and Campaign Monitor offer similar customer support options. However, we are going to make Campaign Monitor the winner because of an excellent rating by its users.
Final Thoughts
Both Campaign Monitor and Mailchimp have simple user interfaces and excellent drag-and-drop editors for creating exciting email campaigns.
In Campaign Monitor, you can create and send email campaigns within minutes. The platform also seems to offer slightly better support options than Mailchimp.
However, Mailchimp offers more extensive analytics and A/B testing functionality (only with its paid plans). The tool allows you to create amazing landing pages.
You should go for Campaign Monitor if you want some awesome email templates and easy-to-understand segmentation. It's also the right tool for you if need company's support on a regular basis and don't need a lot of integrations.
Go for Mailchimp if you are starting out and need a decent free plan. However, remember that most advanced features only come with Mailchimp's premium packages.
You should also choose Mailchimp if you love DIY campaign building and need a lot of opt-in form features and landing page options. You will also get tons of integration options with Mailchimp.

Related Comparisons