ConvertKit or Mailchimp, which email marketing software is a better option in 2021?
Read this detailed ConvertKit versus Mailchimp comparison to make a smart decision.
There's no denying that social media plays an essential role in any business' marketing strategy and is the best medium for connecting with your target audience and strengthening your relationships with them.
In short, it is a crucial step towards reaching your ultimate goal. But when it comes to turning your audience into subscribers, clients, or supporters, email marketing is the way to go.
More than 34 percent of the world population (about 2.5 billion people) use email, according to Radicati Group's estimates. Moreover, roughly 196 billion emails are sent every day; of them, 109 billion are business emails.
Unlike many digital marketing tactics, emails offer the opportunity to personalize communication with your clients. With email marketing platforms like ConvertKit or Mailchimp, your emails can land directly in a user's inbox, creating one-to-one conversations.
All businesses, regardless of their sizes, need reliable and cost-effective email marketing software. But not all email tools are capable of doing the job for you. You need a platform that offers advanced and robust email marketing features like personalization, automation, reporting, A/B testing, and more.
In this comprehensive article, we'll pit ConvertKit and Mailchimp – two top dogs of the industry – against each other to find out which one is the best for you.
In a hurry? Take a look at the section below that summarizes the whole comparison.
Comparison at a Glance
1. Features
Winner: Mailchimp. Mailchimp comes with better overall features, such as automation, A/B testing, etc.
2. Deliverability
Winner: ConvertKit. Your emails are more likely to land in the main inbox of users with ConvertKit.
3. Integrations
Winner: Mailchimp. Mailchimp offers significantly more integration options than its competitor.
4. User Interface
Winner: Mailchimp. A more modern and easy-to-navigate interface makes Mailchimp the winner of this category.
5. Pricing
Winner: Mailchimp. Mailchimp provides better and easy-to-understand pricing options.
6. Customer Support
Winner: ConvertKit. It's relatively easier to get in touch with ConvertKit's support than with Mailchimp's.
Short Verdict
With its highly advanced features, ease of use and an unmatched free plan, Mailchimp is our preferred choice in this comparison. However, ConvertKit has an edge in some areas; for instance, its landing page feature is way better than Mailchimp's.
1. Features
In order to qualify as a comprehensive email market platform, the software needs to offer a wide array of useful features.
Let's take a look at the feature set of both ConvertKit and Mailchimp.
List management
You can't create lists in ConvertKit, and all contacts are uploaded in the same place. However, you can organize contacts by assigning them to a form, sequence, or tag. Besides, you can also create segments of contacts with similar characteristics, regardless of whether they belong to the same form/sequence/tag.
In comparison, Mailchimp does allow list creation. This comes in handy if you are managing email for multiple clients. (There's a slight catch here: if the same contact appears in two audiences, Mailchimp considers it two separate people.)
You'd ideally use multiple lists if you are managing more than one business or project. However, in the case of one business or project, it's better to use a single list and organize contacts using different tags.
Winner: Both. Mailchimp may sound a bit too complicated for an average user, but it does offer more options. At the same time, ConvertKit has a more straightforward method of managing contacts.
Segmentation
Mailchimp and ConvertKit almost have a similar approach when it comes to segmentation. In Mailchimp, you can filter contacts based on the audience data by selecting conditions from a dropdown menu.
You can create segments based on data you have about your subscribers. For example, who opened or didn't open any of your previous campaigns, who clicked or didn't click the links you embed with email, subscribers who recently purchased a product from your website and customers who live in a particular location.
In Mailchimp, you can add up to five filters in a segment, whereas ConvertKit doesn't appear to have any limit in this regard.
Mailchimp expands its segmentation options with tools like Social Profiles (which segments contacts based on their website and social media activity) and Advanced Segmentation (which helps create complex segments by providing "any" and "all" logic in a single segment).
However, these advanced tools may not be for everyone, as they come at an additional cost, even if you are a paid subscriber.
ConvertKit also offers a robust set of segmentation features. It allows you to select from 10 filters (for example, first name, subscription date, etc.) or create a custom field. You can include and exclude filters using "and," "or," and "not." For instance, you can segment all those contacts who subscribed before a specific date and live in Britain.
In ConvertKit, you can make your lists smarter by creating a tag to track almost any type of subscriber activity. For instance, you can tag everyone who opened a specific page or who purchased a particular product. You can also combine tags using the segment builder into a list or connect only to a particular group of tagged contacts.
Email Creation
ConvertKit uses a basic-level WYSIWYG (what-you-see-is-what-you-get) editor for formatting and placing content. You can do basic things like changing font size or color, adjusting alignment, adding files and images, etc., but there's limited room for customization.
ConvertKit does offer basic templates, but there is no easy way of advanced formatting or customization, as it requires you to go to email's HTML and make changes to the code. So, you are on your own here.
The good news is that ConvertKit's new email editor is in the works. Its beta version offers a modern interface and more formatting options.
Let's see what Mailchimp has in store for us.
Mailchimp's email editor has an excellent interface and offers more customization options. Creating excellent emails is a matter of minutes thanks to amazing layout templates having pre-placed blocks for headlines, body text, and photos. You just need to add content and images and tweak colors and fonts to your liking, and you are good to go.
You can also create emails from scratch with Mailchimp's straightforward, blocks-based drag-and-drop editor. When creating an email, you will find separate boxes for all elements ranging from text, images to separators.
So, even if you are not a designer, you don't have to worry a lot as you can still create awesome emails with Mailchimp.
Registration Forms and Landing Pages
Signup forms and landing pages create the first and lasting impression on customers. They are a first step towards creating a new and strong connection with the audience and growing your list.
In ConvertKit, you can create forms and landing pages in different ways. You have the option to host landing pages on your WordPress domain or in ConvertKit itself. As far as the forms are concerned, you can embed them on a landing page that you host or on your website.
Creating a form in ConvertKit is a matter of minutes. To do this, click on Create Form, and then choose Form from the pop-up tab. After that, you will have different layouts at your disposal, including Inline, Modal, Slide-in and Stick bar. Once you choose a format, you'll see a few options for templates. Select one to go ahead and make amendments as per your desire by changing text, button, colors, fields, etc.
After completing a form, set up your incentive email (or the confirmation email). By default, your form will be set to double opt-in. Subscribers who make a confirmation and get their incentives are far more likely to stay with you for a longer period. To add the form to your website, you can embed it using WordPress, get a shareable link or embed code in JavaScript or HTML.
Once you are done with the form, you'll need to place it on a landing page. You have to follow similar steps to create a landing page (all landing pages come pre-made with a form). In ConvertKit, there are 24 pre-built templates, and have the options to edit images, copy, font, colors, and more. ConvertKit automatically hosts the page for you, giving you a shareable link. However, you also have the option to host the landing page on your website using ConvertKit's WordPress plugin.
In comparison, Mailchimp's form creation process may seem a bit confusing for beginners. If you need an embedded form, you click Embedded form, which takes you to a page with the code to paste it on your site. But if you want to edit this embeddable form, you'll have to go to the form builder, which is on another page. It seems like a bit confusing task.
Besides, the pop-up form editor is given separately, which makes the user experience a bit more complicated.
Thankfully, the landing page process is less complicated than the form creating process. You have the option to pick one of eight landing page templates and then further customize the page in the drag-and-drop editor (like with email). Another good thing is that if a template contains a form, you can edit the form and its fields directly in the landing page editor.
Reporting/Analytics
ConvertKit doesn't offer a dedicated page for analytics, and you will have to go to separate tabs to see campaign metrics. For instance, if you want to see growth in subscribers over a period of time, total subscribers, average click-through rate, average open rate, etc., you will find all the details nested in the Subscribers section.
However, if you want to look at reports for automated emails, you need to visit the Sequences section. Similarly, you will find an overview of each email's metrics and in-depth metrics (such as A/B testing) in the Broadcasts tab.
In comparison, Mailchimp also offers extensive reporting designed to give you information about your campaign performances, so that you can build better emails and campaigns in the future. Thankfully, Mailchimp provides a more streamlined experience in this regard, and you can monitor various metrics under the Reports tab.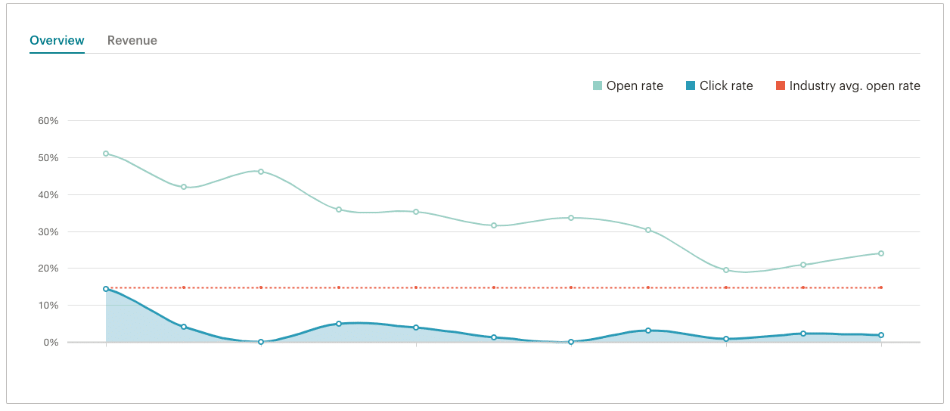 You can track and analyze data based on clicks, opens, social activity, e-commerce purchases, and other interactions. When you open your report, you'll see a summary of campaign performance: who received the campaign, who opened it and when, what links they clicked, how many successful deliveries were made, and other information. This way, you get to know how well your particular campaign performs against other companies in the same industry.
A/B testing
In ConvertKit, A/B testing of your email is an effortless task. To find the A/B option, click the Broadcasts tab in your account, and then click New Broadcast. You'll notice the A/B option to the right of your subject line. You have to type two variables in email subject boxes, and ConvertKit does the remaining work.
In the first four hours, the two versions are sent to 30 percent of the recipients, meaning each version is sent to 15 percent of people randomly. After that, the version that performs better is automatically sent to the remaining (70 percent) recipients. You can't change the specified time and the percentages in ConvertKit.
It also allows you to track metrics and results from the A/B test after you send the email. To do this, click into the specific email and it will show you the report.
Mailchimp offers more options when it comes to A/B testing. However, the platform offers the functionality only with its premium plans. You can conduct split testing of different elements of your email. To set up the A/B testing campaign, you have to choose one of four variables – subject line, "from" name, content, and send time – and create up to three variations (for example, three subject lines).
Mailchimp generates all possible combinations and sends them to different sets of recipients, so no subscriber receives more than one combination of your campaign.
It's also up to you to determine the winning version depending on the higher open rate, click rate, etc. If you have an e-commerce store, you can also determine the winner by total revenue.
Automation
ConvertKit has the right to take pride when it comes to automation. Recently, the company added a new amazing feature called 'Visual Automations,' which shows that they're heading in the right direction.
Visual Automations lets you define how someone should enter a sequence like signing-up to a form, makes a purchase, or when they are assigned a tag. Like other advanced automation editors, it also allows you to add steps based on events, actions, and conditions. You can even add multiple sequences to automation.
With ConvertKit's Sequences feature, you can set up a sequence of automated emails such as welcome, birthday, and anniversary emails. The good thing about this feature is that you can create and customize a series of emails as you're building the sequence. You can add as many emails as you want without having to jump to another section of the tool.
The next is automation rules. You can add triggers such as clicks a link or makes a purchase and set up activities such as add a tag or add to a sequence.
Mailchimp also provides some advanced automation capabilities. It helps you streamline your communications and ensures that your contacts get the right emails at the right time. You can send your subscribers an email when they click a link in your email or make a purchase from your online store.
You have the option to choose from many pre-built automation types, or you can also create your own automated emails using Mailchimp's straightforward workflow editor.
There is also an option of goal integration through which you can email subscribers who visit from your campaign to a specific page of your website.
However, these automation features do not come with Mailchimp's free plan, and you have to pay if you want to enjoy these features.
Winner: Mailchimp. It's a fierce competition between Mailchimp and ConvertKit when it comes to offering advanced features to users, but Mailchimp has a slight edge over its rival because of its better automation, A/B testing and email creation options.
2. Deliverability
Both Mailchimp and ConvertKit are excellent in delivering your emails, but there is a slight difference in spam and sender rate. Mailchimp's overall deliverability rate is around 85 percent, while ConvertKit touches 87 percent. However, Mailchimp enjoys a significantly higher sender score of 97.5 percent compared to ConvertKit's 83.9 percent.
While there is not much difference in spam rates (ConvertKit 10.6 percent vs. Mailchimp 13.1 percent), Mailchimp's emails are more likely (60 percent) to land in the Gmail's Promotions inbox than ConvertKit's emails (26.7 percent).
Winner: ConvertKit. As figures show, ConvertKit not only has better deliverability rates, but it also lands more emails in the primary inbox of users.
3. Integrations
In this round, there is no comparison between the two as ConvertKit has around 90 integrations while Mailchimp offers nearly 800 combinations, but both allow you to set up APIs.
While ConvertKit doesn't offer integrations with some major CRMs, it does integrate with big names such as WordPress, Wix, Shopify, etc.
Mailchimp is on another level when it comes to integration, as it connects with all major CRM, e-commerce and social tools.
Winner: Mailchimp. Mailchimp is the undisputed king when it comes to offering integration options to users.
4. User interface
Both ConvertKit and Mailchimp have a friendly user interface. Let's see which platform is easier to use in creating emails and performing other tasks.
Mailchimp offers a versatile, step-based approach to creating emails. It's up to you whether you want to go for creating the email straight away or add sender details and choose recipients first.
What makes email marketing even more effortless is Mailchimp's drag-and-drop editor, which helps you easily add and remove elements, edit text, and change images and designs.
ConvertKit also offers an easy-to-navigate interface. You can create one-time emails from the Broadcasts section. Unlike Mailchimp, ConvertKit requires you to specify subscribers and sender details before creating an email.
ConvertKit offers a simple email editor, but it also comes with fewer options and lacks the drag-and-drop functionality. Another irritant is the absence of the undo function, which is another minus point for ConvertKit.
Moreover, email templates offered by ConvertKit are text-based, which practically limits your editing options such as changing font size and color, formatting text, adding images, etc.
Winner: Mailchimp. It's relatively easy for an average or new user to get along with Mailchimp thanks to its intuitive and straightforward interface.
5. Pricing
ConvertKit and Mailchimp are both decent tools, as we've seen so far in this comparative analysis. They're two of the best and most comprehensive email marketing platforms available.
Let's see which among Mailchimp and ConvertKit fares better in this category.
The pricing of ConvertKit is much easier to understand, as all its plans have (almost) the same features. The pricing is based on the number of subscribers, and starts at $29 a month for up to 1,000 subscribers, $49 for up to 3,000 subscribers, and $79 for up to 5,000 subscribers.
ConvertKit also offers higher plans. For instance, if you have 50,000 subscribers, you'll be paying $379 monthly.
Unlike ConvertKit, Mailchimp offers a free plan. The free version offers all basic functionalities but lacks advanced features like A/B testing, automation, analytics, or customer support. You can send 12,000 emails per month to 2,000 subscribers with the free plan.
Mailchimp's premium plans include Essentials (starts at $10 per month), Standard (starts at $15 per month) and Premium (starts at $300 per month).
Apart from buying extra room for contacts and emails, you have to pay if you want additional tools.
Like ConvertKit, Mailchimp's pricing is also easier to understand. Its slider shows you how much you're going to pay regardless of the number of your subscribers.
Winner: Mailchimp. Mailchimp is slightly more affordable than ConvertKit, as seen from their pricing plans.
6. Customer support
Both ConvertKit and Mailchimp are pretty good when it comes to customer support. You can approach both companies through email or chat (Note: Mailchimp only provides support to premium users). You can also benefit from knowledge-based tutorials from both ConvertKit and Mailchimp.
Mailchimp kind of buries its email and chat support options in the knowledge base sections, whereas you can access ConvertKit's support links quite easily.
Winner: ConvertKit. It's easier to seek help from and get your issue resolved with ConvertKit.
Final Thoughts
It's a tough ask to pick one from ConvertKit and Mailchimp, as both offer powerful email marketing features, especially for small start-ups.
If you are looking for a simple platform that can help you easily create, send, and automate emails for free, then Mailchimp is the best option. With Mailchimp's free version, you can store up to 2,000 contacts and access one-click automation and basic templates.
If you want to go for a paid plan to get more room for subscribers, Mailchimp would still come out on top because of its advanced email marketing features.
ConvertKit has no free plan for you, and its premium plans are more also a bit expensive than Mailchimp's.
However, ConvertKit can be your preferred choice if you want to customize your own landing pages with the added benefit of email as ConvertKit's landing page and form features are way better than Mailchimp.
Related Comparisons