Klaviyo or Mailchimp, which email marketing software is a better option in 2021?
Read this detailed Klaviyo versus Mailchimp comparison to make a smart decision.
It's a fact that when it comes to open rates and click-throughs, email marketing outperforms social media every time.
According to Monetate, email marketing produces the highest conversion rates than any digital platform, including Facebook and Twitter.
For businesses, one of the most important things is to maximize Return on Investment (ROI). According to Campaign Monitor, for every $1 spent, email marketing generates $38 in ROI. In comparison, businesses make $2 in ROI on average for every $1 spent on Google Ads, according to Google's Economic Impact report.
The above figures give a glimpse of the vast difference in performance between email marketing and other digital platforms. With this in mind, it would be highly profitable for you if you include email marketing in your digital marketing strategy.
However, the problem is that are too many email marketing tools out there, and picking the one that fulfills your needs, as well as your budget, can be a daunting and annoying task. But don't worry. We are here for you to help you find out which tool is the best for you.
In this article, we'll comprehensively compare Klaviyo and Mailchimp to find out which of them gives more bang for your buck.
Both Klaviyo and Mailchimp are intuitive platforms where you can easily create professional emails, design workflows and automate conversations with clients.
Klaviyo is an expensive tool that offers advanced automation and segmentation features, which can be utilized by big organizations. However, Mailchimp is the best solution for small- to medium-sized businesses, as they don't need advanced features to get started.
There are many other differences between Klaviyo and Mailchimp, and we'll discuss them in detail in this article.
In a hurry? Take a look at the section below that summarizes the whole comparison.
Comparison at a Glance
1. Features
Winner: Klaviyo. Klaviyo offers a uniform plan with all the advanced features.
2. Deliverability
Winner: Mailchimp. Mailchimp wins this round on the back of its excellent deliverability rates.
3. Integrations
Winner: Mailchimp. Mailchimp offers many more integration options than Klaviyo.
4. User Interface
Winner: Mailchimp. Mailchimp provides a more straightforward and beginner-friendly interface.
5. Pricing
Winner: Mailchimp. Mailchimp has more pricing options and can cost you less as you scale up.
6. Customer Support
Winner: Both. Both companies offer excellent customer support options.
Short Verdict
Both Mailchimp and Klaviyo have their pros and cons. Klaviyo offers some excellent features, no matter how many contacts you have. However, Mailchimp provides better deliverability rates and its straightforward interface makes it one of the most user-friendly email marketing tools in the world. Also, Mailchimp has a more flexible pricing structure than its competitor.
1. Features
In order to qualify as a comprehensive email marketing platform, a piece of software needs to offer a wide array of useful features.
Let's take a look at the feature set of both Klaviyo and Mailchimp.
List management
In Mailchimp, you can easily create and manage lists for multiple clients at once. However, if you have the same contact in different lists, then you have to pay for that contact for each list, which sounds a bit costly.
Multiple lists come in handy if you're managing different types of works, but if you're dealing with only one project, you should use a single list and tag contacts to organize them.
Apart from lists and tags, you can also organize contacts in Mailchimp using segments and groups. However, too many options for organizing contacts may create complications for some users, but that totally depends on one's personal preference.
In Klaviyo, you can create a list within a few clicks. To do this, click the Lists and Segments tab and then click the blue colored Create List / Segment button given on the upper right side. Next, create a new list and add contacts.
However, Klaviyo demands some essential requirements for formatting your data, such as your list of contacts should be in the CSV format and the head of the first column (which contains email addresses) must have the word Email" or "Email Address."
Segmentation
Let's find out what Klaviyo and Mailchimp have to offer when it comes to segments, which let you identify and analyze people who meet specific criteria.
In Klaviyo, you can create a segment based on behavioral or transactional data like page views, email signups, orders, invoices, payments, or other user actions. It also lets you make event-based segments; for instance, when your clients make their first purchase.
If you dig deeper, you will find out that Klaviyo also allows you to create super-specific segments (for example, people who visited your online store in the past week or people who bought T-shirts 10 times in December).
Klaviyo's integration with Facebook audience targeting also gives you handy options regarding segments' customization. For example, you can see target people who buy specific products, who buy only on weekends, or who always wait for the voucher to make a purchase.
Klaviyo also provides data science tools that you can use to gauge customers' lifetime value and predict which of them are probably going to turn into your VIP customers.
In short, you can create a lot of segmentations with Klaviyo, and the amazing fact is that it will not add to your monthly email charges.
Mailchimp, on the other hand, also provides a decent segmentation option but not as vast as Klaviyo's.
Mailchimp gives you the option to create segments based on the audience data like who opened the email, who clicked specific links in the campaign, who made a purchase, etc. You can also create a segment based on your subscribers' website and social media activities.
However, if you want some next-level segmentation, then you need to pay additional bucks to get Mailchimp's pricey Premium plan, which comes with advanced segmentation. This advanced tool helps you create complex segments.
Email Templates
Well-designed emails help in engaging more and more people. Let's see what Klaviyo and Mailchimp have to offer in this category.
Klaviyo offers more than 30 brand new templates that make it easy for you to deliver a message to your subscribers in a powerful way.
To choose a template for creating your email, you need to access the Email Templates tab and then click the Create Template button. Here, you can pick a template that suits your needs and customize it by editing text and images, adding new fields, etc.). You can also import your own custom-coded templates if the available ones don't satisfy you.
Overall, Klaviyo's email creation process seems quite simple.
In comparison, Mailchimp offers more than a hundred templates, way more than Klaviyo does. Mailchimp also allows you to customize these templates according to your campaign's requirements.
Still, if these dozens of options don't fit into your scheme, you can also custom-code your own templates with Mailchimp.
Mailchimp also gives you the email preview option so that once you are done with creating an email, you can view how it looks like on different devices (like smartphones and PC) and in specific email clients (such as Gmail and Outlook).
Registration Forms
Mailchimp's form creation process seems to be a bit complicated for beginners because it generates code for its signup forms to embed it on your website.
If you need an embedded form, you click Embedded form, which takes you to a page with the code to paste it on your site. But if you want to edit this embeddable form, you'll have to go to the form builder, which is on another page. That doesn't sound exciting.
In comparison, Klaviyo has a form library from where you can get pre-built forms, which can be customized as well. You can create three types of forms – pop-up, flyout and embedded – for both desktop and mobile versions.
If you don't like the templates, Klaviyo also lets you create your own form from scratch.
Reporting/Analytics
Klaviyo lets you keep an eye on key metrics of your campaigns, such as the number of clicks, bounced messages and unsubscribe rates.
In Klaviyo, you can easily monitor your campaign's performance under the Metrics section. The analytics dashboard helps you view your metrics in different styles, including a line or a bar graph, table or just a single number. Pick one of these and create your card. You can also drag all cards together and take a perfect screenshot.
Furthermore, Klaviyo offers a range of A/B testing options as well. For that, go to the Flow section and choose metrics (bounce rate, open rate, unsubscribe rate, etc.) you want to track. This way, you can see in real-time which emails are performing well and which aren't.
Besides, as mentioned above, Klaviyo also allows you to conduct predictive analyses to see how many purchases you can expect from customers.
If you want to know which of your customers stay longer and loyal to you, Klaviyo can also do this for you by analyzing different metrics, such as the number of clicks and purchase rates.
Mailchimp also offers detailed and easy-to-understand reports. It not only allows you to track opens and clicks of your emails, but you can also compare your results to industry averages to identify your progress rate.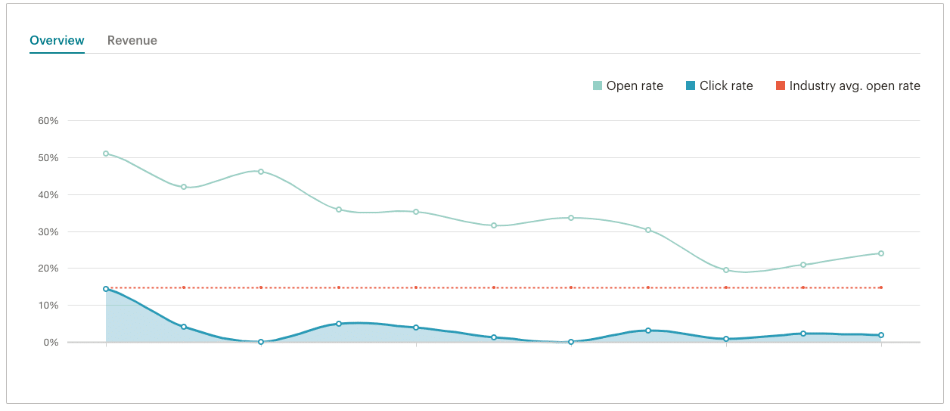 Whether you want to check your particular campaign performance, or you're looking for big-picture insights, Mailchimp is ready to help you.
Mailchimp doesn't offer predictive analysis, which means you cannot track down your best customers, but it doesn't matter much if you are a beginner or if you don't have an e-commerce store.
A/B testing
Klaviyo offers the A/B testing functionality with both campaigns as well as flows. You can easily test different variants (subject lines) and content to refine your message and sending time.
Create a new campaign. Once you have finished creating the email, you will see an "Add Variation" link. When you click on the link, Klaviyo will automatically create a second variation, which is identical to the first one, and bring you to an A/B testing page. Here, you can create as many as seven variations of an email at a time and set them up for split testing.
It's also up to you to decide the size of your audience and time period for the A/B testing process, which makes you feel more flexible.
After the time period is up, Klaviyo automatically selects a winner based on the open rate or unique clicks' rate (whichever you choose). During the initial testing period, you can also select a winner by yourself.
In case if nobody in the selected audience clicks or opens your campaign, then 'Variation A' is automatically declared as the winner and sent to the remaining subscribers.
If you exceed account sending limits, your A/B test campaign will be canceled automatically, which means you need to upgrade to a higher plan to resend the campaign. So, it's better to keep an eye on the monthly sending limit in the Account section.
Mailchimp, on the other hand, also offers advanced A/B testing functionality but only with its paid plans. All three paid plans allow you to split-test any one of the four variables, including the subject line, from name, content, and send time. However, with Mailchimp's Premium plan, you can split test eight variables of the campaign against each other.
In Mailchimp's paid plans, you can create up to three variations (for example, three subject lines). The winning version will be automatically selected on the basis of clicks, opens and total revenue.
Automation
Let's see which among Klaviyo and Mailchimp has better automation functionality.
Klaviyo offers one of the most advanced automation functionalities. To create automation flows, go to the Flows tab, and create what you want to automate like welcome or birthday messages, abandoned cart email, or a post-purchase follow-up strategy. Under the Flows tab, you'll also find some handy options like browsing ideas and exporting analytics.
In Klaviyo, you can easily split test the different elements like content, subject lines, or timing of emails in a series and optimize it after finding the winning version.
Klaviyo also offers pre-built templates. Click on the Browse Ideas button, which will take you to a list of templates that you can use to create your own flows within minutes.
Unlike other email marketing tools, Klaviyo syncs and exposes more data. For instance, you can also set up personalized automated email sequences based on customer lifetime value, lifecycle stage, brand loyalty, and more.
Klaviyo also allows you to use customers' information like gender or birthday to offer highly personalized messages and tailored recommendations. Additionally, you can also use integrated data to send the right message to the customer at the right time.
Klaviyo also lets you track subscribers' activities in real-time so that you can trigger automation according to their behavioral data like browsing your site, engaging with your campaigns, or making a purchase. Besides, you can divide emails into a series to send each customer down the right path.
In comparison, Mailchimp also offers some advanced automation capabilities. With its well-organized communication services, the platform makes sure that your clients get the right message at the right moment.
Like Klaviyo, Mailchimp also allows you to track your subscribers' real-time activities (such as what links they clicked, or what they purchased from your site) so that you can automate emails according to their interests.
There are also dozens of pre-built automation templates available in Mailchimp, including welcome series, birthday or anniversary messages, abandoned cart email, product recommendation, and more. You can also build your own automated emails with the workflow editor.
However, such advanced automation is only available for Mailchimp's paid users.
Winner: Klaviyo. Although both email marketing tools offer a robust feature set, what sets apart Klaviyo from Mailchimp is that it provides a uniform plan, and you can enjoy all the advanced features even with fewer subscribers.
2. Deliverability
Mailchimp's overall deliverability rate is appreciable since it enjoys a significantly higher sender score of 97.5 percent, while its overall deliverability rate is 84.9 percent.
Mailchimp's spam rate falls somewhere near 13 percent, whereas 68.5 percent of emails sent via the platform is likely to land in the Gmail's Primary inbox.
Data for Klaviyo's deliverability rates were not available.
Winner: Mailchimp. We have to give this round to Mailchimp thanks to its excellent deliverability rates. Also, the unavailability of Klaviyo's stats makes it impossible to compare the two tools.
3. Integrations
Klaviyo offers more than 45 integrations, including a Mailchimp integration, which is quite interesting. The platform can integrate with some big names in the market like 3dCart, Amazon Marketplace, BigCommerce, Constant Contact, Facebook Advertising, Magento, Salesforce, Shopify, WooCommerce, Zoho, etc.
On the other hand, Mailchimp is unbeatable in this section, as it has a big library of around 800 integrations.
With Mailchimp, you can connect with almost all major CRM, e-commerce, and social tools out there like BigCommerce, Magneto, Square, WooCommerce, and others.
You can also use Zapier to add Mailchimp to thousands of services or use Automate.io to connect it to tools like Google Sheets and Slack.
Winner: Mailchimp. Mailchimp is clearly the boss here with so many integrations that you may start to lose count.
4. User Interface
Both Klaviyo and Mailchimp offer a decent set of features, but which one is more user-friendly and easier-to-use?
Klaviyo is undoubtedly one of the smartest email marketing tools on the market. Its intuitive drag-and-drop email builder makes it easy for you to create emails. To get started, you just have to pick a design that suits your campaign.
Want some extra personal touch in the email you have just created? Klaviyo can pull your online store's color theme and logo into your emails to give a uniform touch, as the platform integrates with your website automatically. The plus point is that it doesn't charge you extra for this feature.
In comparison, Mailchimp also offers an easy-to-use interface with clear navigation. If you're a beginner, then Mailchimp is the best option for you because of its step-based approach when it comes to creating emails.
Mailchimp offers more flexibility than many other email marketing tools. For instance, it's your decision to build email first or add sender details and choose recipients first.
Thanks to Mailchimp's drag-and-drop editor, which makes editing emails (edit text, and change images and designs) easier than ever.
Winner: Mailchimp. Mailchimp's interface is more straightforward and offers more flexibility. It's also more friendly to beginners.
5. Pricing
Klaviyo offers a free plan that covers up to 250 contacts and 500 emails. A good thing about the free plan is that you get all features that come with a premium plan. This means you don't need to upgrade your plan just because of the features.
However, the free plan restricts you to double opt-in for all your subscribers, and you'll see Klaviyo's logo in your emails until you upgrade to a paid plan. This Klaviyo branding may not be a concern for beginners and small businesses, but big organizations certainly won't want it on their content. But again, big organizations are likely to be sending emails to more than 250 subscribers, which his why they may already be using a premium plan.
Klaviyo offers different plans according to your requirements. For example, you can send emails to up to 500 contacts in $20 per month, up to 1,000 contacts in $30 per month, 10,000 contacts in $175 per month, and so on.
Every tier offers the same set of features, including automation, reporting and analytics, one-click integrations, and email templates. The changes you can witness in different plans are in the number of contacts, email sends, customer support, etc.
Klaviyo's pricing is much easier to understand, but it's on the higher side.
Let's see what Mailchimp has to offer in comparison.
There is nothing like Mailchimp's free plan, as it lets you send 10,000 emails per month to 2,000 subscribers. On the flip side, you cannot get access to many advanced features, such as A/B testing, automation, analytics, or customer support with the free plan.
The free version is a big bonus for beginners, but if you are looking for unlimited emails and advanced features, then you should go for Mailchimp's paid plans, which include:
Essentials (starts at $9.99 per month for 500 contacts)
Standard (starts at $14.99 per month for 500 contacts)
Premium (starts at $299 per month for 10,000 contacts)
However, you have to pay extra if you want additional tools.
As Klaviyo offers a singular pricing plan as far as features are concerned, it can get expensive as the number of contacts increases, and you don't have other choices. In contrast, Mailchimp offers more room. If you have fewer dollars to spare on your email marketing, Mailchimp has different options. For instance, if you have 10,000 contacts, Klaviyo will cost you $150, whereas Mailchimp gives you three options: the Essentials plan for $74.99, the Standard plan for $99 and the Premium package for $299.
Winner: Mailchimp. Klaviyo's pricing plan is extremely easy to understand and offers similar features no matter how many contacts you have. However, Mailchimp has more options and its initial packages come at a much lower price, which makes it the winner of this category.
6. Customer Support
Klaviyo offers guides, webinars, training sessions, step-by-step instructions to help you understand the platform and resolve issues as well.
You can contact Klaviyo's support team via email in business hours. Klaviyo responds quickly to your emails. Alternatively, you can also access live chat. Just click on your username, and it's listed below the Account tab. However, phone support is lacking.
Mailchimp also offers pretty good support, but you can only approach the company through email or chat with the initial two plans, i.e. Essentials and Standard. However, when you upgrade to the Premium account, you will have the call support as well.
However, Mailchimp offers some good knowledge-based tutorials that may help you solving basic issues.
It's important to note that both Klaviyo and Mailchimp don't offer any kind of customer support with their free plans.
Winner: Both. Overall, both companies offer excellent customer support. With Mailchimp, you will have the advantage of phone support with the Premium plan, but the package is quite expensive.
Final Thoughts
Mailchimp and Klaviyo more or less look like similar email marketing tools, but when it comes to functionality, they are nowhere around each other.
Go for Mailchimp if you have an average budget and looking for something simple and straightforward with a standard analytics tool. Mailchimp is the right choice if you love DIY email building and not seeking in-depth integrations.
If you're a beginner and looking for an email marketing tool to get started, then Mailchimp is the best option for you.
But if you want state-of-the-art segmentation, advanced automation, and predictive analysis and advanced reporting at a reasonable price, then Klaviyo is the right tool for you.
Klaviyo is best for you if you love modern integrations and are looking for an extensive range of marketing tools, especially for an e-commerce store.
Related Comparisons