ActiveCampaign or Mailchimp, which email marketing software is a better option in 2021?
Read this detailed ActiveCampaign versus Mailchimp comparison to make a smart decision.
A recent study found that there were about 3.8 billion email users around the world in 2018. The number is expected to grow to 4.2 billion by end-2022.
By contrast, the number of social media users around the globe was 2.65 billion in 2018 and is projected to reach 3.09 billion in 2021, according to Statista.
There is no doubt that social media (Facebook, Twitter, Instagram and the like) is a great medium to interact with your target audience and, in fact, the crucial first step towards reaching your ultimate goal.
But email marketing has the highest conversion rates than any other digital marketing platform, including social media, direct mails, blogs, and others. According to a report, 66 percent of online consumers purchased as a result of an email marketing message.
Emails can create more possibilities than other digital marketing strategies, such as posting on social media and using Google Ads.
It is not wrong to say that email is one of the best and most reliable ways to personalize messaging with your client.
Email marketing helps you to reach your target audience depending on their online activity like what they search for, what products they like the most, what websites they visit regularly, and many other factors.
There are numerous email marketing tools that can help you grow your business. But before spending your money on any one of them, it's better to find out which product best suits your needs and provides the highest value for your money.
However, reviewing all email marketing tools in one article isn't possible. So, in this comprehensive post, we bring you a comparison of two giants in the game: ActiveCampaign and Mailchimp.
Both ActiveCampaign and Mailchimp are popular email marketing platforms. They offer advanced features, intuitive interface and various pricing options. But what makes them different? Keep reading to find out the answer.
In a rush? Take a look at the section below that summarizes the whole comparison.
Comparison at a Glance
1. Features
Winner: ActiveCampaign. ActiveCampaign offers a more comprehensive feature set, especially when it comes to creating emails, automation, A/B testing, etc.
2. Deliverability
Winner: ActiveCampaign. Overall, ActiveCampaign offers better deliverability rates than its competitor.
3. Integrations
Winner: Mailchimp. Mailchimp gives its users more options when it comes to integrations.
4. User Interface
Winner: Mailchimp. Mailchimp is easier to understand for those who have never used an email marketing tool before.
5. Pricing
Winner: Mailchimp. Mailchimp's pricing structure is more straightforward than ActiveCampaign.
6. Customer Support
Winner: Both. Both companies offer almost the same level of customer support.
Short Verdict
It's really a close call, as both are excellent marketing tools. However, Mailchimp comes out on top in three categories as compared to ActiveCampaign's two categories, which makes Mailchimp the winner of this comparison.
1. Features
One of the first things people look for any product or service before making the purchasing decision is the kind of features it brings to the table. A comprehensive email marketing platform should offer a wide array of useful features.
Let's take a look at the feature set of both ActiveCampaign and Mailchimp.
List Management
Mailchimp doesn't allow you to include the same contact on different lists in the same campaigns without paying some additional bucks. However, you don't need to create separate lists if you're dealing with a single business or project because it doesn't make any sense.
Therefore, instead of maintaining multiple audiences in Mailchimp, it's better to have one audience that you organize with segments, groups or tags.
On the other hand, ActiveCampaign offers easy-to-manage lists. It lets you send the same campaigns to contacts on different lists, which is quite a handy option.
ActiveCampaign also allows you to segment subscribers using tags and personal information like their geographical location or interests.
The platform also offers lead scoring, allowing you to assign scores based on actions taken by subscribers.
Segmentation
A study estimates that personalized emails lead to six times higher revenue and transaction rates per email compared to non-targeted emails. Segmentation is a great way to personalize communication with your clients.
With ActiveCampaign, you can segment your audience based on tags, custom fields, data collected (age, interest, gender, etc.), and other subscriber activities like who visited your website, who clicked on your emails, who opened your emails, what products they purchased, and much more.
The best part of ActiveCampaign is that it allows you to automatically add tags when contacts visit your site and take action so that you can send them content based on their interests.
In Mailchimp, the segmentation process is a bit different. The platform lets you segment your audience based on data you have about them like who opened (or didn't open) your emails, who clicked (or didn't click) the links in your campaigns, and who purchased a product from your store.
Mailchimp also offers some advanced segmentation options with tools like Social Profiles and Advanced Segmentation.
With the Social Profile tool, you can segment subscribers based on their website and social media activity. Mailchimp's Advanced Segmentation tool takes basic audience segmentation to the next level. With this tool, you can create complex segments that combine both "any" and "all" logic in a single segment.
But remember that these advanced tools come with only Mailchimp's Premium plan or the Mailchimp Pro add-on.
Email Templates
Templates save your time when it comes to creating awesome emails. Let's see which among ActiveCampaign and Mailchimp fares better in this category.
Mailchimp offers more than 100 customizable email templates that fit any type of business. With Mailchimp's design tools, you can customize the templates as per your need to create eye-catching and professional emails that look perfect on any device.
You can also easily drag-and-drop anything you want in the template like specific text, images, social icons, etc. Mailchimp also lets you code your own template if you think the available themes don't fit your business theme.
In comparison, ActiveCampaign offers around 30 customizable and mobile-friendly email templates. Like Mailchimp, ActiveCampaign also lets you import your own templates.
Signup Forms
Signup forms are a great marketing move, as they help you expand your list and gather more data about your subscribers. Let's see what it takes to create a signup form in ActiveCampaign and Mailchimp.
In Mailchimp, creating an embedded or pop-up form is a complicated task. The form builder is intuitive, as you can easily add custom fields and edit design here, but there are entirely separate editors for creating an embedded form and a pop-up form.
ActiveCampaign, on the other hand, offers a more straightforward approach when it comes to form creation. You get handy options for creating different types of forms, including inline, floating bar, floating box, and modal (pop-up).
ActiveCampaign's form editor is easy-to-use where you can make changes according to your requirement and add new custom fields straightforwardly.
You can easily embed or add forms to WordPress or Facebook if you have these integrations set up. ActiveCampaign also gives you options to associate forms with lists, tags and even deals.
Reporting/Analytics
Mailchimp's account dashboard gives an overview of your campaign, which includes clicks and opens, audience growth, unsubscribes, campaign engagement, and e-commerce performance. You can view these stats on interactive graphs.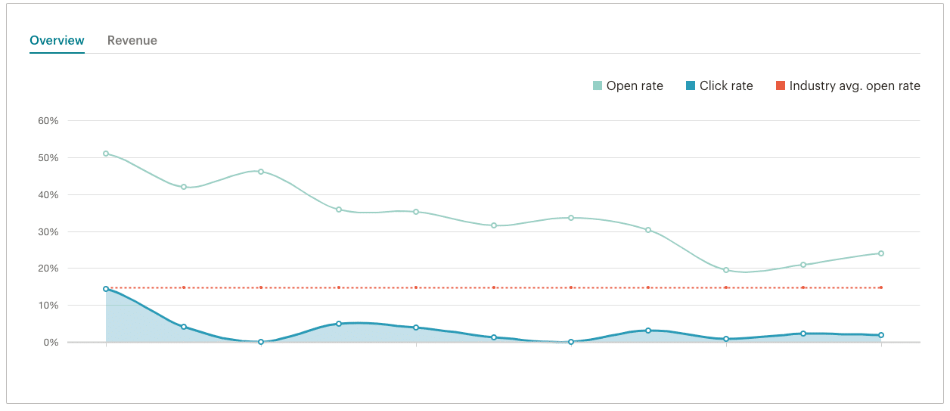 Mailchimp allows you to compare your performance with other Mailchimp users in the same business. You can also track sales, ROI, website traffic and even predict upcoming trends. You can also track subscribers' real-time activities and send them emails according to their interests and needs.
However, the most advanced reporting feature is only available with Mailchimp's Premium plan.
ActiveCampaign, on the other hand, gives you the option to set and accomplish goal completion criteria so that you can reach the target audience effectively. You can set anything as campaign goals, such as page views or signups. These goals help you better track aggregated data from users.
ActiveCampaign automatically tracks conversion rates, so you can keep an eye on the set goals that how many of them you achieved and how many of them are in the automaton sequence. The platform also integrates social and behavioral data as well as contact and lead scoring to assist your sales efforts and CRM.
A/B testing
In ActiveCampaign, A/B testing your emails is an effortless task. All you need to do to get started is click on "split test this campaign" and write a new version of the subject line.
You can test up to five elements, including email subject lines, email content, from information, images, and call to action.
Apart from just testing your email campaigns, you can also test the performance of your entire automation workflows, which is undoubtedly a handy option.
Be they clicks or opens, it's up to you to choose the winning criteria. Here a pro tip about split testing: always run the tests that make more sense for your business.
Mailchimp also offers some handy options when it comes to A/B testing. Like ActiveCampaign, Mailchimp also lets you conduct A/B testing of different elements of your campaign. To create an A/B testing campaign, select a variable from the subject line, from name, content, and send time.
The platform allows you to test one variable with up to three variations (for example, three subject lines).
Once you finalize the variables, Mailchimp automatically generates different combinations of your campaign and send it to different sets of users, so no one receives more than one version of your email.
Mailchimp also lets you choose the winner manually by viewing the report of the campaign. Once you determine the winning version, send it to the remaining subscribers.
Automation
Automation helps you personalize your emails by sending tailored messages to the right person at the right time.
According to a study, automated emails get nearly 70 percent more opens compared to other email types. The figure shows the importance of automated emails in promoting your business and helping customers.
So, before buying any email marketing tool, it's a great idea to learn as much as you can about its automation feature.
Let's see what ActiveCampaign and Mailchimp have to offer in this category.
Mailchimp comes with a wide range of automation capabilities. You can streamline your communications to make sure that your contacts get the right emails at the right time. It also lets you create automated emails that go to subscribers based on their activity, such as when they click a link in your email or purchase a particular product from your online store.
Mailchimp also provides a wide array of preset automation types (ranging from abandoned cart emails to simple welcome and birthday messages).
If pre-built automation doesn't meet your requirements, then you can create your own brand-new automated emails and add triggers that suit your needs.
However, if you want to automate your emails, you need to go for one of Mailchimp's paid plans, as its free package doesn't include this feature.
ActiveCampaign, on the other hand, allows you to combine as many triggers, actions and conditions as you need for your campaign to build simple workflows to automate your email marketing.
Additionally, the best part of ActiveCampaign's automation is that it also gives you the option to integrate your automation tools with its in-built CRM to take your sales to another level.
Winner: ActiveCampaign. It's challenging to pick a winner in this category, as both Mailchimp and ActiveCampaign come with robust feature sets. However, ActiveCampaign seems to have slightly better features required to take your business to the next level.
2. Deliverability
Both ActiveCampaign and Mailchimp are rich in features. Let's see how they perform when it comes to deliverability.
Let's check out some aspects like the spam rate, sender score and a few others to determine which email marketing tool has better deliverability.
According to tests by EmailToolTester, ActiveCampaign has a better overall deliverability rate of 95.6 percent, while Mailchimp is standing at 84.9 percent.
Around 94 percent of ActiveCampaign's emails land in Gmail's Primary inbox (rather than ending up in the Promotions tab) compared to Mailchimp's 68.5 percent emails.
ActiveCampaign's spam rate is also significantly lower (3.9 percent) than Mailchimp's (13.1 percent). However, there is no difference in the sender score of both platforms.
Winner: ActiveCampaign. The figures clearly show that ActiveCampaign's performance is significantly better than Mailchimp when it comes to deliverability.
3. Integrations
Both ActiveCampaign and Mailchimp are considered top email marketing tools. Let's see what amount of integrations they offer to their users.
Mailchimp provides nearly 800 integrations, including all significant CRMs, e-commerce platforms (except Shopify), web builders and social tools. Additionally, it connects to Zapier as well, which means you can integrate with all the apps available in Zapier's library.
By contrast, ActiveCampaign offers 250-plus integrations. It connects with most popular apps out there, such as Shopify, Facebook, WordPress, Google Analytics, Unbounce, WooCommerce, and others.
Winner: Mailchimp. Though Mailchimp doesn't integrate with a prominent e-commerce company Shopify, it still gives users more options than ActiveCampaign.
4. User interface
Let's see which tool has an easier-to-use and friendly interface, ActiveCampaign or Mailchimp.
If you have never experienced ActiveCampaign, you might be expecting its interface to be complicated due to a wide range of features. But it's not the case.
You can easily create emails with ActiveCampaign's drag-and-drop editor. Another handy option is that you can go back to previous versions of the email anytime.
However, if you're a beginner, you may find ActiveCampaign a bit complicated because of its depth of features. For example, you need to do a lot of practice to use the automation feature properly.
Mailchimp is more user-friendly, especially for beginners, because of its ease of use and fast navigation.
Mailchimp's intuitive drag-and-drop editor is considered as one of the simplest yet powerful email builder tools. You can easily create emails with the editor even if you have never used any email marketing tool before.
On the flip side, some Mailchimp users may find it a bit difficult to locate specific features and sections such as automation, landing pages and forms, as they all are grouped together in the Campaigns section.
Winner: Mailchimp. Both Active Campaign and Mailchimp provide an easy-to-navigate and intuitive interface. However, Mailchimp is easier to understand for beginners.
5. Pricing
It has been a fierce competition so far. Let's see how Mailchimp and ActiveCampaign fare in the pricing category.
ActiveCampaign's pricing depends on the number of contacts (starting from 500 to more than 100,000) and your chosen plan (Lite, Plus, Professional or Enterprise).
For instance, if you have 500 contacts, then the pricing structure would be like this:
Lite plan – $9/month
Plus plan – $49/month
Professional plan – $129/month
Enterprise plan – $229/month
All four plans offer unlimited sending, email marketing, marketing automation, and 24/7 chat and email support.
But, it's right to say here that you have to pay more to get more. The Lite plan includes up to three users, the Plus plan allows up to 25 users, the Professional plan accommodates up to 50 users, whereas the Enterprise plan offers unlimited users.
Moreover, the Lite plan lacks CRM with sales automation, lead and contact scoring and SMS marketing features.
Similarly, the Professional plan offers everything from Plus, adding some new features like split automation, site messaging predictive sending and attribution.
The Enterprise plan, the most expensive but also the most comprehensive among all, is packed with everything included in the Professional package, plus custom reporting, custom domain, free design services, phone support, unlimited users, etc.
Now, let's see what Mailchimp offers in comparison.
To begin with, Mailchimp has an excellent free plan, which is the best option for those who have fewer than 2,000 contacts and send up to 12,000 emails per month. But the free plan offers basic features only and lacks advanced features like automation, A/B testing or support.
So, if you need unlimited emailing and advanced features, then check out Mailchimp's paid plans:
Essentials (starts at $9.99 per month)
Standard (starts at $14.99 per month)
Premium (starts at $299 per month)
Like ActiveCampaign, Mailchimp's price scale is also relative to the number of contacts. For instance, the Essentials plan costs $9.99 per month for 500 contacts, $29.99 for 2,500 contacts and $74.99 for 10,000 contacts.
Every plan comes with some new features like unlimited sending, email delivery by time zone, advanced testing tools, support, and predictive demographics.
Mailchimp also offers a pay-as-you-go plan, which is the best for those who don't send emails regularly. With this plan, you can buy email credits according to your requirements.
Winner: Mailchimp. The starting prices of both email marketing tools are almost the same, but there is a sharp difference as you move to their next tiers (see the prices of ActiveCampaign's Plus plan and Mailchimp's Standard plan). Moreover, Mailchimp also offers a pay-as-you-go plan, which is a great option.
6. Customer support
Both ActiveCampaign and Mailchimp offer support via email and live chat, webinars, knowledge bases and tutorials.
However, ActiveCampaign also provides a one-on-one training session and a community forum, something that Mailchimp lacks.
With ActiveCampaign's one-on-one training, you can easily dismiss all your confusion about the software. If you want to interact with other users, you can join a community forum.
ActiveCampaign tells you how much time it will take to respond to you, so you know how much longer you're going to be on hold.
On the other hand, there is no support in Mailchimp's free plan, which means you have to handle all issues yourself using Mailchimp's knowledge base and tutorials. If you need email and chat support, then you need to upgrade to a paid package.
Winner: Both. Active Campaign and Mailchimp provide almost the same level of customer support. And as expected, you won't be having Mailchimp coming to your rescue if you are using the free version.
Final Thoughts
Both ActiveCampaign and Mailchimp are robust email marketing tools in terms of features, deliverability and value for money.
Which email marketing software should you go for? If you're looking for advanced features like automation, CRM and sales and new integrations, you should go for ActiveCampaign.
But if you're a beginner or have a tight budget or want a tool that is easier to use and offer amazing email templates, and excellent automation and segmentation options, then Mailchimp should be your first choice. Mailchimp is our overall winner in this comparison, as it wins in more categories. However, the margin of victory is really thin, as ActiveCampaign is also one of the best tools available in the market.
Related Comparisons