Looking for a landing page builder? Read this Unbounce vs. Leadpages guide to find out which one is a better option for you in 2021?
Landing pages are huge in today's digital marketing world. Be it an event, a campaign, a new product, a value-added service, or anything on those lines; landing pages are a must to attract, inform and engage potential customers with your offering and have them take your intended action.
That's why 48% of marketers build a new landing page for each marketing campaign today.
"Intended action" is the operative word here as the entire landing page and conversion funnel is built around that. Luckily, landing page builders provide many integrated features and functionalities to optimize conversion leads on your pages.
Although, with so many options out there, it's hard to decide which one best suits your requirements, financial constraints, and desired design features without thoroughly reviewing their offerings.
But worry not. That's what this guide is for. We compare two of the most popular page builders today, Unbounce and Leadpages. Let's see which one is a better option for you this year.
In a hurry? Here's a quick review of both page builders for you.
Comparison at a Glance
1. Features
Winner: Leadpages. Leadpages allows you to create and publish unlimited landing pages for all its packages, whereas Unbounce offers a restricted number of published pages under each plan.
2. Ease of Use/ Customizability
Winner: Both. Both platforms give you different options to create high-performing landing pages using pre-designed templates or of your own design.
3. Conversion Tracking Capabilities
Winner: Both. Both Unbounce and Leagpages offer equally efficient and useful conversion-optimized features and tracking abilities.
4. Integrations
Winner: Leadpages. Both page builders let you connect to hundreds of apps and tools via Zapier and Webhooks and many other direct applications.
5. Pricing
Winner: Both. Leadpages' products are far more affordable than those from Unbounce.
6. Customer Support
Winner: Unbounce. Unbounce offers much more active customer support for all its customers compared to Leadpages.
Short Verdict
It's a close call, but Leadpages is the winner, in our opinion, with a wide variety of customizable templates and the option to publish unlimited pages as well as reasonable pricing.
Let's look at both page builders in detail now.
1. Features
Features aren't just fancy descriptions of a software program. They indicate the benefits that users get with a software program. In substance, features are the value you get in a product. Let's see how much value both Unbounce and Leadpages pack into their software for users.
Unbounce
Unbounce is a highly conversion-focused page builder, which makes it an ideal platform for marketers. With a keen focus on page building functionalities, it comes packed with a whole suite of features that help you create professional-looking landing pages easily and quickly.
Here are some of the key features offered by Unbounce:
Drag and Drop Builder – Efficiently create dozens of landing pages in a fraction of time.
100+ Customizable Templates – Create any look you want for your page with complete freedom of creativity and personalization.
Mobile Optimized – All landing pages are mobile optimized.
A/B Testing – Experiment with the design, look, and functionality of your pages and test out what works best.
Dynamic Text Replacement – This feature replaces the text on your ads to landing pages to match customer queries. It allows you to direct all relevant traffic to your pages without having to create multiple pages.
WordPress Integration – Direct integration with WordPress makes it possible to publish Unbounce landing pages to your WordPress site easily.
One-Click Page Cloning (Premium and Enterprise Plans) – Readily duplicate pages for similar or simultaneous campaigns with just one click and group publish or unpublish them or make bulk copies of client pages.
Free Professional Images from Unsplash – Easily access 850,000+ free copyright Unsplash images directly from the Unbounce editor.
Sub-Accounts (Premium and Enterprise Plans) – You can manage multiple clients within your account and group different pages and other specifics within sub-accounts.
GDPR Compliance – All clients' and users' information is secure and processed following the General Data Protection Regulation (GDPR) requirements.
Two-factor Authentication – Two-factor authentication uses your mobile numbers in addition to passwords for verification and makes your accounts extra secure.
All packages offer:
Built-in conversion-focused features
Targeted pop-ups and sticky bars
Unlimited users that can access the Unbounce account
WordPress integration and free Unsplash images
SSL encryption and Two-Factor Authentication (2FA)
Only higher tiers offer:
Client sub-accounts
Accelerated Mobile Pages (AMPs)
Launch scheduling and page redirects
Marketo and SalesForce integrations
One-on-one success advice, Dedicated Launch Specialists, and Page Migration Services.
What you don't get with Unbounce:
Unbounce restricts the number of pages you can publish every month under each plan. For instance, the starting plan only includes 75 landing pages and 8 popups & sticky bars.
Similarly, the Premium and Enterprise plans include 150 and 375+ landing pages, and 16 and 40+ popups & sticky bars, respectively.
This constraint can be a little annoying, as Unbounce is a dedicated page builder platform, and that's what you'd solely use it for.
Leadpages Features
Leadpages is one of the most used page building software with a distinctive focus on lead generation. But that's not all. Leadpages offers many tools and features to help you quickly create landing pages and have them up and running in no time.
So, let's see what kind of features you can get with Leadpages:
Drag and Drop Editor – Makes it simple to create your pages, adding different items from a sidebar according to your requirements.
200+ Mobile Responsive Templates – Be as creative as you want with your page design and completely define the look of the page to your liking.
Built-in Icon Library – Select graphics from an extensive in-built library to add icons and visual diversity to your page content.
A/B Testing – Choose the best pages for conversion by running A/B tests on them before publishing.
Device-Specific Display – Duplicate and customize any section to optimize it for a particular device like tabs or mobile phones.
Real-Time Conversion Tips – Integrated functionality to generate real-time conversion optimization tips as you build different sections of your page.
Sub-Accounts – Use independent sub-accounts to share with clients with secure login credentials.
GDPR Compliance – Leadpages ensures General Data Protection Regulation (GDPR) compliance on all clients and users' information you collect on your pages.
All packages offer:
Unlimited landing pages, pop-ups and alert bars
Opt-in, sales, checkout, thank you and confirmation pages
Lead backup, notifications and routing to integrated apps
40+ standard integrations
Automatic SSL encryption
Free custom domain for annual subscriptions
A limited number of hosted sites for each plan
Only higher tiers offer:
A/B Split Testing
Email trigger links and opt-in text campaigns
Online Sales and Payments
Facebook and Instagram Ad Builders
Pardot, Salesforce, HubSpot and Marketo integrations
What you don't get with Leadpages:
Leadpages lets you create unlimited landing pages and even entire websites. However, some features are only available with advanced plans such as A/B Split testing, email trigger links, opt-in text campaigns, and Facebook and Instagram Ad Builders.
Winner: Leadpages. The fact that Leadpages lets you choose from 200+ templates and publish unlimited pages gives it an edge. By contrast, Unbounce restricts the number of pages you can publish under each plan, which can be disappointing.
2. Ease of Use/Customizability
When we talk about landing page builders, it is crucially important to see how user-friendly their page editors are. A big chunk of customers that use landing page software lack any coding knowledge. That's why ease of use and customizability are of high significance.
So, let's examine the page builders/ editors offered by both Unbounce and Leadpages.
Unbounce
With Unbounce, you can easily customize your pages by dragging and dropping your content in exactly the place you want it. You can make further adjustments to the content by double-clicking on it and editing it directly on the page. For advanced settings, you can go to the right-hand sidebar and make the changes.
You can also tweak the HTML code, if you're familiar with it, by clicking the View Source tab under any element on the page. Additionally, you can play with the layout of your page by changing the position of the existing items. When you do that, automatic gridlines appear to align everything in place.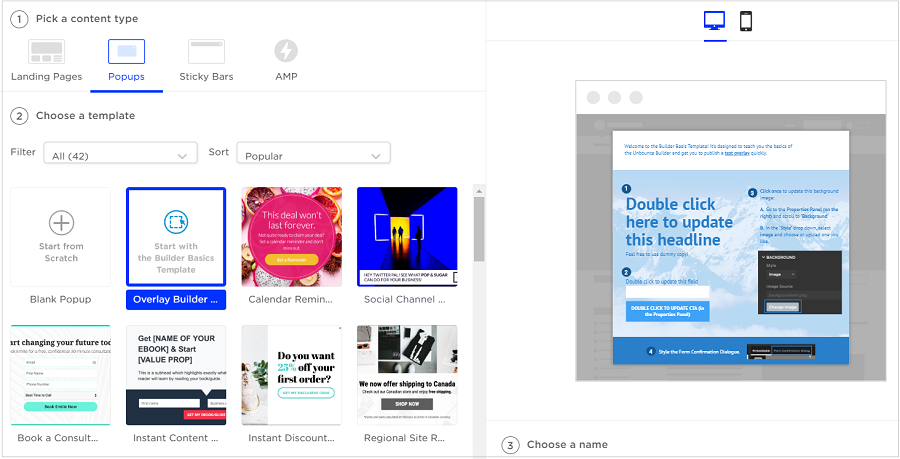 You can either follow the gridlines or ignore them if it's an eclectic design you're after. In this way, the Unbounce editor makes things extremely simple, even for the most novice users.
However, Unbounce doesn't disappoint developers either and leaves room for them to work their own magic as well. They just have to go to the "Javascripts and Stylesheets" tab, just below the editor tab, and add their custom code.
At this point, you'll have completed your page content. Now you can create two or more variations of your page. This can easily be accomplished by clicking on the tab "Create Duplicate of Variant A". So, you don't have to create a new page from scratch. Instead, you can just make modifications to the existing design.
Next, you'll have to decide how much traffic you want to send to each separate page. You can specify these values for each variant in the landing page overview section. You can also create your mobile pages from the same variants as well just by clicking on the "Mobile tab" towards the bottom of the screen.
The interface will automatically generate a copy of the mobile page. You can then edit and further customize this page if you want. Just as easily, you can create the Accelerated Mobile Pages or AMPs as well.
However, these fast-loading versions are much more basic by design as they use limited HTML, CSS, and Javascript coding. That's why expect to have to sacrifice certain features in exchange for speed. For instance, you can't create a global script, variants, pre-views, pop-ups, and sticky bars.
Neither can you use A/B testing, dynamic text replacement, or external conversion tracking apps.
The point of creating variants is to see which design or content layout serves your campaign objective optimally. You can check that by running the variants through A/B tests and find out which one is better performing out of all the options.
Overall, the visual editor is extremely customizable and offers full flexibility to build your page exactly as you want it.
Leadpages
Leadpages has an easy to use drag and drop page builder with over 200 professionally designed templates and all the creative work done for you. You can also use the left-hand sidebar to add as many widgets or multimedia content to your page as you like, such as images, videos, calendar, countdown timer, etc.
You can add on-page section links for visitors that quickly want to get to specific pieces of information. This way, you can prevent turning away impatient visitors.
You can also duplicate and customize different sections of your page to show differently on computers, tabs, or mobile phones. However, you cannot drag around the existing sections on the template to a new position.
Leadpages also allows you to set up multi-step forms on your page. You just have to drag the form on to the page, and then you can easily add custom fields to it from the options under "Edit Your Form". You can add fields like first name, last name, city, postal code, consent statement, and more.
In case you can't find a template that fits your exact needs, you can use a blank page to create your own design from scratch.
Winner: Both. Both Unbounce and Leadpages let you design and develop high-performing landing pages where you can add as many customizations as you want or even create an entirely new design.
3. Conversion Tracking Capabilities
Conversion tracking and analytics are crucial to effective landing pages. Without these capabilities, a landing page is just another web page without a proper direction to fulfill their purpose.
Let's see what kind of conversion faculties we can get with Unbounce and Leadpages.
Unbounce
The conversion-focused features help guide the customers in the exact direction you want them to go and quickly arrive at the "action". This quick and focused approach enables you to convert customers before the process can get dragging, and they can begin to lose interest.
You can use Unbounce's Dynamic Text Replacement feature for SEM campaigns to attract relevant traffic to your page. In addition, many little widgets, such as pop-ups and sticky bars, do the job of steering prospective customers to the desired action.
Unbounce has recently launched the beta version of a cool AI-powered conversion tool called Smart Traffic™. The tool automatically picks the landing page that is most likely to convert and matches the visitors with it.
As soon as it turns on, the tool starts optimizing the traffic towards the landing page after just 50 visitors. Early testers have noticed a 20% rise in conversions just by turning on Smart Traffic. This awesome addition can be a game-changer for Unbounce users.
As far as analytical tools are concerned, you don't get those built-in with Unbounce. However, it integrates with many third-party apps to serve the purpose, including Zapier, Webhooks, Salesforce, MailChimp, HubSpot, WordPress, Marketo, Campaign Monitor, and many others.
Leadpages
Every aspect of Leadpages templates is designed to maximize lead generation. You also get in-built conversion guidance that helps you to determine how well the page will perform even before you publish it.
This is an efficient and time-saving feature using which you can make changes to your design elements if you're not happy with the analytics before it ever goes public. You can also add popups, exit-intent popups, and sticky bars to capture the attention of your visitors.
Once your page is published, Leadpages also offers a pre-filled form of a Facebook ad to promote your page, using which you get to support your page almost instantly.
You also get real-time analytics for your page that help you determine if your page is performing as required. Otherwise, you can make changes to it without wasting further time.
Moreover, Leadpages guarantees 2.4 seconds faster load time and 30% high performance than the leading page builders.
You can click the Page Tracking tab to customize the Google Analytics and Facebook Pixel of your page. These reports will inform you about the number of people that will see your page both on the search and social media.
Winner: Both. Both platforms offer high-performing, conversion-optimized templates and features, and are equally useful in getting desired results. Unbounce's new Smart Traffic tool is still a beta version, and its effectiveness is yet to be proven.
4. Integrations
There's a great variety of users that use page builders, and each customer has unique demands that require them to use different marketing, CRM, social media, or analytical apps and tools.
That's why third-party integrations are so important. Let's have a look at the integrations we can get with Unbounce and Leadpages.
Unbounce
Name an app you want, and you are more than likely to find that in Unbounce's extensive compendium of integrations. Unbounce offers 12 in-app and 100+ third-party integrations, including 62 built-in Zapier and 39 built-in Compatible apps.
You can find any app or tool you need, for instance, CRM, chat, social media, email marketing, marketing automation, customer support, call tracking, education, analytics, webinars, etc.
Additionally, you can use Webhooks or Zapier (1,500+ supported apps) to integrate a tool or app you can't find with built-in integrations.
Leadpages
With Leadpages, you get 80+ standard and advanced third-party integrations that contain most of the apps you would want to use for any purpose.
You can find many apps, whether you need them for analytics, CRM, digital advertising, eCommerce, email marketing, live chat, marketing automation, payments, social media, video, or webinars.
You can also use webhooks to integrate a tool you can't find or use Zapier to connect with their library of 1,500+ apps.
Winner: Both. On the face, it seems Unbounce offers many more integrations compared to Leadpages. But both platforms integrate with Zapier and Webhooks that further allow you to choose from hundreds of apps and tools to use on your pages.
5. Pricing
Pricing is always a pain point for customers, whether they are individuals or organizations. Nobody wants to shell out more money on a pricey product if they can somehow save it with a more affordable alternative.
Let's compare the pricing plans of both Unbounce and Leadpages and see which one is more reasonably priced.
Unbounce
Unbounce offers three different pricing plans called Essential, Premium, and Enterprise. Essential is the most basic plan and costs USD$79 per month. Premium comes at the cost of $159 per month, whereas the Enterprise plan costs you $399+ per month.
Unbounce packages are a bit pricey compared to most other page builders. Even with their top-of-the-line page customization features, the high prices can easily deter many potential customers.
Leadpages
Leadpages offers four different paid packages. A Start Plan costs $19 per month. Middle-range, Standard Plan costs $37 per month. Higher tiers, the Pro and Advanced Plans come at $79 and $321 per month. If paid annually, the same plans will cost $15, $25, $48, and $199 monthly, respectively.
Leadpages is undoubtedly one of the cheapest page building solutions out there, as well as, one of the ones that offer the most value for your bucks. So, if budgetary restrictions are something you're struggling with, Leadpages is an excellent choice for you.
Winner: Leadpages. The pricing comparison clearly puts Leadpages at an advantage here with their extremely affordable pricing. In contrast, with a distinct focus on growth marketers and big organizations, Unbounce's offerings aren't for everybody.
6. Customer Support
Even with easy drag and drop functionality and built-in guidance for conversion features, many users with limited knowledge for SEO and analytical tools may find it difficult to optimize their pages for conversion.
That's where customer support comes in. For the most part, these confused customers will be individuals using the starter packages, which is why readily available customer service is important at lower tiers as well.
Let's see what channels both Unbounce and Leadpages use to support their customers.
Unbounce
Unbounce offers hands-on support at all levels via different channels, including phone calls, emails, and live chat. The platform also provides coaching at the Enterprise level.
Unbounce offers a complete knowledge base for marketers and businesses to build creative pages and maximize conversions.
You can also connect with many successful marketers from around the world using the Unbounce Community Forum, where you can exchange ideas and even get/share advice.
Leadpages
Compared to what it offers in terms of services, the customer support provided by Leadpages seems below par. The first two tiers only include email support. Only the higher packages include email, chat, and phone call support.
However, you can take help from their Help Center to learn the step-by-step process from getting started with your Leadpages account to publishing the final page.
Winner: Unbounce. The tech support that you get with Leadpages is pretty customary as you only get email support on the first two tiers. Only the highest tier offers chat and call support as well. Whereas, with Unbounce, all clients receive hands-on calls, email, and live chat support.
Bottom line
Both platforms are great options when it comes to having your landing pages up and running in a matter of minutes. However, Leadpages is ahead of Unbounce when it comes to features like a much more extensive library of templates, unlimited landing pages, popups & alerts, and affordable pricing. That's why Leadpages takes the trophy in this comparison.
Frequently Asked Questions (FAQs)
Why are landing pages important?
Landing pages are highly focused resources with the intent to get visitors to take a singular action, such as purchasing. Landing pages are hugely useful in driving relevant traffic, improving your SEO, and building your brand. That's why approximately 68% of B2B businesses today use landing pages to generate leads for future conversion.
What is the key difference between a landing page and a home page?
A landing page is created around a single purpose to ensure maximum conversions and therefore involves minimal distractions. Whereas a homepage is a company resource that includes business information, its products/ services, contact information, etc. In essence, a homepage is usually not built with the intent to convert a visitor instantly.
When should you use a landing page?
You can use landing pages to support business goals, generate target market leads and insights, improve brand awareness among potential customers, increase conversions, and more.
What are the key components a landing page must have?
Key components of a landing page are:
1) The main headline as well as a supporting headline
2) A unique offer
3) Benefits of your offering
4) Images or video content that showcases the context of product use
5) Social proof such as testimonials
6) Offer reinforcements
7) A closing argument
8) A proper call to action
Related Comparisons