GetResponse or Mailchimp, which email marketing software is a better option in 2021?
Read this detailed GetResponse versus Mailchimp comparison to make a smart decision.
As soon as you decide to choose a reliable email marketing tool to get in touch with your customers in a more efficient way, you are bombarded with a lot of options.
However, the mere fact that there are so many email marketing companies shows that email remains one of the most powerful marketing mediums.
By the end of this year, the number of email users around the world is set to cross 4 billion and is expected to touch 4.4 billion by 2023.
Besides, email is also the biggest source of ROI for most marketers, and they can't think of a marketing strategy without an excellent email marketing tool.
By some estimates, a dollar spent on email marketing generates $38 in return, equal to an ROI of 3,800 per cent.
It's true that choosing reliable email marketing software that meets all or most of your needs is time-consuming and requires a lot of research. However, you can start by comparing some of the top-performing tools available on the market and then go ahead from there.
In this review, we are pitting GetResponse and Mailchimp against each other to find out which of them offers more advanced features, better pricing, ease of use, etc.
In a hurry? You can go through the following section to get a quick overview of the main differences between the two tools.
GetResponse Vs Mailchimp: Comparison at a Glance
1. Features
Winner: Mailchimp. Mailchimp comes with a more impressive feature set than does GetResponse.
2. Deliverability
Winner: Mailchimp. Mailchimp has a higher deliverability score than its competitor, according to an independent test.
3. Integrations
Winner: Both. Both tools integrate with popular apps and web services.
4. User Interface
Winner: GetResponse. GetResponse's highly customizable user interface gives it an edge over Mailchimp in this category.
5. Pricing
Winner: GetResponse. Both companies offer competitive prices. However, GetResponse is better for a larger list size.
6. Customer Support
Winner: Mailchimp. Mailchimp wins this category because of a better rating from existing users.
Short Verdict
Both GetResponse and Mailchimp are excellent email marketing tools. Overall, we think Mailchimp is a better option thanks to its advanced features like advanced segmentation, multivariate testing and comparative reporting, its extremely straightforward interface, and an exceptional free plan that can help you get started with email marketing without second thoughts.
However, a good thing about GetResponse is that you can enjoy more features even with its initial packages.
1. Features
Features form the backbone of an email marketing platform. You can tell an excellent email marketing tool from an ordinary one by just looking at the features both bring to the table.
Let's take a look the feature sets offered by GetResponse and Mailchimp.
Email Templates
Well-designed emails are the first step towards building your brand image. Bad-looking or old-fashioned emails not only look suspicious and spammy, but they may also divert your customers' attention from the message you want to deliver.
Both GetResponse and Mailchimp offer a wide range of email templates.
GetResponse gives you access to the stock images library, which means you can easily find high-definition images for your campaigns.
Additionally, GetResponse gives you the option to preview emails so that you can see how they'll look like on different devices (PCs, tablets, smartphones).
However, GetResponse offers pretty limited options when it comes to customizing emails. For instance, you can't use web fonts and have to rely on the available fonts while building emails.
Still, GetResponse helps you build attractive emails, as you can easily customize pre-built templates and make them look like your own by adding things like your logo, new buttons (Facebook, Twitter, Instagram) and social media tags.
In case you don't find available templates attractive, you can create your own using the drag-and-drop builder and the HTML code editor.
Mailchimp's template experience is quite similar to GetResponse.
Like GetResponse, Mailchimp also lets you customize available templates as per your requirements with ease.
You can also tweak templates or create emails from scratch using Mailchimp's drag-and-drop builder or HTML.
The tool also allows email previews.
Segmentation
Segmentation is a powerful functionality offered by email marketing tools, as it lets you deliver the right message at the right time to the right person.
GetResponse makes sending emails to your segments a walk in the park.
Let's say you have a mailing list divided into four segments, and you want to send email to one or two of them. You can do this by putting a check next to the desired segment when you are sending out emails.
If you are using GetResponse's higher plans, you can address your contacts with more personalized content based on interests, personal behavior, demographics, location, etc.
Mailchimp also offers some excellent segmentation options, especially with its high-tier plans.
Mailchimp lets you segment your audience based on their actions – who opened (or didn't open) the email, who clicked (or didn't click) the links in the campaign, and who purchased a product from your store.
You can also create segments on the basis of subscribers' website and social media activities.
However, if you're looking for advance segmentation in Mailchimp, then you should go for its Premium plan (see more details in the Pricing section).
A major drawback of using Mailchimp is that it doesn't allow you to send email to people from different groups at the same time, which means you have to create new lists from scratch every time you do this kind of stuff.
Automation
What's the point of paying to an email marketing company if you have to do most work by yourself?
Therefore, automation is a crucial feature of an email marketing tool.
In GetResponse, setting up automation workflows is one of the easiest tasks. Just click on Create an Autoresponder and select a send time to create one.
Once you've chosen a name and a due date for your responder, you can begin building your funnels.
You can easily create the ultimate automation flow chart with GetResponse's drag-and-drop editor for your drip campaign, choosing time intervals or add triggers according to your goals.
GetResponse also offers some well-designed automated templates, including welcome or birthday messages, abandoned cart emails, etc. You can pick one and change details as per your preferences.
Additionally, GetResponse offers Auto Funnel where you can create drip sequences combined with landing pages and signup pages to build contact lists, sell products, showcase your offers, and grow your business.
In comparison, Mailchimp also offers impressive automation functionality.
Like GetResponse, Mailchimp also offers well-designed automation templates, which include welcome series or birthday messages, abandoned cart email, product recommendation, etc.
However, you'll only get one-click automation with Free and Essentials plans, which means you can only set up basic one-off emails like order notifications and welcome emails.
For complex multi-step custom workflows, you need to get the Standard or the Premium suite of Mailchimp.
Reporting and Analytics
Both GetResponse and Mailchimp offer a wide range of options when it comes to reporting and analytics.
Let's start with GetResponse.
Apart from basic reporting features like open rate, clickthrough rate and spam rate, GetResponse also provides some advanced analytics such as one-click segmentation (for example, to identify people who did not engage with a particular email you sent), email ROI, etc.
You can also see which email clients (Gmail, Yahoo or Outlook) your subscribers use to view your campaigns.
GetResponse also gives you the option to compare email opens by desktop vs mobile email clients so that you can view details for specific email clients and browsers.
You can also compare two emails to find out which one gave better performance. You can quickly analyze opens, clicks, unsubscribes, bounce rate, and complaint rate to get a clear picture of what works best for your clients.
Additionally, you can easily find out autoresponder stats, contacts stats (list growth), and top social networks stats (Facebook, Twitter, LinkedIn, etc.).
However, you can't get more for less. Similarly, in GetResponse you have to pay more to get the advanced reporting.
Mailchimp also comes up with some fantastic reporting options.
In Mailchimp, you can get a complete overview of your emails on the "Campaigns" page, which shows you open rate, clickthroughs, unsubscribes, bounce rate, e-commerce performance, audience growth and campaign engagement.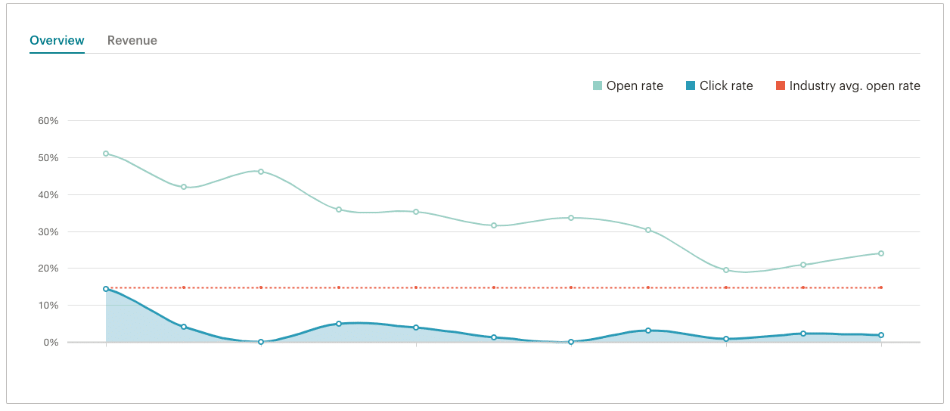 The platform allows you to compare your campaign performance to your industry peers. You can view the benchmarks appear in your reports, which help you see what's going right and what needs to be improved.
However, if you need advanced reporting features like the send time optimizer and delivery by time zone, you need to be on Mailchimp's Standard plan or higher.
The Premium plan also comes with a more advanced reporting feature called "Comparative Reports." These are comprehensive and shareable reports based on the data compiled from your sent campaigns.
A/B Testing
Let's find out which among GetResponse and Mailchimp offers better A/B testing functionality.
GetResponse allows you to test up to 5 different versions of any one of the four variables: email content, subject line, from information, send time. Fortunately, the platform provides the same split testing functionality with its basic plans that it offers with its expensive tiers.
In comparison, Mailchimp, with its initial paid plans (Essentials and Standard), allows you to A/B test up to three versions of any variable of your email, which includes the subject line, from name, content and send time.
However, if you're looking for really advanced A/B testing options, then you may opt for Mailchimp's Premium plan. With this plan, you can split test up to eight variants of your email variables against each other.
Winner: Mailchimp. GetResponse does offer better email templates, but it is bested by Mailchimp in other areas, especially automation and insights.
2. Deliverability
Ensuring that more and more emails land in the subscribers' main inbox to improve open rates is a key job of an email marketing tool.
Let's see which among GetResponse and Mailchimp has better deliverability rates.
According to the latest figures from EmailToolTester, GetResponse has an overall deliverability rate of 75.6%, slightly lower than Mailchimp's 81.6%.
However, these rates pale in comparison to other players in the market, including Sendinblue (95.4%), Mailjet (94.6%) and ActiveCampaign (90.2%).
Mailchimp is also far ahead of its competitor when it comes to landing more and more emails to recipients' main inbox. Mailchimp managed to place 78.9% emails to the primary inbox of subscribers as compared to 61.9% emails by GetResponse.
Naturally, GetResponse's spam rate is also a bit higher (18.6%) than Mailchimp's (16.7%).
Winner: Mailchimp. There's no denying that Mailchimp needs to bring a lot of improvement as far as deliverability is concerned. Still, it does fare better than GetResponse in this category.
3. Integrations
An excellent email marketing tool should be able to integrate with as many web services and apps as possible.
Let's see which among GetResponse and Mailchimp is ahead when it comes to integrations.
GetResponse offers more than 100 ready-to-use integrations. You can easily connect with your favorite CRMs, CMS and e-commerce tools, including Shopify, Salesforce, PayPal, WooCommerce, BigCommerce, Joomla, Magento and more.
By comparison, Mailchimp offers close to 250 integrations. You can easily connect your Mailchimp account with almost all major e-commerce, CRM and social tools out there, including BigCommerce, Magento, Square, WooCommerce, etc.
Furthermore, both GetResponse and Mailchimp offer integration with Zapier, which can connect with numerous apps and web services.
Winner: Both. Mailchimp offers a significantly higher number of integrations than its competitor. However, GetResponse also does a pretty nice job and connects with all the necessary apps.
4. User Interface
An excellent email marketing tool not only comes with outstanding features, deliverability rate and integrations, but it also offers a straightforward and intuitive interface.
GetResponse UI
GetResponse is one of the most easily accessible email marketing tools out there. The platform offers a pretty straightforward and intuitive interface.
With GetResponse, you can easily create email campaigns, set up autoresponders, take an overview of your recent campaign's performance.
The interface is highly customizable, as you can add, remove and move widgets according to your requirements.
Besides, the Quick Actions widget makes navigation a walk in the park. You can add five quick actions to the widget from different options, including Add contacts, Create newsletter, Create form, Create landing page, Create webinar, Create workflow, etc. In short, you can add most features from a single panel.
Mailchimp UI
Mailchimp also offers a pretty simple and extremely clean user interface. It's really helpful for beginners owing to its straightforward approach.
Mailchimp makes nearly everything from building campaigns to checking statistics super easy. All the myriad options offered by Mailchimp are divided into six main categories, including Create, Campaigns, Automate, Audience, Brand and Reports.
The interface also offers plenty of guidance and walks you through the platform step by step.
Winner: GetResponse. GetResponse's user interface may come across as a bit old-fashioned, but it is a breeze to use and offers way more room for customization than Mailchimp.
5. Pricing
Pricing is one of the top factors that makes people decide either for or against a product. Therefore, an email marketing tool has to offer all the features discussed above at competitive prices.
Let's see which among GetResponse and Mailchimp is more affordable.
GetResponse Pricing
GetResponse doesn't have a free plan, but it does offer a 30-day free trial. During the trial period, you can try out all the features and add up to 1,000 contacts.
Like many other email marketing services, GetResponse's pricing also depends on list size and the chosen plan. So, if you have a list size of up to 1,000 contacts, your pricing structure appears to be like this:
Basic (starting from $15 per month for 1,000 contacts)
Plus (starting from $49 per month for 1,000 contacts)
Professional (starting from $99 per month for 1,000 contacts)
Each suite comes with some new and advance features. Let's take a quick look at the differences between the plans.
The Basic plan provides all the necessary features, including autoresponders, unlimited landing pages and automation templates, one sales funnel, unlimited lead funnels, Facebook Ads and more.
The Plus plan offers everything in the Basic plan and some additional features like automation builder (with up to 5 workflows), webinars (maximum 100 attendees), contact scoring and tagging, five sales funnels, five webinar funnels, and more.
The Professional package offers all the Plus features in addition to an unlimited automation builder, webinars for up to 300 attendees, and unlimited sales and webinar funnels.
GetResponse also offers the Enterprise package, which starts at $1,199 per month. You can opt for the plan if you have more than 100,000 subscribers in your list. The package provides features like an account manager, dedicated IP address, deliverability and email campaign consulting, webinars for up to 500 attendees, etc.
Mailchimp Pricing
A major factor that pulls beginners towards Mailchimp is its free plan. Just imagine about sending 10,000 emails every month to up to 2,000 subscribers without paying a single buck. Amazing, isn't it?
The free plan comes with basic functionalities like one-click automation, basic templates, behavioral targeting and custom domains.
However, if you have a list of more than 2,000 subscribers or if you want more exciting features, you may go for Mailchimp's paid plans:
Essentials (starting at $9.99 per month for 500 contacts)
Standard (starting at $14.99 per month for 500 contacts)
Premium (starting at $299 per month for 10,000 contacts)
Mailchimp's prices and monthly emails sends depend on the number of subscribers in your list.
In the Essentials plan, you can start with 500 contacts (for $9.99 per month) and go up to 50,000 contacts (for $259 per month).
The package offers the A/B testing feature, all the premium email templates, custom branding and 24/7 email and chat support.
The Standard plan, which allows you to add between 500 and 100,000 contacts, offers everything in the Essentials package, plus retargeting ads, custom templates, advanced audience insights and event-based automation.
The Premium plan, which you can use to send up to 3 million emails per month to a maximum of 200,000 subscribers, offers multivariate testing, advanced segmentation, comparative reporting and phone support, among other things.
You can also contact Mailchimp for a custom plan if you have more than 200,000 contacts in your list.
Winner: GetResponse. Pricing options offered by both companies are affordable. However, GetResponse gets cheaper as your list size grows.
For instance, GetResponse's Basic, Plus and Professional plans cost $25, $59 and $119 per month if you have up to 2,500 subscribers. For a similar list size, Mailchimp charges $29.99 for the Basic package and $49.99 for the Standard package (Mailchimp's Premium plan can't be mentioned here, as its pricing starts from 10,000 contacts).
By contrast, for a list size of 25,000 contacts, GetResponse charges $145, $179 and $255 monthly for its above-mentioned suites, whereas Mailchimp charges $189, $219 and $449 for its Basic, Standard and Premium packages.
6. Customer Support
Last but not least, you should also consider the customer service provided by an email marketing company while doing your research.
Let's see which among GetResponse and Mailchimp offers better support when you need professional help from the company.
GetResponse offers email and 24/7 live chat support with all its plans but lacks phone support. However, you can get dedicated support with the Enterprise plan.
If you like to do things on your own, GetResponse provides various learning options in the form of videos, blog posts, infographics and podcasts on the Help Center.
Mailchimp's customer support options depend on your package. If you are using the free plan, you are pretty much on your own. There is no email or chat option. In fact, there is no way you can get in touch with the company.
You can only learn from the "Resources" section given on the company's website. However, the section lacks infographics and videos for those who want to learn visually.
You can get 24/7 email and chat support only with paid plans. So, you need to buy at least the Essentials package, whose price starts at $9.99 per month.
However, the Essentials plan and even the next tier (the Standard plan) still lack phone support.
So, you need to choose the pricey Premium plan in order to get call support from Mailchimp.
Another way to gauge a company's customer support is to see how those people who are already using the product rate it.
According to software application review company Capterra, GetResponse has a rating of 4.1 out of 5 stars in the customer support category, whereas Mailchimp enjoys a slightly better rating of 4.2 stars.
Winner: Mailchimp. Although both companies offer similar support options, Mailchimp is the winner here because of slightly better rating from customers.
Final Thoughts
Both GetResponse and Mailchimp are excellent tools packed with a lot of advanced features.
So which tool should you pick: GetResponse or Mailchimp?
Go for GetResponse if you have a large number of subscribers. Besides, GetResponse offers more functionality with its entry-level packages as compared to Mailchimp's. For instance, you can code your own templates even with the 'Basic' suite of GetResponse, something not available with Mailchimp's Essentials plan.
With GetResponse, you get decent segmentation functionality as well as excellent automation and autoresponders even with initial packages.
However, you can prefer Mailchimp if you want to use its free plan, which is one of the most generous ones available in the market.
Mailchimp offers a straightforward user interface and loads of integrations. You can also create emails that display nicely in the mobile version of the Gmail app, and it also offers mobile-responsive pop-up forms.
Moreover, if you go for Mailchimp's Premium package, you will certainly have more options than you will get with GetResponse, including features like advanced segmentation, multivariate testing and comparative reporting.
Related Comparisons