Sendinblue or Mailchimp, which email marketing software is a better option in 2021?
Read this detailed Sendinblue versus Mailchimp comparison to make a smart decision.
The number of email users the world over is projected to cross 4 billion by the end of 2021 and to grow by another 370 million in the next three years.
This suggests that email marketing, which has been there for a long long period, is still relevant today no matter what the size of your business is or what product or service you sell.
And it's not just the number of email users that makes email a great marketing strategy. According to some estimates, a dollar spent on email marketing helps generate as many as $38, translating into a whopping 3,800 percent ROI.
Apart from the ROI point of view, email is also an extremely effective medium to get in touch with your customers and deliver personalized messages.
However, to make the most of email marketing, you need a reliable and effective email marketing tool that is packed with all the essential features and still doesn't cost you a fortune.
An excellent email marketing tool helps you add and track contacts, monitor email drip campaigns and keep an eye on your performance with the help of reports and analytics.
Now you must be thinking: which email marketing software is the best? Don't worry. We are here to help.
We have compared dozens of email marketing tools on our website to help you make an informed decision. Of course, it's next to impossible to examine all the tools in one article.
So, in this post, we are going to make an in-depth, side-by-side comparison of Mailchimp and Sendinblue, which are counted among top email marketing tools.
We will pit both tools against each other in six categories, namely features, deliverability, integrations, user interface, pricing and customer support.
In a hurry? Below is a quick summary of the winner in each
Sendinblue Vs Mailchimp: Comparison at a Glance
1. Features
Winner: Mailchimp. Mailchimp comes with a more advanced feature set, especially when it comes to automation, segmentation and reporting.
2. Deliverability
Winner: Sendinblue. Sendinblue's deliverability rate is much higher than Mailchimp, according to an independent test.
3. Integrations
Winner: Mailchimp. Mailchimp wins this category as it offers far more integrations than Sendinblue.
4. User Interface
Winner: Mailchimp. Mailchimp's minimal UI is more straightforward and intuitive than Sendinblue's.
5. Pricing
Winner: Sendinblue. Sendinblue's excellent pricing structure offers more features and flexibility with every tier.
6. Customer Support
Winner: Both. Both companies provide similar customer support options.
Short Verdict
Mailchimp wins this comparison, as it comes with more comprehensive features, a super straightforward user interface and numerous integration options. By contrast, Sendinblue offers a better deliverability rate and an excellent pricing plan.
1. Features
The overall value of an email marketing tool can be gauged by the number and type of features it brings to the table.
Let's see how Sendinblue and Mailchimp fare in this category.
Email Templates
The content of your email should be relevant to your customers. At the same time, your emails need to look great, and all of its elements – headline, body, images, buttons – should be arranged neatly.
Sendinblue offers more than 200 templates to choose from, though some of them may strike you as a little bit outdated.
However, such a large number of templates do give you relief in the sense that you may not need to design them on your own. All you have to do is to choose a template from Sendinblue's library and tweak it to create a personalized email message.
Still, you have the option to build an email from scratch using the drag-and-drop editor or by copying and pasting your HTML code.
Sendinblue lets you add your own logo to emails and allows you to build emails that look impressive regardless of where your customers open emails (Gmail, Outlook, etc.).
In comparison, Mailchimp also offers numerous email templates, but again, some of them are quite outdated. You can customize these templates with Mailchimp's outstanding drag-and-drop editor.
If you enjoy creating emails from scratch, you will find Mailchimp's email builder far better as compared to Sendinblue's. For instance, you can easily add everything from text to images and social media buttons.
Like Sendinblue, Mailchimp also gives you the option to preview emails before sending them so that you make sure that your campaigns look great on every device and email clients.
However, remember that Mailchimp's free plan comes with only basic templates, and most of the impressive designs are reserved for paying users.
Segmentation
Segmentation – categorizing customers based on set criteria – is a key feature that you should check before buying an email marketing tool.
Segmentation not only lets you deliver the right message to the right customer, but estimates suggest that it also helps boost revenue by as much as 760%.
Let's check out which among Sendinblue and Mailchimp offers more robust segmentation options.
Besides simplifying the segmentation process, Sendinblue has also made it compliant. Before setting up your account, the platform seeks to ensure that you abide by the CAN-SPAM act regulations. This may be an extra step, but it will give you peace of mind that you'll not get into any kind of trouble while using Sendinblue.
In Sendinblue, you can add contacts by entering each one manually, by copy-pasting them from a file where you have saved them, or by adding CSV or text files.
All feels good until you start giving attributes to contacts, as there is no option available to do this at once. This means you can only add a single attribute at a time, which is not possible if you have thousands of contacts.
However, the good thing is that, unlike Mailchimp, Sendinblue offers advanced segmentation options with all its packages, even with the free plan.
After adding contacts, you can put them in segments according to their residence, occupation, location, etc. Besides, you can also create segments on the basis of your contacts' behavior – for instance, by identifying which products they have purchased from your store in the past, or which pages or elements they visit or click.
Mailchimp also offers some advanced segmentation options.
You can create different segments like the lists of new customers, or people who recently made purchases from your store.
Mailchimp also allows you to segment your audience based on behavior. By connecting your app to Mailchimp, you can target people with tailored messages based on specific activities.
More impressively, Mailchimp helps you focus on your most valuable customers by identifying their lifetime value, thus telling you which of them are more likely to purchase from you in future.
Automation
Automation is one of the essential features of an email marketing tool, as it allows you to get things done automatically and with much less effort while you focus on other important tasks.
Let's see which among Sendinblue and Mailchimp fares better in this category.
Sendinblue makes things really simple when it comes to automation. The platform offers you nine goal-based workflow types to choose from, including custom workflows, welcome message, anniversary date, page visit, website event, product purchase, marketing activity, transactional activity and an abandoned cart.
It helps beginners in understanding and then performing basic automation.
The best part is that Sendinblue offers almost the same automation functionality for all its tiers, including the free package. The only difference is that with the Essential plan or below, you can send automated workflows to up to 2,000 contacts.
However, it's obvious that when you upgrade to higher plans, you'll definitely get some impressive features, such as you can track the best sending time for all contacts in your list.
Mailchimp also has many tools in its automation bag to make sure that the right content gets delivered to the right audience – without you doing the work every time.
With Mailchimp, you can send welcome emails to new subscribers, send automated emails on special days like anniversaries and birthdays based on customer data, send event-based emails based on how customers connect with your website or app, and much more.
If you are running an online store, you can send emails to customers who put things in the cart but didn't check out. You can recommend products based on their interest, and send emails related to their online order (for example, when the order is confirmed or when the product in on the way). You can also send retargeting emails to remind customers about the products they saw on your online store.
There are several other automation options in Mailchimp, including sending specialized emails to new or VIP customers.
However, Mailchimp's low-tier plans provide only single-step automation. For complex multi-step custom workflows, you need to purchase the Standard or the Premium plan.
A/B testing
A/B testing is a critical feature of an email marketing tool, as it can significantly improve your open rates and help you achieve your targets by identifying what version of email works best for your audience.
For instance, you can check different send times, subject lines and layouts to see what is working, and what is not.
With both Sendinblue and Mailchimp, you can A/B test different elements of your campaigns. Let's see which among them offers more options when it comes to split testing.
In Sendinblue, you can A/B test at least two versions of any one of the three variables: subject line, content and send time.
For instance, you can create two different subject lines of your campaign, and the platform will automatically select a cross-section of your contacts and divide it into two groups. Afterward, one group will receive version A of your campaign and the other will receive version B.
The winning version will be automatically selected on the basis of most clicks or opens, and will be sent to the remaining subscribers.
However, if you upgrade to Sendinblue's higher-priced plans (Premium or Enterprise), you'll get the send time optimization feature, which uses machine learning to find out the best time for sending emails for every single contact on your list.
Mailchimp also offers excellent A/B testing functionality. You can build a perfect campaign strategy by testing up to three versions of your email, trying out different subject lines, from names, content, and send time.
Mailchimp also offers multivariate testing, which allows you to test up to eight campaign variants in one go. This helps you improve your emails with each campaign.
However, multivariate testing is included only in the Premium plan, which starts at a hefty price of $299 per month (more details in the Pricing section).
One key difference to note between Sendinblue and Mailchimp is that Sendinblue offers basic A/B testing for all of its tiers, including the free edition. By contrast, if you are using Mailchimp's free version, you are on your own.
Reporting and Analytics
To check what's working for your business is critical to its success. There is no point in doing something again and again if it isn't bearing fruit.
Let's see which among Sendinblue and Mailchimp offers more in-depth reporting and analytics.
In Sendinblue, you can easily see your email campaigns' reports by going to the Statistics tab, selecting the timeframe of the result and then clicking on the Show Statistics tab. Once you do this, the performance chart will appear on your screen, showing key metrics like total sent, recipients, open rate, click rate, unsubscribe rate, etc.
You can also view a detailed report of each campaign, which is really helpful as you can easily distinguish between recipients who opened your email once from those who opened it multiple times.
However, you'll only get basic real-time reporting with lower-priced packages. Once you upgrade to the more expensive tiers, you'll get access to some advanced features like heat maps and advanced open and click stats.
Mailchimp also offers basic reports and smart recommendations for all its packages. You can comfortably check performance metrics like clicks, opens, unsubscribes, bounces, and more.
An outstanding option offered by Mailchimp is that you can compare your campaigns' results with industry benchmarks to check out your progress rate.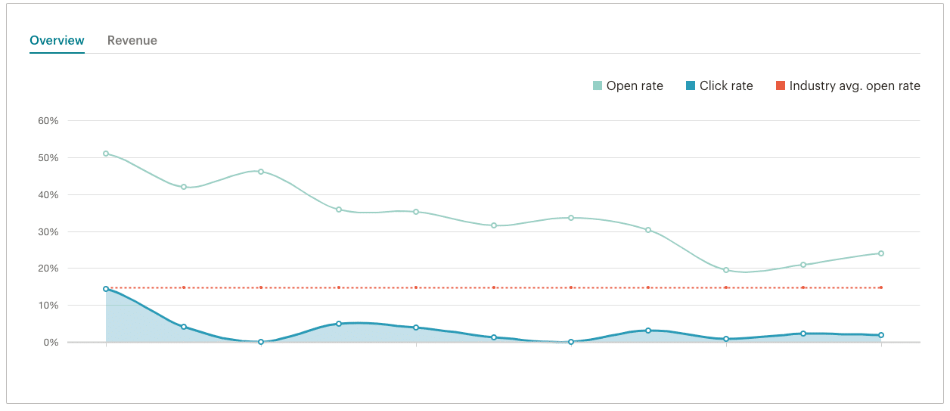 The Premium suite comes with a more advanced feature called "Comparative Reports." These comprehensive, shareable reports based on the data compiled from your sent campaigns help you identify patterns in subscriber engagement and thus make your campaign content better and more targeted.
These reports can include regular RSS campaigns that you sent in the last 18 months.
Once generated, you can find these reports under the Comparative tab on the Reports page in your Mailchimp account.
Winner: Mailchimp. Sendinblue offers some excellent features, even with its free and low-tier packages, such as A/B testing and advanced segmentation. However, if we take a holistic view, Mailchimp has a more exciting feature set in its toolbox.
2. Deliverability
Any email marketing tool can send emails. But delivering them is what separates an excellent tool from the ordinary one.
Let's take a look at the deliverability rates of Sendinblue and Mailchimp to find out which of them does better when it comes to landing more and more emails into recipients' Primary Inbox, and not the hated Spam folder.
According to the latest evaluations from EmailToolTester, Sendinblue's deliverability rate was 95.4%, which is far better than Mailchimp's 81.6%.
Similarly, Sendinblue managed to place far more percentage of emails (89.4%) into the primary inbox of recipients as compared to Mailchimp (78.9%).
This naturally means that fewer emails sent through Sendinblue's platform (4.1%) ended up in the spam folder when compared with Mailchimp (16.7%).
Winner: Sendinblue. Sendinblue clearly eclipses Mailchimp in this category. Sendinblue boasts a better deliverability rate and a significantly higher percentage of emails sent through the platform land in subscribers' primary inbox.
3. Integrations
Who doesn't want to reap more and more benefits by integrating their email marketing tool with their favorite web services and apps?
Sendinblue offers over 50 integrations, including some major names in the market like Shopify, WordPress, Magneto, Zapier, PayPal, Drupal, OptinMonster, Salesforce, WooCommerce and more.
Mailchimp is unbeatable when it comes to integrations. It outnumbers not only Sendinblue but almost all major email marketing platforms by offering integration with nearly 250 services.
With Mailchimp, you can connect with almost all major apps out there like BigCommerce, WooCommerce, Canva, LiveChat, etc.
Moreover, both Sendinblue and Mailchimp connect with Zapier, which you can use to integrate your email marketing software with thousands of apps.
Winner: Mailchimp. With such a large number of integration options, Mailchimp is far ahead of its competitor in this category.
4. User Interface
An excellent user interface plays a vital role in turning potential visitors into clients and existing users into fans. Let's see which among Sendinblue and Mailchimp offers better usability.
Sendinblue UI
Sendinblue offers a pretty simple and straightforward user interface. Though some people may find the dashboard messy at first, overall, it's quite easy to locate tools that you want to access.
The main dashboard displays the total number of contacts, opened and clicked emails, blacklisted contacts and some more stats.
The interface displays various tabs on the top and the left side of the screen. The top menu remains visible no matter on which screen you are and shows tabs like Campaigns, Automation, Transactional, Contacts, and Integrations (denoted by a plus sign).
The menu on the left changes from section to section. When you are on the dashboard, it displays the following options: Email, Templates, Statistics and Settings. The left panel also shows details of your plan, remaining emails and SMS credits.
Mailchimp UI
Mailchimp also offers an easy-to-navigate user interface. In fact, it's more straightforward than Sendinblue in many respects.
You can access most options, such as email templates and reports, within one or two clicks no matter on which section you are at the moment.
From building and automating emails to creating segments to checking analytics, everything is quite simplified in Mailchimp.
You can access all the options under six broad categories, namely Create, Campaigns, Automate, Audience, Brand and Reports.
Winner: Mailchimp. Mailchimp offers a minimal interface, and it is relatively easier to access various options. The categories are self-explaining, and you can get started quickly even if you have little or no experience of email marketing.
5. Pricing
Pricing is one of the most important aspects of any product or service. It tells you how much value you are going to get for every dollar spent.
Let's see which among Sendinblue and Mailchimp has a better pricing structure.
Sendinblue Pricing
To begin with, Sendinblue does offer a free plan. You can add unlimited contacts but can send only 300 emails per day. The free tier provides some excellent options, including email template library, email and SMS personalization, A/B testing, advanced segmentation, sales CRM, real-time reporting and email support.
However, the free plan lacks many advanced features as well, which you may need to expand your business. So, sooner or later, you will need Sendinblue's premium plans, which are:
Lite (starting from $25/month)
Essential (starting from $39/month)
Premium (starting from $66/month)
All the plans allow you to add unlimited contacts. However, with the Lite plan, you can send a maximum of 40,000 emails per month. This tier offers everything that comes with the free plan, plus there are no daily sending limits.
However, a major drawback is that you can't remove Sendinblue's logo from your emails despite paying $25 a month.
To remove the logo, you need to upgrade to the next tier, the Essential package. Besides, you will get advanced reporting features and phone support with this plan.
If you're a professional, then you may need Sendinblue's Premium plan, which offers some advanced features like send-time optimization, Facebook ads, chat functionality, multi-user access and unlimited automation workflows.
If you have more advanced needs, you can contact Sendinblue and get a quote for the Enterprise plan, which provides 10+ seats, managed setup and priority support, dedicated account manager, priority sending, etc.
Mailchimp Pricing
Mailchimp is known as one of the most beginner-friendly email marketing platforms, thanks to its exceptional free plan.
Although the free package provides limited functionality, it does allow you to send 10,000 emails per month to 2,000 contacts, which is a pleasant surprise for newcomers.
So, if you're looking for advanced features, you may take a look at Mailchimp's paid plans:
Essentials (starting at $9.99 a month)
Standard (starts at $14.99 a month)
Premium (starts at $299 a month)
Unlike Sendinblue, in which you can add as many contacts a possible but send limited emails per month, Mailchimp decides its prices according to the number of contacts (and then decides the monthly email sending limit).
With the Essentials plan, you can start with 500 contacts and get a monthly sending limit of 5,000. The maximum number of contacts you can upload under this plan is 50,000 (remember that the price will jump to $259 from $9.99 when you go for the maximum number of contacts).
The Essentials plan comes with all premium email templates, A/B testing, custom branding and 24/7 email and chat support.
Next in line is the Standard suite, which allows you to send 6,000 emails to 500 contacts on the lowest side and 1.2 million emails to 100,000 contacts on the highest side. This package boasts advanced audience insights, retargeting ads, custom templates and event-based automation, among other things.
Then comes Mailchimp's most expensive package, the Premium plan, which starts at a price of $299 per month. However, you can send 150,000 emails per month to 10,000 contacts on the lowest side. This suite offers advanced segmentation, multivariate testing, comparative reporting, phone support, etc.
Winner: Sendinblue. Mailchimp does offer better prices for beginners, as you can get started with just $9.99 a month. However, as your list's size grows, Sendinblue becomes more affordable and flexible.
6. Customer Support
Both Sendinblue and Mailchimp are rich in terms of features. Let's see which of them offers better support to their users.
Sendinblue provides email support with each of its plans, even with its free tier. However, to get phone support, you have to upgrade to its Essential plan at least.
If you are more like a DIY person, you can access Sendinblue's Help Center to get some handy video tutorials and knowledge base that will guide you through some basic marketing essentials.
In comparison, Mailchimp also provides email and chat support options with its lower-priced plans. To access phone support, you need to upgrade to the Premium plan.
Sadly, there is no support available with Mailchimp's free plan, which means you have to deal with issues using knowledge base and guides.
We can also see how existing users view both products in terms of customer service. On software application review website Capterra, both Sendinblue and Mailchimp have a rating of 4.2 stars out of 5, which shows excellent feedback from users.
Winner: Both. Both Sendinblue and Mailchimp provide adequate customer support and enjoy excellent ratings from their users. However, both companies don't offer phone support with initial packages.
Final Thoughts
Mailchimp is the overall winner of this comparison. It is not only one of the most popular and oldest names in the email marketing industry, but it is also a comprehensive tool that comes with a wide range of features, including a great email builder, advanced A/B testing and segmentation, various automation options, etc.
Mailchimp also comes with a super straightforward user interface and loads of integrations.
Sendinblue, launched in 2012, is a newer tool and is not as popular as Mailchimp. However, we have found that it offers a better deliverability rate and pricing structure than Mailchimp.
Related Comparisons