Unbounce or Webflow, which software is a better option in 2021?
Read this ultimate Unbounce versus Webflow comparison to make a smart decision.
Want to build a cool, professional-looking, high-converting landing page, but confused about what software to use?
You've come to the right place.
Today we have two advanced software – Unbounce and Webflow – that we'll compare in a head-to-head battle to see which one builds better landing pages.
Unbounce is a dedicated landing page builder, whereas Webflow specializes in website design and creation.
Let's see if it is better to stick to a landing page builder to create highly efficient landing pages, or we can have the same job done using a website builder.
So, stick around if you have questions about that because they are about to be answered. Plus, you'll find out what both software offer in terms of features, functionality, and analytics.
In a hurry? Here's a quick review of both page builders for you.
Comparison at a Glance
1. Features
Winner: Webflow. Webflow gives you tons of features that you can't find with Unbounce, such as motion features, integrated CMS, and VAT & tax calculation.
2. Ease of Use / Customizability
Winner: Unbounce. Unbounce's templates and editor are much more flexible and customizable compared to Webflow.
3. Conversion Tracking Capabilities
Winner: Unbounce. Webflow doesn't offer much in the name of conversion tracking abilities other than Google Analytics and Google Optimize. Whereas, with Unbounce, everything from start to finish is designed to help conversion optimization.
4. Integrations
Winner: Unbounce. Unbounce offers you a wide selection of integrations and the option to connect with more via Zapier and Webhooks. Webflow also integrates with Zapier, but there are just a couple of built-in integrations.
5. Pricing
Winner: Both. Both platforms offer pricing plans targeted towards different audiences with entirely different offerings. That's why we can't pick one over the other.
6. Customer Support
Winner: Unbounce. Unbounce is way more hands-on and accessible in its direct customer support compared to Webflow.
Short Verdict
Despite many of its strengths and unique features, Webflow is a website builder and lacks many functionalities that are essential for landing pages. In our opinion, between the two platforms, Unbounce is the better choice as a landing page builder.
Let's look at both page builders in detail now.
1. Features
It's important to get a good look at a product's characteristics because it may or may not include the functionalities you're looking for. Don't just assume it entails all by default.
So, let's get to it.
Unbounce Features
Unbounce is a bit of a treat for you if you're an online marketer with a keen eye for design aspects.
With its highly conversion-focused approach, Unbounce also offers an extremely easy-to-use and fluid drag-and-drop page builder. It's intuitive and makes it fairly easy for users to apply custom touches to their pages.
In addition to these core strengths, Unbounce provides a solid compilation of features that help you create chic and professional landing pages in no time.
But before we get into the nitty gritties, let's have a quick look at Unbounce's key features.
No-code Drag and Drop Builder – practical and intuitive page builder that enables you to set up your page layout exactly as you want it.
100+ High-Converting Templates – get access to beautiful, professionally designed, high-converting templates and build your landing pages within minutes.
Mobile Optimization – Unbounce automatically generates mobile versions of your pages but also gives you control to further personalize them if that's what you want.
A/B Tests – run A/B tests on different versions of your landing pages to see which one has a better conversion rating. Based on these findings, you can also tweak and improve current pages.
Dynamic Text Replacement – dynamically modifies your landing page content to match your visitor's exact search terms, resulting in boosted conversions.
WordPress Compatibility – Unbounce directly integrates with WordPress, which makes it compatible with one of the most popular website building platforms.
Clone and Edit Entire Pages – easily clone your best landing pages with just one click and edit them for future campaigns.
850,000+ Free Unsplash Images – free access to a massive library of professional-grade images from thousands of photographers.
Unlimited Users – add as many users as required to manage your landing pages from your team, clients, or others.
GDPR Compliance – Unbounce fully complies with the requirements of the General Data Protection Regulation (GDPR) for all its client and user data.
Two-Factor Authentication (2FA) – Unbounce uses two-factor authentication that gives an added layer of security to your account login.
Google Fonts – Unbounce gives you access to 950+ amazing Google fonts using which you can create a unique look for your website.
Parallax Scrolling – add more depth to your pages and create an immersive experience for the visitors with zero knowledge required for CSS or HTML.
Form Builder – helps you create multi-step, lead-generation forms with custom fields to collect more leads. You can also add drop-downs, checkboxes, and radio buttons with this feature.
Popups and Sticky Bars Options – create attractive popups and sticky bars and make them appear using different action triggers and even based on the visitor's location. You can also schedule them to appear seasonally and choose exactly who sees them.
All packages offer:
Targeted popups and sticky bars
Built-in conversion-focused features
Unlimited account users
Two-Factor Authentication (2FA)
WordPress integration
Only higher tiers offer:
Accelerated Mobile Pages (AMPs)
Launch scheduling and page redirects
Sub-accounts
Migration Services
Advanced integrations with Marketo and SalesForce
What you don't get with Unbounce:
Unbounce places a restriction on the number for landing pages, popups, and sticky bars that you can publish under each plan.
You may still be able to live with the number of landing pages (75, 150 & 375+ respectively for the three plans) – only just, mind you – but the popups and sticky bars are too restricting (see image below).
[Insert cut-out from the features image]
Webflow Features
Webflow is a DIY website builder designed to empower marketing professionals, agencies, and entrepreneurs to create compelling websites without the need for coding.
Just as in a landing page builder, the Webflow editor uses drag and drop functionality and allows you to completely define the look and feel of the template you use.
But let's first look at the Webflow site builder features before exploring any further:
100+ Responsive Website Templates – you can choose any layout you like from a library of over 100 templates for free or for a one-time charge.
Parallax Scrolling and Other Motion Features – Just like any other advanced website builder, Webflow offers multiple quirky movements to enhance site experience, including parallax animations, craft animations, micro-interactions, trigger-based animations, Lottie animations, and 3D rotations among others.
Auto-Backup – Webflow records automatic backups of your site-building progress. So, should anything go wrong, you can use this feature to restore your site to any time till the last save point.
Website Security – The platform is ISO 27018 compliant and offers a free SSL certificate, which tells visitors they can trust your site. Webflow also enables per-page password protection for an added layer of security.
Advanced SEO Controls – In addition to the SEO tools offered by most platforms – like metadata, image alt text, keywords, etc. – Webflow also offers automatically generated sitemaps and customizable 301 redirects to make it easy for search engines to find and index your website.
Payment Options – you can either use your standard credit or debit cards to make your payments through Stripe or use Apple Pay/ Paypal.
Automatic Sales Tax and VAT Calculation – Webflow automatically calculates the sales tax and VAT amount and adds it to your customer's bill, saving you valuable time in the process.
Facebook and Instagram Account Sync – you can connect your Facebook store and Instagram shop to your website, allowing you to cross-sell between your site and social channels. You can also use this utility to run more efficient marketing campaigns.
Design Technologies – you can build your site either using CSS grids, CSS filters, or Flexbox. The only difference is you have to write none of the codes as the builder writes them for you. Additionally, you can also export the coded files to another website builder.
Super-Fast Loading Time – Webflow hosted websites load much faster than the normal sites. Webflow uses Fastly and Amazon Cloudfront, the Tier 1 content delivery networks, to ensure your site loads super-fast.
Mobile Versions – you can also download Webflow as an Android or iOS application and stay connected to your projects on the go.
Webflow CMS – Webflow provides a full-fledged content management system with dynamic content editing, filtering, sorting, and exporting. You can also collaborate with your clients within the system where they can update the content as well as receive their website's form submissions right inside the Editor panel.
White Labelling – the Professional plan and the Team plan users can replace Webflow logo with their own in the CMS, Client Billing payment forms, form emails, and staging sites.
Team Dashboard – Team plan users also have access to a shared team dashboard using which they can easily collaborate with teammates on different projects and share templates.
2000+ Web Font Families – access any font from Google and Typekit's huge collections. You can also upload any other custom font you own.
All packages offer:
No-code design customization
Site hosting
Super-fast upload speed
Free SSL certificate
Only higher tiers offer:
Special login for client or content editors
Client billing
Code export
White Labelling
Site password protection
Team dashboard
What you don't get with Webflow:
For all it's amazing features, you don't get any phone call or live chat support from the company. Moreover, Webflow has been designed with professionals in mind who already have some idea of coding.
A novice with no prior experience in web design will have a much higher learning curve compared to that of other similar platforms.
Winner: Webflow. Being a website builder, the versatility of features you get with Webflow is unrivaled by Unbounce. That's why Webflow is the winner in this category.
2. Ease of Use / Customizability
Ease of use matters for web page building software. They are usually associated with three things: speed, convenience, and focus.
When you want to get your pages up and running fast, you don't want to get lost in the inner workings of your page builder.
So, let's see which is more user-friendly between the two platforms.
Unbounce
Let me say this now – Unbounce's page builder is a breeze; it's that light to your touch. It is so fluid that it makes you want to play around with it for no reason.
But focus. Using the insanely intuitive page builder, you can easily drag any item to literally any position on the page. The builder will generate suggestions to help you align things but doesn't restrict you if you don't follow.
Changing the content copy is as easy as double-clicking on it and editing it then and there. If you want to further customize the font, color, size, background, etc. you can do that from the right-hand sidebar.
Of course, you can also drag elements like boxes, images, videos, buttons, or widgets, on to your page.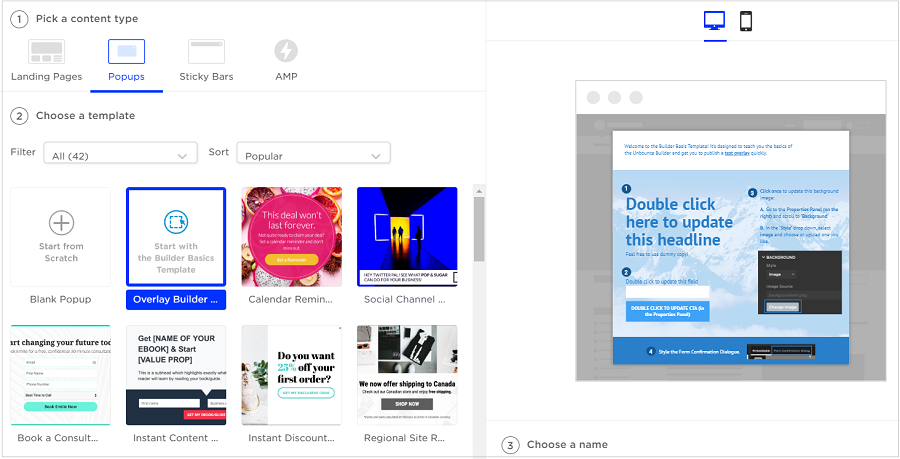 You can also create complex forms and add custom fields to suit your purpose. You can add drop-down menus, and even have checkboxes or radio buttons to collect specific information.
Here, we can't move on without mentioning the Unsplash Image library that gives you over 550,000 free high-resolution photos. That's pretty cool. You can find an image to depict any mood, vibe, or experience you want.
If you're a bit of a techy person and have your palms itching for a little bit more, you can add custom HTML code to your page just by dragging it onto the page and writing it on there.
Still not satisfied? Well, then you can work a little more magic with Javascript and Stylesheets by just click on these tabs at the bottom of the editor.
Now, when your page is ready, it's a good idea to make at least a couple more copies of your page with some variations, trying out different options.
Just go to the 'Variant A' tab on the top menu and click on "Create Duplicate of Variant A" in the drop-down menu.
Then when you run A/B testing on it, Unbounce will show you which one is more conversion optimized. You'll be surprised by what little changes can do. So, don't be afraid to experiment.
The page builder will automatically generate mobile versions of your pages if the Mobile toggle at the bottom is on.
Still, if you don't like something, you can make further adjustments in size or design, whatever you want, and create unique mobile pages.
If your targeted audience is more likely to reach your landing page on a mobile device, it might be a good idea to design AMPs or Accelerated Mobile Pages.
They have lightning-fast download times. You simply select an AMP template, and the rest of the process is the same. However, the speed does mean that you have to let go of some features like global scripts, variants, popups, and sticky bars.
That's because you can only use limited HTML, CSS, or Javascript coding. But that's where you have to be smart and design intelligently.
If AMPs are a requirement for you, use the resources well. Your content will matter more than flashy inputs. So be creative with that.
You also won't be able to run A/B testing on AMPs or use dynamic text replacement or external conversion tracking apps.
But here's what you can do. Do all those things on the desktop version of your pages, and when you've picked out the best variant, design your AMP around that one. You should be okay.
All in all, there's a lot you can do with the Unbounce page builder. It's very flexible, and you can be as creative as you want.
Webflow
Webflow has one of the most flexible website builders you'll find out there. The platform gives you full functionality of HTML, CSS, and Javascript without having to worry about actual coding.
As in any other builder, you'll choose a template you like or select the blank page. Webflow classifies its templates based on industry, eCommerce, free or premium templates.
You also get a small description for each template informing you about your design options and the best use scenario. Both these things make it fairly easy for you to choose a design on a practical basis.
The templates are well-designed. They hold their own in terms of quality and are responsive across all major browsers as well as screen sizes.
Next, the interface will launch the editor where you will use the drag and drop feature to put different elements in order.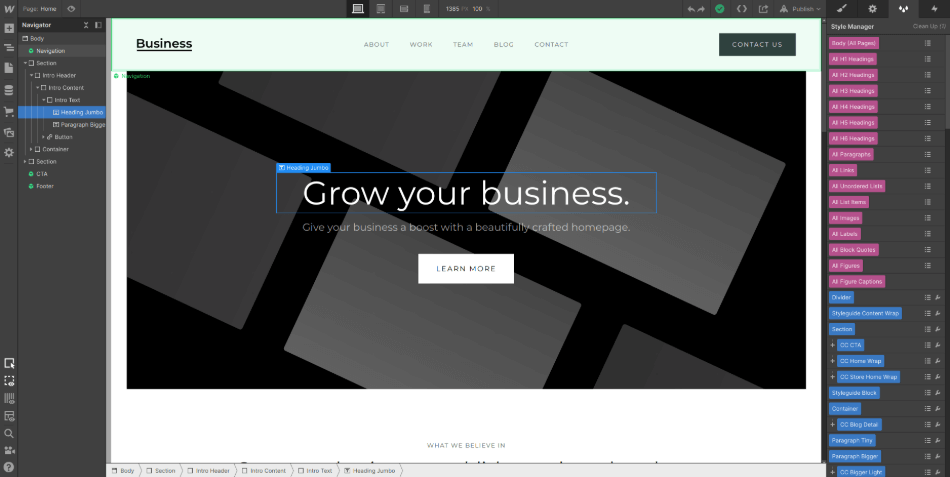 You'll go into the settings for each element, which will open up on a left-side rail where you can make the specifications in each different area, like font, color, position, size, etc.
While you're using a straightforward approach to create your pages on the forefront, in the background, the designer is generating specific codes for an optimized website.
While the pro web developers won't need much time learning to work this editor, novices will have to maintain a learning curve.
But remember, Webflow primarily focuses on an audience who's already familiar with coding. In any case, you can always take help from hundreds of tutorials that cover each and every aspect of site-building.
It is actually recommended to do that so you can streamline your experience of the Webflow page editor.
Moving on, you can find many different options to fill your pages with, for instance, Hero section, cards sections, Feature section, Gallery section, Call to Action, etc.
You can adorn these sections with elements like blocks, images, videos, animations, forms, Navbars, search bars, sliders, tabs, location maps, social media links, etc.
You can also add custom fields, drop-down menus, checkboxes, radio buttons, and even reCAPTCHA to your forms.
However, these items drop into a fixed position on the page and won't be dragged to a new location, which can be a little annoying.
Besides, when you drag different items on to the page, they stack up on top of each other. You can't put them side by side or drag them around as you would in the Unbounce editor.
Webflow calls it a "Box Model", where each box containing a new item overlays another one. This may be simple enough, but it won't give you room to play around much with the layout.
On the other hand, each item is versatile enough in its own right. For instance, if you want to add animations, you have a variety of options to choose from.
For example, animations like parallax scrolling, micro-interactions, Lottie animations, trigger-based animations – like hover/ mouse movement/scrolling/ loading motions – as well as multi-step animations.
You can also add the 'cards' section, which is great for mentioning news, articles, blogs, resources, etc.
When it comes to teamwork, you also have a team dashboard where you can collaborate and collectively work on a project. You can also share a read-only preview with a team member or client.
The builder automatically creates backups of your work, so you can always revert to a previous version of your page if you're not happy with the progress on a design.
Webflow also provides a complete CMS setup integrated into the platform, which makes it easy to collect and transfer your website's data between different projects or platforms.
Finally, you can publish your site to a Webflow domain or a custom domain of your own. All in all, the Webflow offers a pretty comprehensive site builder with all the functionalities you'd get in a traditional site builder.
Winner: Unbounce. Webflow offers many functionalities that you don't get with Unbounce – e.g., cards sections, triggered based animations, Lottie animations, etc. – but because of the nature of a landing page, these are not of much use to you.
Besides, Unbounce offers much more fluid drag and drop functionality and relatively greater customizability than Webflow.
3. Conversion Tracking Capabilities
Landing pages are conversion-focused, so naturally, you would want some efficient conversion tracking tools to see what's working and what's not.
Let's see how capable both Unbounce and Webflow are in this area.
Unbounce
Unbounce offers a highly conversion-focused approach. So, the template layout, design elements, etc. are all meant to affect your conversion rates positively.
It's like creating a "funnel" on a single page where the visitors land exactly on the point you want them to.
Another important aspect of this approach is to attract the right visitors. For that, Unbounce uses the Dynamic Text Replacement feature that matches your ad and page content (e.g., keywords) exactly to a visitor's query.
Furthermore, you can add many little widgets, popups, and sticky bars to keep the visitor on the page until they reach your desired "action", for instance, signing up for a newsletter.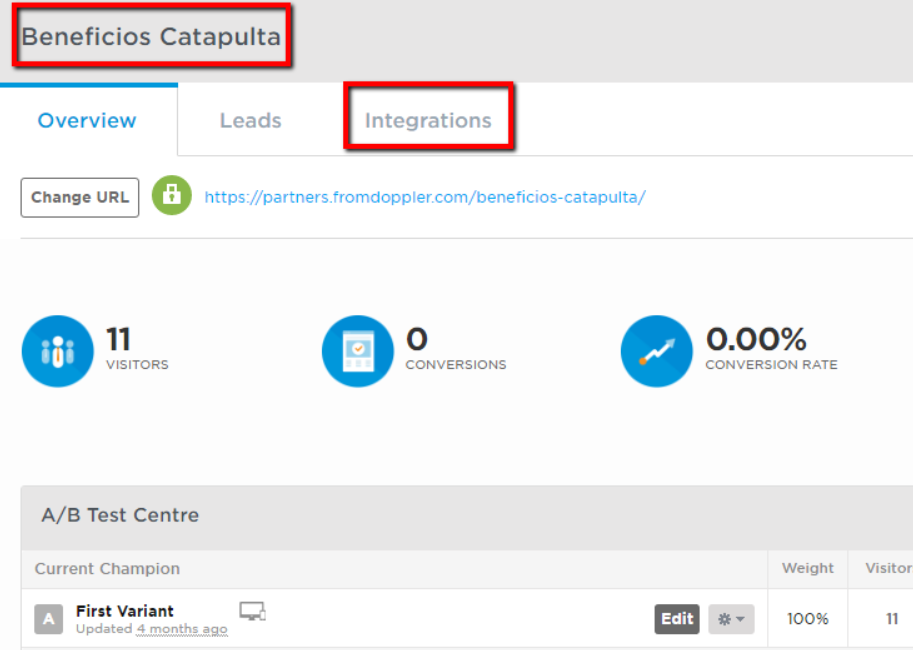 Unbounce has very recently added a cool Ai-powered conversion tool to the list. It's called Smart Traffic™.
The tool automatically filters the traffic and directs it towards the most relevant variants of your page, helping to convert more leads.
But it's still a trial version, so let's see how it develops in the long run.
However, you still have many other analytical tools that Unbounce integrates with, and that can help bring in more conversions.
For instance, you get Salesforce, MailChimp, Zapier, Webhooks, Marketo, HubSpot, WordPress, Campaign Monitor, and many more.
Webflow
Webflow is a website builder that creates sites optimized for SEO rather than conversion. That's why the tools you find within the platform are also there to enhance your SEO ratings.
However, Webflow does integrate with Zapier, so if you want to incorporate any tools or apps that help with conversion, you can do that.
For starters, Webflow offers various features to improve your SEO rating, including alt tags for images, open Graph settings, meta title & descriptions as well as auto-generated XML site maps.
Additionally, other built-in features help make your site more search engine friendly, like clean, semantic coding, fast loading pages, and mobile responsiveness.
Furthermore, you can also integrate with Google Analytics to track your site traffic. You can use Google Optimize to run A/B and multivariate tests on your pages.
Winner: Unbounce. Unbounce has many built-in and then integrated apps that help you with off-page and on-page conversion. Moreover, with Unbounce, every aspect of page templates is designed to boost conversion rates.
Whereas Webflow has a greater focus on SEO rating, and conversion optimization is not a focal point with the platform.
4. Integrations
Your landing page may be designed to achieve a single objective, but it doesn't exist in seclusion.
That's why you need many different apps and tools to share data between various projects, or use your leads for further marketing, etc.
Most page builders offer some essential built-in apps and a lot of integrated apps so you can get different jobs done efficiently.
Let's see what Unbounce and Webflow have for us in this category.
Unbounce
With Unbounce, you can find a mix of in-app and third-party apps. Together they come to over 100 apps and tools. But because of Zapier and Webhooks integrations, you can easily connect to hundreds of other app, tools, and services.
Unbounce classifies its integrations into the following categories:
Utilities
CRM
Chat
Social Media
Email Marketing
Marketing Automation
Customer Support
Call Tracking
Education
Analytics
Webinars
Optimization/ Testing
Webflow
Webflow doesn't offer many integrations. Since it's a website builder, there's no single focus to offer integrations for.
Unlike landing pages, where there are only a few objectives you could possibly want to achieve with your page, there are hundreds of different kinds of websites.
The only integrations you do get with Webflow are Google Analytics, Google Optimize, Google Domains, and MailChimp. You can see the idea is to make your site as search engine friendly as possible.
Other than those, Webflow also integrates with Zapier that further connects you to tons of different apps that you can use to do whatever you want.
Winner: Unbounce. Unbounce gives you many integrations that will help you with whatever your objective for a landing page may be. You also get access to hundreds of additional tools and apps via Zapier and Webhooks.
Again, whatever few integrations Webflow offers are focused on SEO optimization. Although you can still use many conversion-focused apps using Zapier, but with everything else lacking that basis, that'd be inefficient.
5. Pricing
Pricing is a tricky business. Depending on how different companies want to build their perception, they price their products accordingly.
For instance, if a company wants to be taken as a premium brand, it will charge high prices.
Others like to cater to different market segments and have a separate plan for each segment.
We'll have a look at the pricing plans from both Unbounce and Webflow and see how they compare.
Unbounce Pricing
So, this is where you might need to brace yourself a little bit. All those cool Unbounce features don't come cheap.
Unbounce divides its packages into three different tiers called Essential, Premium, and Enterprise.
Essential, the starter plan, costs you $79 per month. This is pretty steep given that you can only publish 75 landing pages and 8 popups & sticky bars.
The Premium and Enterprise plans cost $159 and $399+ per month, respectively.
These prices ARE high when compared to some other top-ranking landing page builders like Leadpages, and can easily make Unbounce lose a large chunk of their target market.
Webflow Pricing
Webflow offers many different site plans for different audiences. The ones targeted at individual users or beginners are not that pricey. But if you want to upgrade to premium tiers, you'll be looking at some expensive deals.
Webflow classifies its packages into two main categories, called Site plans and Account plans. Each category is divided into two groups, each of which has three different tiers (except for Team plans).
First, there are the site plans for personal blogging websites, solopreneurs, and eCommerce websites. These are further categorized into Website plans and eCommerce plans.
Website plans have three tiers called Basic at $15 per month, CMS at $20 per month, and Business at $45 per month. Billed annually, the packages would cost you $12, $16, and $36 per month, respectively.
The Ecommerce plans include Standard at $42 per month, Plus at $84 per month, and Advanced at $235 per month. If you go with an annual subscription, these monthly rates will come down to $29, $74 and $212 per month, respectively.
Webflow also offers Account plans for professionals, agencies, and corporations. This category also contains individual as well as group plans.
The Individual plans have three further tiers, called Free, Lite, and Pro. The Lite plan costs $24 per month, whereas the Pro plan costs you $42 per month. Annual subscriptions of the same will cost $16 and $35 per month.
Lastly, Webflow offers Team plans divided into Team and Enterprise packages. The Team package costs $42 per person per month (or $35/mo. ann.) and provides all the advanced features.
The Enterprise plan is a customized offering, and the subscription rate is dependent on the needs of the organizations.
Like we said before, the premium tiers get pretty expensive. Since Webflow projects itself as a premium site builder with greater customizability without the need for coding, the pricing is reflective of that conception.
Winner: Both. Pricing wise Webflow still offers some cheap plans that you may want to try out before upgrading to a premium plan while Unbounce doesn't come cheap.
Webflow has both cheap and pricier options, but in any case, you don't get the essential landing page features with it that you can get with Unbounce.
That's why this category is a tie, and we can't pick one of these platforms based solely on pricing.
6. Customer Support
Customer support is where companies get to build real customer loyalty. Users like a service provider that's hand-on and within easy reach in a time of need.
How accessible are Unbounce and Webflow?
Let's find out.
Unbounce
The customer support system at Unbounce is quite accessible as it offers all the major support channels, i.e., phone calls, email, and live chat.
Live chat is especially popular these days for two reasons.
a) You don't have to wait for a reply or a customer representative on call.
b) You get your issues resolved faster than other options.
It has its benefits for the service provider, too, as they can discover customer pain points much more effectively. Plus, it's cost-effective.
Additionally, you can also access the complete knowledge base for marketers and businesses on their website. Here, you can find plenty of information about every aspect of page creation and conversion optimization.
You can also find help at the Unbounce Community Forum, where you can connect with many successful marketers from around the globe. Someone's bound to have good advice for you.
Enterprise users also get to benefit from one-on-one coaching services.
Webflow
Email is the only form of direct support that you get from Webflow. You can reach their response team during the weekdays from 6 am – 6 pm PT. You'll probably receive a reply within 24 – 48 hours.
To make this system more efficient and less time consuming, you can always leave a detailed message coupled with screenshots or other attachments to communicate your problem in the best possible way.
However, since this isn't the fastest route to help, you can also try and resolve your issue using the knowledge base from Webflow's online help center, which they call Webflow University.
The university consists of tons of tutorial videos that you can watch and see how to go about different aspects of your site, including design, CMS, eCommerce, hosting, account & billing, and many more.
Webflow also offers a crash course that will walk you through different stages of site-building and set you up on anything you might run into during your site creation process.
Additionally, you have ebooks, a community forum, and a showcase where you can get some inspiration from the best websites made in Webflow.
Winner: Unbounce. Although Webflow gives you many different options where you can find help, but when you can't figure something out even after trying, there's no alternative to direct, hands-on support.
Unbounce offers all three channels for support, i.e., phone calls, emails, and live chat. Their support team is much more responsive and accessible compared to Webflow.
Bottom Line
Webflow has a host of robust features and a powerful editor backed by HTML, CSS, and Javascript coding. But for all its strengths, it is still a website builder and doesn't give the built-in features, tools, and utilities required to create awesome landing pages.
Whereas, Unbounce, being a dedicated landing page builder, gives you everything you need to build high-converting pages. That's why we recommend Unbounce when it comes to creating landing pages.
You should use Webflow if:
You're already familiar with coding but want to fast-track website creation using a robust yet customizable site builder.
You're an agency or a business constantly working on many simultaneous website projects for your clients and want to use a powerful site builder to accelerate productivity and eliminate downtime.
Additionally, Webflow is also a good choice if you have already used other builders like Wix, but now you want greater creative choice and more control over the look and feel of your site.
Related Comparisons