Constant Contact or Mailchimp, which email marketing software is a better option in 2021?
Read this detailed Constant Contact versus Mailchimp comparison to make a smart decision.
Using email to build relationships with existing and potential customers is one of the most effective tools for marketers. Email marketing is a part of digital marketing, which also includes using websites, blogs, social media (Facebook, Instagram, Twitter), etc. to promote your brand.
The email has been here for decades now, but it is as relevant today as it is effective. A study conducted by HostPapa reveals that only 61 percent of Internet users use social media platforms compared to 94 percent who use email. Besides, about 75 percent of adult netizens prefer email marketing to other marketing methods.
Similarly, a 2018 study shows that marketers consider email marketing as the most effective digital marketing platform, beating out social media marketing, SEO, affiliate marketing, display advertising, etc.
Just like many other popular and newer online marketing channels, email marketing also allows targeting people based on who they are, how old they are, their habits and interests, their online activity and past purchasing habits, how they have interacted with your business, and many other factors.
Email marketing also offers more reporting and analytics capabilities, as you can also track the success of your email marketing campaigns using various key performance indicators (KPIs) like click-through rates, open rates, bounce rates, conversions, etc.
At the same time, emails have a more comprehensive range of formatting possibilities than social media posts and messages, and you can interact with customers more effectively using email than you can with other mediums.
There are numerous email marketing platforms out there, and exploring and comparing each one of them at once is not possible in a single post. So, to make life easier for you, in this article we are going to compare two of the most popular email marketing platforms: Constant Contact and Mailchimp.
Both providers are considered among some of the most reliable email marketing platforms for nearly any type of business. Mailchimp is unarguably the largest email marketing service provider, with billions of emails being sent using the platform every month. Constant Contact is also one of the oldest players, having a sizable market share.
In this article, we are going to compare Mailchimp and Constant Contact to see which of them offers more bang for your buck.
In a rush? Take a look at the section below to read the summary of our detailed comparison
Comparison at a Glance
1. Features
Winner: Mailchimp. A definite win for Mailchimp thanks to its excellent feature set.
2. Deliverability
Winner: Constant Contact. With Constant Contact, more emails reach the primary inbox of target users.
3. Integrations
Winner: Mailchimp. Mailchimp offers three times as many integrations than does Constant Contact
4. User Interface
Winner: Mailchimp. Mailchimp wins this section on the back of its modern and intuitive interface.
5. Pricing
Winner: Mailchimp. Mailchimp offers flexible and affordable pricing options.
6. Customer Support
Winner: Constant Contact. The company works diligently to resolve your issues, and its customer support is better than its competitor.
Short Verdict
The overall winner of this comparison is Mailchimp because of its robust feature set, flexible pricing plan, numerous integration options and a super-straightforward interface.
1. Features
Features are probably the first thing one should look at in any product or service before making a purchase decision. Both Constant Contact and Mailchimp are rich in features and functionalities. Let's see how they stack up.
Importing Contacts
Both Constant Contact and Mailchimp offer several options when it comes to importing contacts into these platforms.
In Mailchimp, you can add subscribers one by one, copy/paste from files, import a CSV file or import contacts from services like Google Contacts, Salesforce, and Zendesk.
To do that, go to the 'Audience' tab, then click on 'Manage Audience' and import contacts. Then choose your preferred method to go ahead.
Constant Contact, on the other hand, also allows you to upload contacts by adding them one by one or all of them at once, and copy/paste or uploading them with a file (it accepts other versions like .xls, .xlsx and .vcf). It also lets you transfer contacts through integrations.
This shows that Constant Contact has slightly more options than Mailchimp when it comes to uploading contacts into your list.
List Management and Segmentation
Constant Contact shows its worth when you go for list management. In addition to having different lists, it lets you add tags to your subscribers (something that's now also available in Mailchimp).
With Constant Contact's navigation bar, which appears on the left, you can filter contacts by subscription status, email lists, tags, and manual search. You can even set custom notes to your contacts to save useful information about them.
To add tags to your contact, follow the below steps:
Click on the contact's name; it will take you to the contact page.
On the contact's page, you can add the tag, personal notes, phone number or any additional contact fields you desire.
In Mailchimp, it's a bit complicated to manage contacts, but fortunately, it gives you a few handy options that help you to handle your audience.
Mailchimp allows you to view your target audience in segments. To do this, put them in groups and sort them through tags, names, birthday, promo subscriptions and any other information you collect from your subscribers.
Mailchimp also has a new feature – the Audience dashboard – which highlights valuable details about your contacts. It also lets you look at your recent growth in the last 30 days.
Groups are another way to target audience, so you don't have to manage multiple lists with the same subscribers. You can create groups according to your requirements and select a group that the contact should join after getting a subscription.
You can create segments based on shared list data about your subscribers like who opened or didn't open any of your previous campaigns, who clicked or didn't click the links you embedded with the email, subscribers who recently purchased a product from your website and customers who live in a specific location.
Email Creation
Both Mailchimp and Constant Contact provide incredible options for creating eye-catching and exciting emails.
Constant Contact offers more ready-to-use email templates with different and better designs. The platform also allows you to custom code your templates or directly import your designs.
Constant Contact offers a straightforward and intuitive drag-and-drop editor that provides options like adding images, buttons, and dividers, and embedding videos and social sharing links to customize your emails.
One of the best things about Constant Contact is its 'Action Blocks' feature, which can be useful, especially for e-commerce users and non-profit organizations.
If you are an e-commerce user, Action Blocks can be handy for you, as the tool allows you to embed products into your emails directly, send coupons to customers and collect useful information using polls.
Similarly, non-profit organizations can also benefit from Action Blocks, as it allows users to add a donation collection option right within your email.
Note: The Action Blocks feature is only available with the premium package.
Now, let's see what Mailchimp has in comparison.
Mailchimp also provides multiple options that help you in creating a complete and professional email.
Despite having a few extra formatting options, Mailchimp lacks dynamics buttons for e-commerce that Constant Contact offers. However, a notable thing about Mailchimp is the way it lets you create and host landing pages quickly.
Images
Mailchimp allows you to upload an unlimited number of images that can be stored in your account. You can use these images in other campaigns as well.
Mailchimp also gives you the option to upload images or import them straight from a URL, Giphy, and Instagram. Moreover, you can also save frequently used images to pull them up quickly whenever you need them.
Now, let's see what Constant Contact brings to the table.
In Constant Contact, you can add an image from a URL or upload your desirable images from your computer or phone, import from your social accounts, or search from stock images and keep them in its library.
Additionally, Constant Contact lets you browse its stock image gallery from where you can get thousands of free and paid images.
Email Previews
You can preview your email in both Constant Contact and Mailchimp before sending them to your contacts.
However, Mailchimp offers the additional feature, which shows you exactly how the email is going to be displayed in specific email clients, such as Gmail, Outlook, etc. That will help you prevent errors before sending the email to recipients.
On the other hand, Constant Contact has a useful feature from which you can check errors in your email and prevent them before it goes out to everyone.
Analytics
In Constant Contact, you can track things like opens, clicks, and revenue from your campaigns. It also has a neat feature that allows you to compare open rates between desktop and mobile.
By comparison, Mailchimp offers much more detailed and easy-to-understand reports. It not only allows you to track opens and clicks of your emails, but you can also compare your results to industry averages to identify your progress rate.
Mailchimp lets you track the number of emails delivered, how many people opened the emails, the number of clicks, revenue generated from the email and the average order value. You can check the hourly performance of your campaign, so you understand what time suits you best for work.
Additionally, Mailchimp has a click map through which you can track which links in your emails are clicked the most. The tool also helps you identify at what position in your email the clicks happened.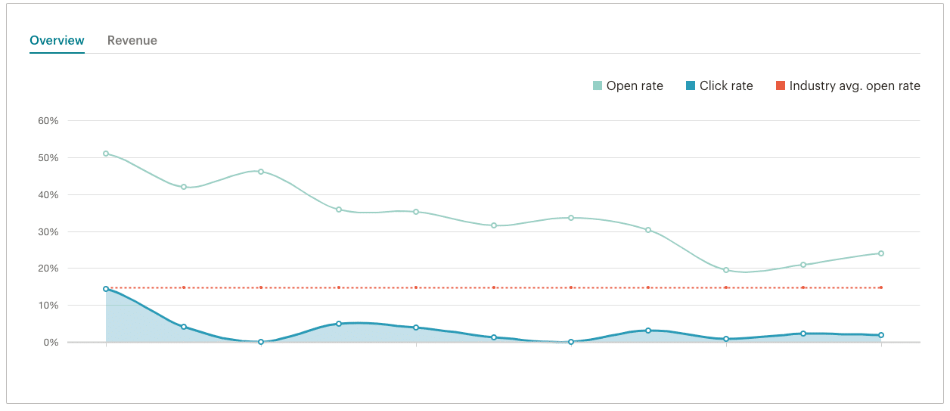 A/B Testing
Mailchimp offers a full A/B testing functionality, which makes it extremely easy for you to conduct split testing of different elements of your campaigns, such as subject lines, sender's name and email address, email content, distribution time and day and images.
Mailchimp gives you the freedom to choose between testing your campaign across your whole list or a percentage of it. That way, you can effortlessly determine which version of your email performed best.
The interesting fact is that it's also up to you to decide what factor determines the winning version – higher open rate, click rate or something else.
Constant Contact lacks automated A/B testing functionality, which means there isn't an easy way to test your email. You have to do all split testing emails manually.
In other words, you need to create two new contact lists, then copy half of your subscribers into the first list and the other half into the second list. After that, you can send one version of your email to the first list and the other version to the second list. In the end, analyze results separately and compare them to decide the winning email version.
Creating new lists of subscribers out of an existing large contact list is both time-consuming and annoying.
Recently, Constant Contact has introduced a subject line A/B testing, but it only comes with its Email Plus plan.
Automation
In Constant Contact, you can get a few basic automation options such as welcome emails, birthday emails, and anniversary emails.
Besides these primary options, you can create autoresponders – emails delivered after someone fills out a form – and simple lead nurturing campaigns, a series of emails that are sent on a predetermined timeline.
Mailchimp offers more advanced automation capabilities. You can integrate it with your website and send emails to your users based on their recent activity. For instance, you can send them an email when they click on a specific link in your email or purchases a particular product from your website.
You can also use goal integration to email customers who go from your campaign to a specific page of your website.
On the flip side, these features aren't available in Mailchimp's free version, and you will need to upgrade to a premium account if you want to use them.
Winner: Mailchimp. Mailchimp offers a more robust set of features than its competitor, especially in segmentation, A/B testing and automation areas.
2. Deliverability
Both Mailchimp and Constant Contact use spam-check tools to thwart unethical practices in email campaigns and ensure that users distribute appropriate content.
Independent tests show that Mailchimp's overall email deliverability rate is around 85 percent, whereas Constant Contact's deliverability rate stands at 90.4 percent.
As we can see, both platforms have high email deliverability rates. It is important to note that the successful delivery of emails also depends on the campaign you're running and how your target audience is interacting with your emails.
Moreover, estimates suggest that 60 percent of emails sent via Mailchimp end up in the Gmail's Promotions inbox and 13.1 percent in the spam folder. These figures are significantly higher when compared with Constant Contact's 6.7 percent and 4.46 percent.
Winner: Constant Contact. Constant Contact is a clear winner in this section. It not only has a higher overall deliverability rate than Mailchimp, but emails sent via Constant Contact are less likely to land in the promotion or spam folders.
3. Integrations
When it comes to integrations, the email marketing software you select either work with your third-party tools or not. Mailchimp offers 781 integrations while Constant Contact has 279.
Constant Contact does not have many integrations owing to built-in tools it offers like social media marketing and surveys, but it can still connect with big names like WordPress, Magento, Salesforce, and more.
Mailchimp, on the other hand, has nearly three times as many integration capabilities than Constant Contact. The tool can work with basically every popular CRM (such as SalesForce, Zoho and Sugar CRM).
Mailchimp can also integrate with social media platforms such as Facebook, Instagram, LinkedIn, and Twitter. The email marketing software has official integrations with platforms like WordPress, Shopify, Magento, BigCommerce, and WooCommerce.
Winner: Mailchimp. While you can use Constant Contact to integrate with all major tools and CRMs, the sheer number of integrations offered by Mailchimp tilts the balance in its favor.
4. User interface
Both Mailchimp and Constant Contact are ideal for beginners, as they offer easy navigation and clear sections. However, Mailchimp's interface design feels more modern and faster than Constant Contact.
In Mailchimp, categories are nicely bundled in intuitive tabs, including Create (an email, ad, landing page, etc.), Campaigns, Automate, Audience, Brand and Reports. Even a person who has never used any email marketing software before won't find it difficult to get the hang of it.
Constant Contact is not that far behind and offers a modern interface as well.
Winner: Mailchimp. Both Mailchimp and Constant Contact offer straightforward interface, but if we had to choose one, then we'd have to select Mailchimp because its design feels more modern and faster.
5. Pricing
Pricing is, without any doubt, one of the key factors to consider before purchasing a product or subscribing to a service.
Let's see which among Mailchimp and Constant Contact fares better in this category.
Constant Contact offers a 60-day free plan after you give your financial information, and you get unlimited emails. Once your free trial ended, you have the option of two plans: Email (starts at $20 a month) and Email Plus (starts at $45 a month). However, the price for each package increases with the increase in the number of your subscribers.
On the other hand, Mailchimp offers a forever free plan under which you can send 12,000 emails per month to 2,000 subscribers. While the free plans might sound exciting, it doesn't include any advanced features like customer support or automation.
Besides the free plan, Mailchimp has three other paid plans: Essentials (starts at $10 per month), Standard (starts from $15 per month) and Premium plan (starts at $300 per month).
Constant Contact looks more expensive than Mailchimp, as for up to 2,500 subscribers Constant Contact costs you $45 per month on the basic plan while Mailchimp charges you $30 for the same number of subscribers.
In Constant Contact, there are discounts if you pay for six months or a year, but this is still more expensive than Mailchimp.
Mailchimp also offers a pay-as-you-go plan, in which you can buy email credits as per your need. It's a great option if you don't send emails frequently.
The best thing about Mailchimp is that its pricing is much easier to understand. On its slider, you can see how much you're going to pay regardless of the number of your subscribers (whether it's 10K, 100K or 1M subscribers).
Constant Contact's case is slightly different. For instance, if your list has more than 10,000 subscribers, you need to contact the company to inquire about the pricing plan.
Winner: Mailchimp. Mailchimp's plans are not only affordable, but it also offers a more flexible pricing structure.
6. Customer Support
If you're using Mailchimp's free plan, then you have to deal with all problems regarding the software on your own because there is no way to contact the company to ask for help. The company offers you some good tutorials, but personal contact is lacking.
When you upgrade to the premium account, Mailchimp offers a decent chat and email support. Still, there is no call support to ask for help directly.
On the other hand, Constant Contact boasts round-the-clock email, chat and phone support. The company is available to help you resolve your issues no matter what time of the day or night.
Winner: Constant Contact. It's relatively easier to get your issue resolved as a Constant Contact user than in the case of Mailchimp.
Final thoughts
If higher deliverability and customer support matter to you, then you should definitely pick Constant Contact to connect with your customers via email. It's also a great option if you are running a not-for-profit organization.
Similarly, Constant Contact offers more ready-to-use templates and customization options for your email design.
On the other hand, Mailchimp can be your preferred choice if you are short of money. Its free plan is a great option for starters, especially when you don't have many subscribers.
However, as is the case with every product and service, pricing shouldn't be your only concern when choosing an email marketing suite. Instead, keep your focus on the benefits you want to achieve using the email service provider, including a higher ROI, an increase in revenue, saving time or customer satisfaction.
Another reason to go for Mailchimp is its advanced automation and A/B testing features, which are currently lacking in Constant Contact.
Related Comparisons