Webflow Vs WordPress, which software is a better option in 2021?
Read this ultimate Webflow versus WordPress comparison to make a smart decision.
No website building project is small, no matter what kind. There are two ultimate goals for any website.
Get the message across to the visitors
Rank high on SEO
There are a number of factors that influence these objectives, and your priority should always be to make sure nothing holds your site back once it's out there.
That's why website builders are so huge these days and are commonly used to create great sites.
In this guide today, we compare two popular site builders, Webflow and WordPress, in a head to head comparison. Let's see which one is more popular and gives us better-performing sites.
In a hurry? Here's a quick review of both site builders for you.
Comparison at a Glance
1. Features
Winner: Webflow. Webflow offers a far more extensive and advanced set of features compared to WordPress.
2. Ease of Use / Customizability
Winner: Webflow. Webflow has a highly customizable, flexible and plugins-free visual editor. Whereas, the WordPress editor lacks those characteristics.
3. Conversion Tracking Capabilities
Winner: Both. Both platforms have a similar approach in this category. Therefore, this category is a tie.
4. Integrations
Winner: Both. Both software are equally competitive in this area.
5. Pricing
Winner: Both. In the case of WordPress, the eventual cost depends on many associated costs; that's why a straightforward comparison isn't possible. We'll call this section a tie as well.
6. Customer Support
Winner: Both. Both platforms are equally helpful in one way or another.
Short Verdict
Webflow takes advantage of the most advanced features, and powerful technologies and yet makes it simple for the users to operate its editor.
By contrast, WordPress editor requires complex coding for unique sites, and the use of plugins affects the site's performance. That's why Webflow is the winner today.
Let's look at both site builders in detail now.
1. Features
Your creativity is largely restricted or facilitated by the features any software provides. The more features you have, the more you can experiment with the site design, and the more room you have to be unique.
So, let's have a look at both software's features, starting with Webflow.
Webflow Features
Webflow has been around since 2013 and has succeeded in creating its presence in the market. It's one of the more customizable platforms that helps entrepreneurs, professionals, as well as businesses, create robust websites within a code-free interface.
Webflow offers a drag-and-drop editor to build your pages and allows you to customize the look and feel of your site completely.
So, let's see what other features we can get with Webflow to incorporate into our sites:
Code-Free Site Builder – Webflow offers a powerful visual editor where everything on the front is a simple drag and drop operation but, in the background, you constantly get a string of clean coding.
100+ Customizable Website Templates – get access to a range of over 100 professionally designed, customizable templates.
No-Plugin SEO Controls – Webflow goes a step ahead in offering the SEO tools. So in addition to metadata, image alt text and keywords, you also get auto-generated sitemaps and customizable 301 redirects.
Reusable Symbols – you also get to convert your navbars, signup forms, footers and other items into symbols and change them across the entire site with just a single edit.
Motion Features – a wide variety of motion features include parallax, craft, Lottie, and triggered animations as well as micro-interactions and 3D transformations, and many more.
Automatic Site Backup – the editor stores automatic backups of your pages allowing you to restore your site to an earlier version if need be.
Automatic Tax Calculation – the platform saves your time by automatically assessing the VAT and sales tax on your transactions and adds the amount to clients' invoices.
Payment Options – there are many ways you can send or receive payments, such as Paypal, Apple Pay, or using credit or debit cards via Stripe.
Mobile Application – Android and iOS applications of Webflow are also available that allow you to stay connected to your projects no matter where you are.
Security Standards- you get both SSL and ISO 27018 as your site security. Additionally, you can set up per-page passwords to further protect your data.
Webflow CMS – Webflow incorporates a full-fledged and dynamic content management system where you can collaborate with your clients on the website content and design as well as receive form submissions inside the Editor panel.
Facebook and Instagram Accounts Compatibility – Webflow allows you to connect your Facebook and Instagram shops to your Webflow account, cross-sell and even run marketing campaigns between these media.
Supported Languages – You can create a site in Webflow with any of the supported languages on the web.
White Label your Pages – you also get to white label your websites, CMS, form emails, staging sites and client payments forms, if you're a Professional or Team Plan user.
Team Projects – a shared team dashboard is also available to the Team Plans users that can use it to collaborate on different projects.
Web Font Families – you can either use Google or Typekit's fonts or upload your own custom font.
Quick Page Loading – Webflow integrates with the Tier 1 delivery networks, Fastly and Amazon Cloudfront, and gives you much more fast-loading hosted sites compared to other websites.
All packages offer:
Code-free visual editor
Fast-loading sites
Hosted websites
SSL and ISO 27018
Only higher tiers offer:
Sub-accounts for clients or content editors
Code export
Client billing
Team dashboard
White Labelling
Per-page passwords
What you don't get with Webflow?
Webflow was specifically designed for web designers and design experts. Therefore, it does involve a learning curve for non-techy users.
Although there's a growing library of tutorials available to users, non-IT people will need some time to grasp everything.
WordPress Features
Powering over 35% of the internet, WordPress is one of the earliest and now most popular site building platforms, used to create blogging sites, online stores, portfolio websites, etc.
Part of its appeal lies in the fact that the platform is absolutely free except for hosting cost. WordPress has a range of integration options and offers a good level of flexibility for website design.
Let's see what other features the popular platform incorporates:
Hundreds of Customizable Themes – WordPress offers an extensive and ever-increasing range of themes to choose your website design from.
User-friendly Platform – WordPress is quite easy to use, and anyone with a little thought and creativity can create a great website.
Mobile-Friendly Sites – you can make your WordPress website mobile responsive with just a click and make it easily operable for mobile users.
Automatic Backup – all your work is automatically saved every few seconds, so none of your progress is lost for any reason.
Upload or Embed Media – you can upload or drag and drop images and other items on to your pages. You can also embed audio/ video files and much more.
Mobile and Desktop Apps – you can easily update your site on your mobile or using desktop apps for Windows, Android, Mac, iOS as well as Linux systems.
Multi-Lingual – WordPress supports 65 different languages allowing you to create a multi-lingual website.
Built‑in Social Sharing – WordPress lets you automatically send new posts to various social platforms, including Facebook, Twitter, LinkedIn, Pinterest, WhatsApp and many more.
In-depth Stats – the platform also offers detailed stats about your site visitors, their activity, their location, etc.
Search Engine Optimized – you can use several SEO tools and built-in sitemaps to help build more traffic for your site.
Plugin Options – Over 54,000 WordPress plugins allow you to do anything on your website from blogging to selling.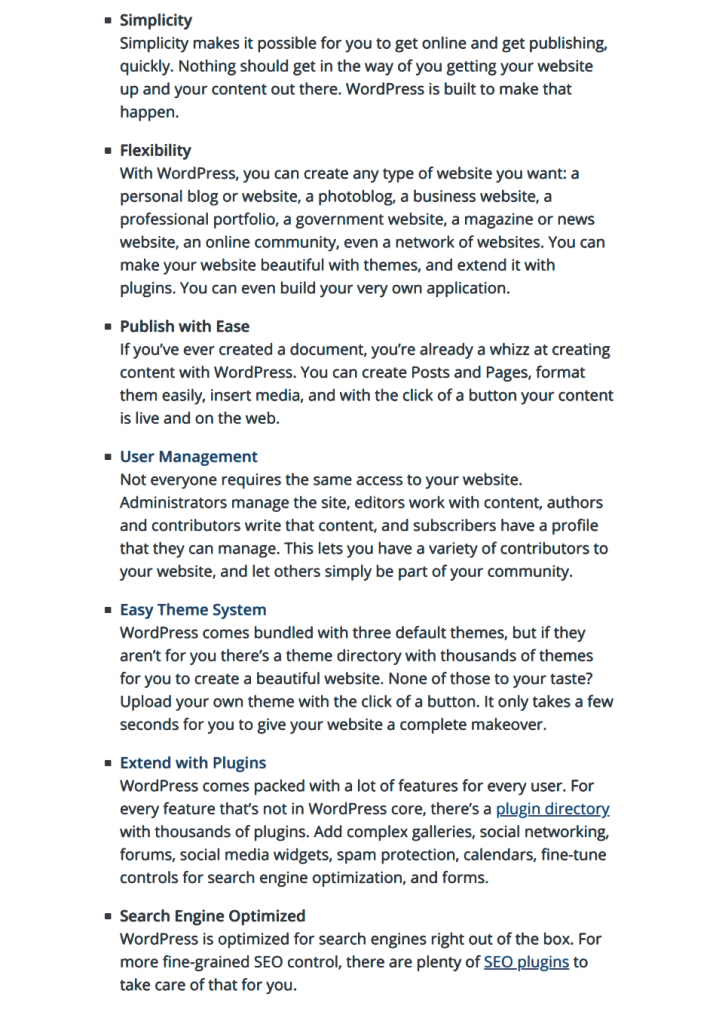 All packages offer:
Free of charge website builder
Hundreds of customizable themes
Thousands of extensions and plugins
Social sharing made easy
Only higher tiers offer:
Live Chat Support
Unlimited Premium Themes
Advanced Design Customization and Social Media
Payment Processing
WordAds
White Labelling and Custom Plugins
What you don't get with WordPress?
WordPress uses thousands of plugins. You need a new plugin for almost anything you want to do with your site. This makes it quite complex to work with WordPress and also results in bloated coding.
For the same reason too, WordPress sites have slow uploading time and require frequent fixes. Also, you need to manually make all the updates and do site maintenance unless you opt for managed WordPress hosting.
Winner: Webflow. It is clear from the features comparison between the two platforms that Webflow offers a lot more features compared to WordPress. Webflow features are more contemporary and in line with the requirements of the present-day website developers.
2. Ease of Use / Customizability
Even if you're a seasoned tech expert, you may not want to spend time on complicated configurations and trying to work a complex software. That would kill the purpose of dedicated site-building software in the first place.
Let's see which one, Webflow or WordPress, has a more user-friendly interface.
Webflow
Webflow is a highly customizable, cloud-based website builder that lets you build powerful websites without the need for coding.
Webflow has steadily become popular with web designers because of its customizability and the fact that it gives you full functionality of HTML, CSS and Javascript.
You can either build your sites from scratch or choose one of the hundreds of templates and customize it to your liking. Webflow also provides a small description under each theme guiding you about how best to use it.
A drag-and-drop functionality powers the Webflow visual editor, and you can edit any element right on the page. For advanced settings, you can go to the left-hand side panel and make edits for object size, position, typography, color scheme, etc.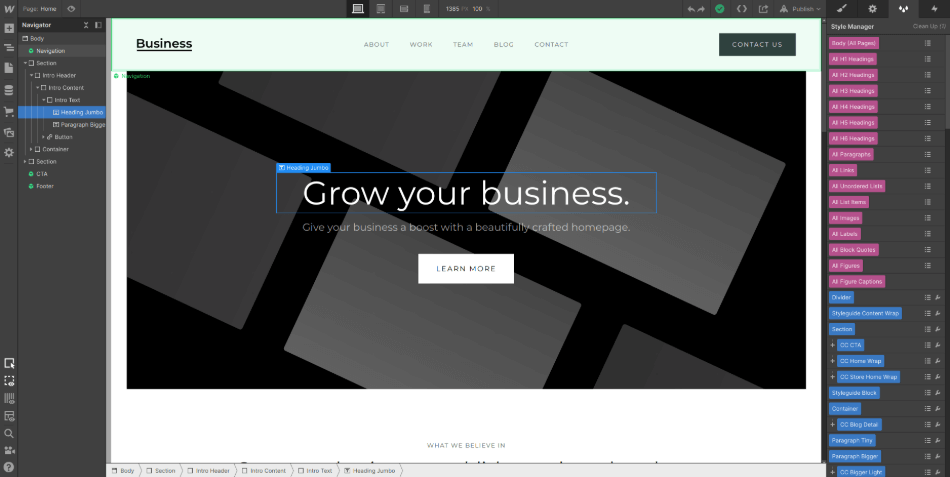 While you're creating your site content on the front-end, Webflow is constantly generating relevant coding and semantics at the backend. That's how you end up with high quality and smooth functioning websites.
You can easily create different sections on your pages, such as Hero section, cards sections, photo gallery, CTAs, and many more. Similarly, you can upload various kinds of content, including text, images, audio, video, forms, navbars, animations, location maps, etc.
Additionally, you can add elements like custom fields, radio buttons, drop-downs, and reCAPTCHA to your forms as well.
However, Webflow follows a 'Box Model' where each new item that is dragged onto the page gets arranged in a stack. You can't move the items to a new location. This limitation does take away your room to play around with the layout of the page.
But when it comes to animations, Webflow offers all kinds, including parallax scrolling, triggered animations, Lottie animations, micro-interactions, multi-step animations and many more.
As your website is continuously being backed up, you also have the option to revert to an earlier version of your site.
For an eCommerce business, Webflow gives you full control to customize each page from product page to your checkout page.
Similarly, to keep everything on brand, you can also customize your transactional emails and even your animations and interactions on the website.
When your site is complete, you can either publish it to a Webflow domain or a custom domain.
For Team Plan users, there's also a team dashboard where you can share feedback and exchange ideas on your projects. The platform also lets you share a read-only preview with a client.
Since Webflow integrates a full-fledged CMS system, you can quickly transfer website data between different platforms and projects.
You'll find that you do have to go through a learning curve to fully grasp the dynamics of this platform, that is if you're a non-tech person. But once you get to grips with it, you'll be churning out great websites fast and steady.
WordPress
WordPress has an easy to use editor, which makes it fairly simple for most people to create basic websites. Everything is easily manageable from your dashboard.
You can either create your pages using the default WordPress editor or Elementor. The default editor is where you add blocks and edit them directly on the page. For advanced settings, you can navigate the right-hand sidebar.
Elementor is the drag and drop editor, pretty much like other modern visual editors. In this editor, there's a left-hand sidebar where you modify the settings for different blocks. However, both editors don't allow free form dragging motion.
You can only move page elements up and down. In some cases, you can also move them alongside each other, like images (only in the default editor).
There's a variety of elements you can add on to your pages, including text, images, audio, video, tables, sections, timelines, timers, archives, and many other.
You can also embed a variety of media and create addons like buttons, Google Maps, infoboxes, post grids, etc.
However, WordPress was primarily designed as a blogging platform. It is good enough to create simple, straightforward websites.
But if you want to create a unique website, you'll need to do a lot of coding and work with an endless list of plugins. This is bothersome for two reasons.
For one, you'll either have to build the site yourself from scratch or higher a developer to do that for you. Secondly, the plugins may give you the site you want, but they also require frequent updates and still result in bloated code.
Additionally, plugins tend to affect both your site's performance and SEO ranking, negatively.
Another thing that's a bit annoying for more creative minds is that, although WordPress offers a wide range of templates, they are all pretty similar.
You can also purchase and import themes using Themeforest or Creativemarket. But, even with the premium themes, all you can change is the visual effects, like font colour, typography, image size, etc.
You can add parallax scrolling and some other animations but other than that there's nothing much you can do. As a workaround, you can add additional plugins or custom CSS code easily, if you know how to do that.
However, WordPress does give you the freedom to add as many pages to your site as you want.
You can also add multiple users to your account under six different roles that all contain different capabilities and access permissions, including Super Admin, Admin, Author, Editor, Contributor, and Subscriber.
You can also easily set up an eCommerce store within WordPress. You'll have to install the WooCommerce plugin or another eCommerce plugin of your choice. WooCommerce is very popular for its customizability and reliability.
WooCommerce incorporates hundreds of free and paid integrations, which means you can easily install everything you need for order fulfilment to payment processing to social media shares.
Finally, you can either host your websites on your own servers which would involve extra costs and expert skills. You can also integrate with a third-party service provider or simply use WordPress hosting services.
Overall, WordPress is pretty easy to use, and you can quickly create nice-looking sites using the platform. For a simple website, that doesn't involve complex customization; you can have it up and running within 1 – 2 hours.
Winner: Webflow. Webflow has a much more powerful and flexible visual editor compared to WordPress. If you were to create the same site using both editors, the final product would differ enormously in both quality and design aspects.
Additionally, the use of plugins makes WordPress sites vulnerable and easily hackable. Whereas, Webflow offers a high level of digital security as well as integrated hosting for your websites.
3. Web Tracking Capabilities
Website traffic must be monitored, and user activity recorded to measure the effectiveness of a site. Therefore, you need a set of appropriate toolkit and apps to see how your sites are performing and what can be improved.
So, let's see how both Webflow and WordPress facilitate tracking and analytics within their platforms.
Webflow
Webflow is a website builder and mainly integrates tools to optimize SEO ranking. When it comes to analytics, the only app you have is Google Analytics.
You can run A/B and multivariate tests on your site pages using Google Optimize and see how they are performing.
Other than that, Webflow integrates with Zapier. That's why you can connect to any number of apps and tools you want, both free and premium.
WordPress
Just like Webflow, WordPress also relies on Google Analytics for measuring site performance.
The platform also puts more focus on SEO optimization using Google Ads and Google Trends for keyword research, as well as other on-page options such as metadata, alt image, SEO analysis, etc.
However, for tracking purpose, you can run multiple tests on your pages, including Keyphrase Density, Google Structured Data Test, Google Page Speed Test, HTML/ CSS validator, Facebook Debugger, Mobile-friendly test, etc.
Since WordPress also integrates with Zapier, you can connect to many additional apps for tracking and analytical purposes.
Winner: Both. Both platforms offer basic in-app integrations and primarily rely on Zapier for additional tools and apps. That's why both are similar in this area.
4. Integrations
You require many apps other than tracking and analytical tools with your websites. For instance, email marketing, CRM, live chat, marketing automation, call monitoring etc.
Combined, these apps provide a complete infrastructure to run a proper online setup. That's why we're going to have a look at the integrations offered by both platforms.
Webflow
Websites may have hundreds of objectives. Each with a unique aim to fulfil. Probably that's why, as we have mentioned above, Webflow mostly relies on Zapier for integrated apps and tools. Zapier offers an extensive range of apps to automate your work fully.
The few integrations Webflow does offer, include Google Analytics, Google Domains, Google Optimize, and MailChimp. You can see all these integrations are there mainly to optimize your sites for SEO.
WordPress
WordPress integrates with the entire G Suite, further giving you professional Gmail address, Drives, Docs, Calendars, Hangouts, Google Analytics, Google Search Console, and Google Photos.
Additionally, WordPress also integrates with Zapier, connecting you to hundreds of apps and tools for marketing automation, sales automation, live support, call tracking, CRM, social media integrations, cloud services, eCommerce services and a large pool of other services.
Winner: Both. Once again, in this category as well, both platforms have a heavy reliance on Zapier, which makes them equally competitive here as well.
5. Pricing
Pricing is a make or break factor with most users. Therefore, companies don't rely on a single offer and design many packaged offerings to target different market segments.
Let's have a look at different offers from both Webflow and WordPress and see how they are priced.
Webflow Pricing
Webflow has many pricing plans aimed at different market segments from individuals to big corporations.
It can get a bit confusing, but we'll try to explain the plans as best we can.
There are two main pricing categories: Site Plans and Account Plans. Each category has two further groups, and each group has three different tiers (except for Team Plans).
Site plans are for bloggers, solopreneurs and eCommerce sites. These plans further divide into Website Plans and eCommerce Plans.
Website plans comprise personal sites, blogs and business Websites, and have the following three tiers with pricing:
Basic at $15 per month
CMS at $20 per month
Business at $45 per month
If you choose to pay annually, you get to save 20% off on all plans.
The three Ecommerce plans include checkout on your domain. Here are the prices:
Standard at $42 per month
Plus at $84 per month
Advanced at $235 per month
Billed annually, the plans will cost down to 30% less of the monthly prices.
Next up are Account Plans, divided between Individual Plans and Team Plans. The three tiers of Individual Plans are:
Free
Lite at $24 per month
Pro at $42 per month
Annual subscriptions of the same will cost $16 and $35 per month.
Finally, the Team plans are called Team and Enterprise packages, costing:
$42 per person per month (or $35/mo. ann.) for the Team Package
The Enterprise plan caters to custom requirements of the clients and is priced accordingly.
WordPress
Although, WordPress is open-source software and completely free, there are many associated costs such as hosting, premiums themes, and paid plugins.
Depending on all these factors and one's specific needs, WordPress may be very affordable for some people and quite pricey for others. WordPress does charge you for advanced features and utilities under many different plans.
Still, you can create and publish blogging, portfolio or other content-oriented sites completely free of charge.
Winner: Both. Webflow has a free offering as well as varied pricing plans, whereas WordPress has other associated costs that can cost high or low depending on a person's unique requirements.
Therefore, in terms of pricing, it is unclear which platform will be more affordable for specific users.
6. Customer Support
For SaaS companies, both product and customer support go together. They can't be successful, relying solely on their product if the customer support is weak.
That's why these companies need to invest in a culture of strong customer service. Let's have a look at Webflow and WordPress's support systems and how connected they are with their users.
Webflow
For a contemporary website builder, Webflow doesn't offer a very developed customer support system as it only provides support via emails during the weekdays from 6 am – 6 pm PT. You can expect a response to your emails within 24 – 48 hours.
You are also encouraged to leave a detailed message and some screenshots or other attachments to communicate your problem thoroughly.
In contrast to direct support, Webflow has a very well-structured knowledge base and an ever-increasing library of tutorials, called Webflow University. You can follow these lessons to learn about everything you need to know to build and launch your own site.
There's also a crash course that takes you through every step of site creation through to setting up your custom CMS.
Other helpful resources include a showcase, ebooks and a community forum where you can get help from other professional designers.
WordPress
WordPress offers 24/7 email support for all its users. You can also find help at various WordPress Support Forums. Live chat support is only available for paying users.
But there are many other ways you can get help at WordPress, including their blog, case studies, articles at the online support centre, and expert tips.
WordPress also offers VIP support and implementation services to large corporations in exchange for a hefty amount.
Winner: Both. Webflow provides extensive support resources in the form of articles, tutorials, ebooks and others. Whereas, WordPress also offers live chat support for paying users together with many online resources.
So, in a way, both are quite similar in this category as well, considering the majority of WordPress users use free services.
Bottom Line
WordPress is a great platform for you if you're a casual blogger or if you want a simple site to showcase your creative work, then you can create an awesome site using this software.
However, WordPress is no match to Webflow when it comes to online stores or other more complex, content-heavy websites. Webflow is a robust and powerful software that helps you create high-quality customized sites with exceptionally clean coding and fast loading speeds.
Related Comparisons