Are you looking for a landing page builder? Read this comparison guide between Instapage and Unbounce to find out which one is a better option for you in 2021?
Gone are the days when one website was enough to engage customers. Internet is rampant with distractions, and people have short attention spans. If you don't get to the point quickly, the audience loses interest.
That's where landing pages come in. These highly functional, conversion-focused resources are meant to push visitors towards a singularly important "action". Be it purchasing, subscribing, or polling.
According to a study, 48% of marketers build a new landing page for each marketing campaign.
Luckily, today you have access to landing page builders that help you do just that and allow you to create highly optimized and professional landing pages quickly.
But out of so many page builders out there, which one best suits your needs? Let us guide you by giving a detailed comparison between two of the most popular page builders, Instapage and Unbounce.
We compared the two software on several categories, including features, ease of use, analytics, and pricing. So stay with us and read on to find out how the two landing page builders fared against each other.
In a hurry? Here's a quick review of both page builders for you.
Comparison at a Glance
1. Features
Winner: Instapage. Instapage offers many features that you don't find with Unbounce, such as visual collaboration, AdMap™, and reusable content blocks (Instablocks).
2. Ease of Use/ Customizability
Winner: Both. Both page builders offer top-drawer functionality and are equally flexible and customizable.
3. Conversion Tracking Capabilities
Winner: Both. Both software offer impressive tracking and analytical capabilities.
4. Integrations
Winner: Both. Both platforms are equally competitive in this category.
5. Pricing
Winner: Unbounce. Unbounce is a little better in pricing because it offers a starter plan that is beneficial to a large number of users who can't afford pricier options.
6. Customer Support
Winner: Unbounce. Unbounce is ahead of Instapage in this category as it offers several resources and channels to connect with customers and provide timely help.
Short Verdict
It's been a cutthroat competition, but Unbounce emerges as the winner today by getting the better of Instapage in one additional category. Though Instapage won the features section, Unbounce took the lead in the categories of pricing and customer support.
For a clear understanding and an in-depth analysis, let's dig up some more details.
1. Features
A single feature can make you prominent among competitors. Therefore, it is essential to stay abreast of modern developments and at the top of the service features offered by today's page builders.
Let's take a look at both Instapage and Unbounce's features and see how they differ.
Instapage Features
Instapage is one of the top-rated landing page builders. Specializing in post-click automation, the company guarantees 400% more conversions for the same budget as that of an ad. That's a big claim but, with modern-day landing page builders, certainly not an impossible one.
Instapage offers several top-drawer features. Let's have a look at them here:
Free-form Drag and Drop Builder – allows you to move and drag elements anywhere on the page without having to worry about the grid lines.
90+ Customizable Templates – professionally designed, conversion-optimized templates make your job easier to create unique landing pages for different promotional campaigns.
Widgets – get access to a host of widgets such as countdown timers, CTA buttons, etc.
Built-in AMP Support – enhances mobile user experience with fast-loading pages powered by Instapage's proprietary Thor Render Engine Technology.
Dynamic Text Replacement – allows you to enhance PPC performance by matching content copy to visitors' queries.
Ad-to-Page Personalization – create a dynamic post-click experience with different customer segments matching your ad and page content to visitor-specific data like keywords, firmographics, and demographics.
Real-time Analytics – offers various tools, such as A/B testing, multivariate tests, Google Tag Manager, and heatmaps, so you can benefit from real-time insights to improve on-page conversion rates.
Team Collaborative Tools – users can benefit from an on-page feedback feature to expedite the review process and render real-time edits resulting in faster launch processes.
AdMap™ – allows you to import ad campaign structures into Instapage automatically so you can visualize your ad campaigns and align your strategy between ads and landing pages as well as share updates between the two.
Third-party Integrations – offers several built-in integrations as well as access to hundreds of apps and tools via Zapier and Webhooks.
Instablocks™ and Global blocks – use pre-designed content blocks or create custom blocks and save them to re-use later on other landing pages. Create global blocks to access and update them anywhere, anytime.
Bigstock Integration – choose from millions of Bigstock professional images directly from inside Unbounce's image manager, including hero images, textured images, and visual cues. This feature takes the pain out of search and approval processes for images.
Attribution Analytics – access detailed attribution data integrations like Google Adwords and Facebook Ads Manager for future ad campaigns.
Multi-step Forms – Allows you to create multi-step blocks to collect additional information from visitors.
GDPR Compliance – All client and user data processing is General Data Protection Regulation (GDPR) compliant.
All packages offer:
Fast loading page support with Thor Render Engine™
Instablocks and Global blocks
Server-Side A/B Testing
Zapier, Salesforce, Marketo, and Hubspot integrations
SSL Encryption, Dynamic Text Replacement, and Page Redirects
Only higher packages offers:
Ad-to-Page Personalization
Real-time Team Collaboration
AMP-powered landing pages
Page Migration Services
What you don't get with Instapage:
Off all the things where Instapage displays limited functionality, it's the pop-ups and sticky bars. Although, you can create both using the Click Event option for pop-ups and sticky header or footer for sticky bars. However, the functionality is pretty basic compared to most page builders.
Unbounce Features
Promoting itself as a conversion-focused page builder, Unbounce offers you almost everything that can possibly be used to create high-converting landing pages, from design to customization to analytics. So, let's have a look at the features we get with Unbounce.
Drag-and-Drop Page Builder – helps you create professional-looking landing pages in a matter of minutes.
Mobile Optimization – all landing pages are mobile optimized.
100+ High-Converting Templates – choose a design from a library of 100+ templates and customize it to your liking.
Dynamic Text Replacement – use this feature to dynamically change your content copy, such as keywords, from ads to landing pages to match the customer's query.
A/B Testing – test different versions of your pages and see which one has better conversion rates.
One-Click Page Cloning – create, publish, and unpublish bulk copies of landing pages for similar or simultaneous campaigns (available for Premium and Enterprise Plans only).
GDPR Compliance – all the user data collected through leads, as well as the client data, are protected in compliance with General Data Protection Regulation (GDPR) requirements.
WordPress Integration – directly integrate with your WordPress site and publish Unbounce landing pages to it.
Free Professional Images from Unsplash – get access to over 850,000 free copyright images from Unsplash directly from inside the Unbounce page builder.
Two-factor Authentication – your accounts are made extra secure using mobile numbers in addition to password information.
Sub-Accounts – use sub-accounts to manage different clients from a single parent account. You can also group various campaigns for the same client within sub-accounts (available for Premium and Enterprise Plans only).
All packages offer:
Built-in conversion-focused features
A limited number of targeted pop-ups and sticky bars
WordPress integration and free Unsplash images
SSL encryption as well as Two-Factor Authentication (2FA)
Unlimited users' access to the Unbounce account
Only higher tiers offer:
Accelerated Mobile Pages (AMPs)
Launch scheduling and page redirects
Marketo and SalesForce integrations
Sub-accounts for clients
One-on-one success advice, Dedicated Launch Specialists, and Page Migration Services.
What you don't get with Unbounce:
Unlike Instapage, Unbounce limits the number of pages you can publish each month. You can create unlimited pages, but you can only publish, for instance, 75 landing pages under the startup plan.
Similarly, the number of pop-ups and sticky bars you can use under each plan is also restricted. For the startup plan, you can only use 8 pop-ups and sticky bars.
In the same way, Unbounce only allows 150 and 375+ landing pages with the Premium package, and 16 and 40+ popups & sticky bars with the Enterprise package.
Unbounce is a dedicated page builder, so this restriction can be a bit off-putting, especially for the users of lower plans.
Winner: Instapage. Both platforms offer an extensive set of features, but Instapage has a bit of an edge with features like visual collaboration, AdMap™, and Instablocks™.
2. Ease of Use/Customizability
Ease of use and customization is of paramount importance. What's the benefit of using a dedicated page builder, if you still have to get into coding? It'd be a waste of time if using the software interface is complex to figure out.
Let's see which one is more user-friendly and offers more customization of the two software.
Instapage
You get access to 90+ aesthetically designed templates to choose from when creating a landing page. You can customize the selected template in any way using Instapage's extremely efficient drag and drop builder.
The beauty of this page builder/ editor is that it is free of the old grid system and offers a free-form building interface. You can literally put your content blocks anywhere on the page, even in the most absurd places, but you won't be restricted.
However, Instapage does generate instructions to help you align page elements in the best way, but those suggestions do not bind you. If you're a creative person, this interface will be a dream for you.
The builder is ideal for you if you like to take a template and truly make it your own. You can add different kinds of widgets to your page, including Instablocks, buttons, videos, forms, shapes, timer, etc.
Additionally, any landing page you create, Instapage automatically makes it mobile responsive. To allow you more control over mobile page design, you also have the option to group different widgets to make sure they appear together on the automatically generated mobile responsive pages as well.
However, if you want to go one step further, you can also completely change the design of your mobile landing page. Similarly, you also have the option to create an AMP, which is the fast-loading variant of your landing page.
You can do so in the same page editor and have all the same functionalities available to put as much customization into your mobile-specific pages as you want. You can add more content or even hide some sections.
Moreover, when you create forms with Instapage, you can choose to upload data either on the Instapage server or your own server. Similarly, you can publish the landing pages on your Instapage subdomain or Wordpress site, or Facebook or Drupal.
You can also use a custom domain. However, in that case, you'll have to make the changes inside your domain name's DNS settings to add a CNAME record. This is a bit complicated, but still, you have the option to publish to a custom domain.
Unbounce
Unbounce has a state-of-the-art page builder that allows complete freedom of creativity and personalization. You can drag and drop an element anywhere on the page without having to worry about rigid grid lines.
The gridlines will appear to suggest proper alignment within the layout, but you can safely ignore those.
You can even play with the existing blocks on a template and make personal touches on your page. If you want to add further customization to your content, you can double-click on it and make the edits directly on the page. For more advanced options, you can access content settings from the right-hand sidebar.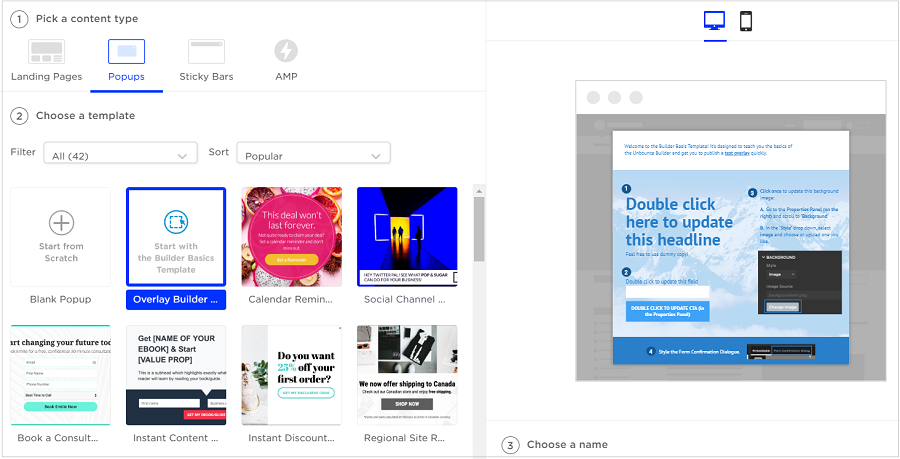 You also have the option to change the HTML code of an element. For that, you'll have to left-click the element and go to "View Source" tab on the menu that appears. Here, you can change the code. So, if you're familiar with HTML coding, that's something you might want to try.
Of course, you don't have to be a developer to work with the Unbounce editor. But if you're, Unbounce doesn't deprive you of your fun. You can go to a tab below the editor labeled "Javascripts and Stylesheets", click on it and use the box that opens for adding and saving custom codes.
Once your page is ready, it is time now to create more variants of your landing page. Simply click on the option "Create Duplicate of Variant A", and you'll find yourself inside a new landing page builder where you can make changes to the prototype design as you see fit.
Once you've created different versions, you can decide how much traffic to send to each one. You'll have to go to the landing page overview to make these specifications for each page. You can also create the mobile version of the landing pages automatically just by clicking the "Mobile tab" at the bottom.
Plus, you can make further tweaks to the mobile versions as well in the same drag and drop builder. You can also opt for the AMP option or the Accelerated Mobile Pages.
These are fast-loading pages, almost taking half a second to load, since they have restricted use of HTML, CSS, and Javascript coding.
Despite the speed benefit, though, they lack many essential features such as support for global scripts, A/B testing, creating variants, external conversion tracking, previews, dynamic text replacement, pop-ups, and sticky bars.
Just like Instapage, Unbounce offers one of the top-rated and most flexible visual editors.
Winner: Both. Both platforms are incredibly flexible, and two of the top-level page builders when it comes to customization and creativity. That's why both are equally good.
3. Conversion Tracking Capabilities
A landing page is nothing if it can't be optimized for conversion. Likewise, it's equally important being able to track the conversion rate and performance metrics. Let's see what kind of tracking capabilities come packed into both Instapage and Unbounce.
Instapage
There's a host of different tracking apps and tools that you can use to gauge your page conversion performance. For starters, you have the A/B testing, which you can use to compare different versions of your page and pick the better performing version for publishing.
You can add as many variations of a page for the A/B test as you want and quickly switch between these variations. Besides, you can specify how the traffic is going to be distributed among these variants.
Whereas the A/B test is carried out from inside the page builder, you'll have to launch your Analytics interface to make these specifications.
You can also use heatmaps to examine which sections attract more attention on your page. You can figure out the cost per lead as well by connecting to your Google AdWords account. Similarly, other apps available for further data analysis include Google Analytics, Google Tag Manager, Mixpanel, Heap, KISSmetrics, etc.
Additional third-party analytical services include CallRail, DialogTech, Retreaver, TrackDrive, and Matelso.
Unbounce
With Unbounce, you get many built-in conversion-focused features that generate suggestions about how each page element should be executed. This is to optimize the conversion rate of the page by creating highly focused content that leads the visitors to the desired action.
One of the great features available for optimizing this funnel is the Dynamic Text Replacement utility. You can use this feature to match your content copy to a customer's query and then replace the content accordingly on your ads, your pages, and on everything in between.
Similarly, you can use different widgets, pop-ups, and sticky bars to capture customer's interest and even create a sense of urgency, for instance, for limited time offers, etc.
One brand new addition to Unbounce's conversion features is its Smart Traffic™ tool. This is an AI-powered tool that automatically matches visitors to your landing page variant that's most likely to generate conversions.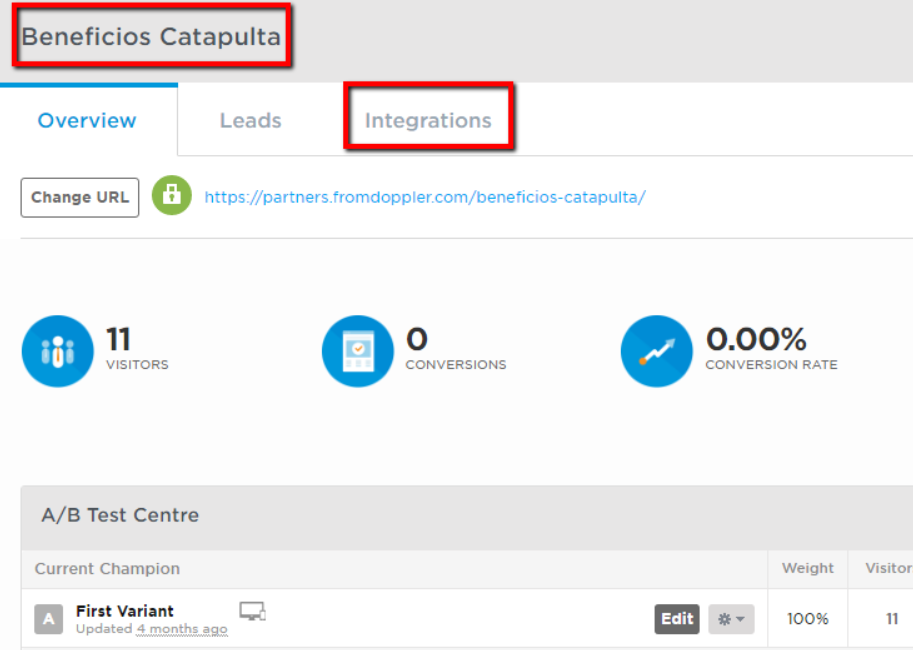 The tool starts pushing traffic to your page just after as few as 50 visitors. Smart Traffic™ is still in the testing phase, but the early starters claim a 20% rise in conversions by just having the tool turned. If the tool turns out to be as good as the company says, Unbounce might leave other page builders behind in average landing page conversion rates.
When it comes to page analytics, Unbounce doesn't offer any built-in tools. But it does integrate many apps that will do the job for you like Salesforce, Formisimo, Google Analytics, Google Ads, Google Tag Manager, Kissmetrics, etc.
Moreover, you get access to hundreds of different tools and apps via Zapier and Webhooks integrations. So, you get everything you need to perform any kind of performance analysis.
Winner: Both. Both platforms are highly conversion-focused and offer competitive tracking abilities and analytics. However, in the future, Unbounce might take the lead in this category if the Smart Traffic™ tool passes through its testing phase successfully.
4. Integrations
Integrations play a vital role and allow you to use many built-in or external apps to develop more efficient ad campaigns as well as use the best suited analytical tools to make improvements to your campaigns continually.
Let's check out what kind of integrations we can get with both Instapage and Unbounce.
Instapage
Instapage offers 60+ different integrations divided into 11 separate categories, namely, advertising, analytics, call tracking, CRM, eCommerce, email marketing, exit-intent & pop-ups, live chat, marketing automation, other and webinar.
In addition to these, Instapage also integrates with Zapier and Webhooks, which give you a lot more flexibility and connect you to hundreds of different apps. However, you do need to have a paid Zapier account to integrate with more apps through it.
Unbounce
Unbounce offers access to an extensive library of integrations, either in-app (12) or third-party (100+) integrations. In either case, you can easily find an app or tool for whatever purpose you need it.
Be it, utilities, CRM, chat, social media, email marketing, marketing automation, customer support, call tracking, education, analytics, webinars, page optimization or testing, etc.
Since Unbounce also integrates with Zapier and Webhooks, you also get access to hundreds of other applications.
Winner: Both. Both platforms offer a host of built-in, direct, and third-party integrations. What kind of integration users go for depends on their specific requirements. You can't really pick one over the other in this category.
5. Pricing
Now we come to the point where every customer thinks multiple times before choosing a product. So, let's compare the pricing plans of both software.
Instapage
Unlike most other page builders out there, Instapage doesn't offer any basic plan. However, you can try their Business Plan free-of-cost for 14 days.
During this time, you are eligible to use all features that come with the Business plan, and you don't even need to share your credit card information for the trial period.
The Business Plan costs $199 per month. If you go for the annual subscription, you get to save 25% off that amount at $149 per month.
Their second offering is called the Enterprise plan. The pricing on this plan is subject to the individual needs of the clients.
Admittedly, Instapage is on the pricier side. But it is also believed to have the most flexible page builders and some of the most advanced features you can get with landing page builders today.
Unbounce
Like Instapage, Unbounce doesn't come cheap either. You can choose from three different plans called Essential, Premium, and Enterprise. The Essential plan costs you $99 per month.
Premium comes at $199 per month and Enterprise at $499+ per month. If you choose to pay an annual subscription, you get to save 20% off on all plans. So, it will then cost you $79 for Essential, $159 for Premium, and $399+ for the Enterprise plan.
Winner: Unbounce. Both platforms are equally pricey. However, Unbounce does have an entry-level plan that might appeal to a broader audience that doesn't require more advanced features.
6. Customer Support
Till date, customer support remains a key factor in gauging the effectiveness of the software, and it can be a game-changer in the long run. Customers always favor a service where they can readily get help beyond websites and discussion forums. It makes them feel they are in good hands.
Let's see how Instapage and Unbounce compare in this arena.
Instapage
Instapage uses emails and live chat to support all its customers. While email is a slow mode and not a particularly favored one today, live chat support makes up for that through quick response and instant availability.
You can also go to the Help Center on Instapage website to access detailed guides about everything from building your page to publishing to analytics to account management.
You can access further training material and advice through the following methods:
Blog
Podcasts
Marketing Guides
Webinar
Ebooks
And Customer Stories
Video Library
Marketing Dictionary
Unbounce
Unbounce provides a more hands-on approach to all its customers with emails, live chat, and, unlike Instapage, phone calls as well. So, depending on the urgency of their problem, customers can use any of these channels to contact Unbounce's support team.
If it's brainstorming you require, you can get in touch with marketers from around the world through the Unbounce Community. Here, you can discuss ideas, ask questions, and share your experiences.
Additionally, there's a complete knowledge base available to you in the form of their Help Center, where you can read step-by-step articles to create, optimize, and publish landing pages. The company also offers coaching at the Enterprise level.
Winner: Unbounce. Unbounce is much more accessible than Instapage when it comes to customer support and uses several methods to connect with the customers.
Bottom line
Instapage and Unbounce both are top-of-the-line page builders that are well-reputed in the digital industry. Both platforms are fiercely competitive, and a lot depends on the personal preference of individual users when choosing between the two software.
However, to conclude our comparison, we've seen both are equally good in most categories. Intsapage won the features category over Unbounce, but Unbounce left Instapage behind in two with a more affordable pricing plan and better customer support. That's why Unbounce is the winner today.
Frequently Asked Questions (FAQs)
1. What is the Landing Page Conversion rate?
By definition, the conversion rate refers to the percentage of users that take the desired action on your page, for instance, subscribe to a newsletter, avail a limited discount offer, or become a member. So, it's the percentage of time the visitors take the action you want them to, called a conversion. 
2. What is Landing Page A/B Testing?
Landing page A/B testing, also called split testing, is a comparison between two versions of a landing page. Both the pages are shown to visitors to gauge which one performs better and has a higher conversion rate. Remember, that the more intuitive design and flow a landing page has, the more efficient it will be.
3. What is Dynamic Keyword Insertion?
Dynamic Keyword Insertion or DKI is a handy feature that allows you to use multiple keywords on your ad and landing page. When a user runs a search query, these keywords replace each other to match a user's query. This way, you can use a single page or ad to include multiple keywords used in search queries.
Related Comparisons