Unbounce vs HubSpot, which software is a better option in 2021?
Read this ultimate Unbounce versus HubSpot comparison to make a smart decision.
Marketing campaigns are not what they used to be. They have become much more focused and strategic, and unless they are compelling enough, the brand they represent will soon disappear into oblivion.
That's what landing pages are used for today: maximum exposure, greater leads, and high conversions. They have become a vital cog in the online marketing machine.
That's why 48% of marketers create unique landing pages for every new marketing campaign they work on.
If you have an online business, you must also dive into the world of landing pages. However, if you're not familiar with them, it'll be good to do some research.
As for what landing page builder to use, we'll guide you about that. So, stay with us as we compare two of the most coveted landing page builders today: Unbounce and HubSpot.
We'll see how both software compare in terms of features, functionality, customizability, pricing, and more.
In a hurry? Here's a quick review of both page builders for you.
Comparison at a Glance
1. Features
Winner: HubSpot. HubSpot offers a more comprehensive feature-set compared to Unbounce.
2. Ease of Use / Customizability
Winner: Unbounce. Unbounce provides greater flexibility of use and freedom for customization than HubSpot.
3. Conversion Tracking Capabilities
Winner: HubSpot. HubSpot provides a far more extensive suite of tracking and analytical abilities than Unbounce.
4. Integrations
Winner: HubSpot. HubSpot offers many integrated functionalities that you may have to buy with Unbounce.
5. Pricing
Winner: Both. Both platforms have different pricing strategies that involve entirely separate sets of values. That's why it's hard to give a fair pricing comparison between the two platforms.
6. Customer Support
Winner: Both. Both platforms are equally accessible by their users.
Short Verdict
Unbounce is a dedicated landing page building software. However, HubSpot is the overall winner because of its tons of integrated features and functionalities you don't get with Unbounce.
Let's get a more detailed perspective now.
1. Features
Let's start by looking at what features we can get with both platforms; if they have any unique features that make them stand out in the market or from each other.
Unbounce Features
Unbounce is a Canadian software company, known for its extremely customizable drag-and-drop builder and highly conversion-focused approach.
In fact, that's how the company presents its product. And to be fair, they do a good job of living up to that impression.
The platform also offers top-quality, well-put-together templates that you can easily customize any way you want. Unbounce makes light work of creating high converting pages and have them up and running in a matter of minutes.
But before we discuss the page building process in more detail, let's have a look at Unbounce's features.
Professionally-designed Templates – Unbounce offers a wide selection of over 100 high-converting and beautifully designed templates plus 240+ Themeforest customizable templates.
Mobile Responsiveness – all the templates are mobile responsive and easily fit any screen size. You can also modify the design and create unique mobile pages to make them stand out from desktop versions.
Highly Customizable Page Editor – easy-to-use and flexible drag and drop editor lets you customize landing page templates to your heart's desire.
Dynamic Text Replacement – this feature automatically modifies the content copy on your ads and landing pages to match a user's query. In this way, it attracts more visitors to the page.
Built-in Lead-Generation Forms – you can create multi-step, complex forms that will help you collect well-defined leads. You can even add checkboxes, radio buttons, and drop-down menus to your forms.
Unique Popups and Sticky Bars – Unbounce lets you create attractive popups and sticky bars using its flexible builder. You can even specify trigger-based actions or scheduled appearances for them.
Page Cloning – you can clone your best landing pages in bulk and save them for use in future campaigns.
Free Unsplash Image Library – Unbounce gives you unlimited access to over 850,000 Unsplash images archived by thousands of professional photographers from all over the globe.
950+ Google Fonts – you can choose and use any font you like from a selection of over 950 Google fonts and make your content stand out from the rest.
Scroll Animation – Unbounce lets you experiment with scroll animation, such as parallax scrolling, that helps create greater visual appeal and adds depth to your pages.
A/B Split Testing – you can run split tests on different landing page variants to see which one performs better and brings in more leads.
WordPress Integration – Since Unbounce directly integrates with WordPress, you can easily sync and publish your pages to a WordPress domain.
Two-Factor Authentication – Unbounce uses a two-step verification procedure for your logins where the users are granted access only after verification of their password and mobile number.
Security Aspects – Unbounce gives you free SSL certificates for your pages. Additionally, all the client and user data collected on the pages is processed in compliance with the General Data Protection Regulations (GDPR).
Unlimited Users – you can add as many users to your Unbounce account as you like with full access to manage your landing pages.
All packages offer:
Popups and sticky bars
Integrated conversion features
Unlimited number of users
Dynamic Text Replacement
WordPress integration
Only higher tiers offer:
Sub-accounts
Accelerated Mobile Pages (AMPs)
Marketo and SalesForce integrations
Launch scheduling and page redirects
Migration Services
What you don't get with Unbounce:
Unbounce is pricier than many other landing page builders out there, which makes it a bit prohibitively expensive for small businesses or entrepreneurs.
HubSpot Features
A comprehensive sales, marketing, and customer service software, HubSpot taps into an extensive network of apps and solutions and takes care of complete user experience for you.
Sure, you can build landing pages, even entire websites, but you can also automate your marketing, sales, and customer support processes, all within a single platform. HubSpot is a web-based solution, and you can easily access it on any device you're using.
But let's first get a closer look at HubSpot's features profile. HubSpot supports many functionalities outside of landing page creation and optimization.
Here, we're mainly going to focus on the landing page related features and then just quickly touch upon other aspects of the platform.
Landing Page Templates – HubSpot gives you access to some simple, built-in templates as well as a large marketplace of beautifully designed templates. You can also purchase bundled template offers for a series of projects.
Content Editor – easy-to-use and intuitive content editor makes it simple to personalize your pages with minimal effort.
Smart Content – with this feature, your pages will display different versions of the same content depending on specific viewer criteria, such as region, language, search history, etc.
A/B Testing – you can evaluate landing pages as well as different page elements for their best version and design by running A/B tests on them.
SEO Recommendations – SEO optimization tools help with best content practice recommendations and show you how content performs.
Social Media Tools – schedule, publish, monitor, and analyze updates across all the major social media platforms, including Facebook, Instagram, LinkedIn, YouTube, and Twitter.
Custom CTAs – You can create and store customized call-to-action buttons and even add smart personalization to them and run them through A/B tests.
Custom Forms – create and store custom-made forms with a pop-up as well as embedded functionalities. You can also add reCAPTCHA, checkboxes, drop-downs, or radio buttons to them.
Analytics and Reporting – get access to a vast library of analytical and reporting tools to measure page views, lead generation, conversions, ad impressions, campaign costs, and many more.
Buyer Persona – the platform also helps you create a buyer persona to make you better understand your target customer. You cant to know their habits, limitations, and other specifics and achieve alignment across all marketing efforts.
Team Organization – you can organize your teams in different groups based on region, brand, roles, etc., and only give them permission to access and edit the content that is relevant to them.
Security Options – HubSpot uses two-factor authentication as well as backup codes to provide added security to your accounts.
Page Backup – the platform automatically saves different versions of your pages throughout your progress and allows you to restore your page to a previous version.
Data Groups – you can define different groups to organize and monitor your data more efficiently. Some of the predefined groups are contact information, conversion information, email information, social media information, etc.
All tiers offer:
CRM features
Contact Management, Ad Management & Retargeting
List Segmentation
Conversational bots
Email Marketing
Only higher tiers offer:
Marketing Automation
Smart Content
SEO & Content Strategy
Social Media Integration
A/B Testing and CTAs
Traffic and Conversion Analytics
Team Organization
Adaptive Testing (Ai-powered A/B Testing)
What you don't get with HubSpot:
Affordability is something of an issue when it comes to HubSpot packages. Being an all-in-one software, HubSpot offers different kinds of functionalities targeted at different target markets.
That's why the pricing is pretty high. Although the Marketing Starter plan only comes for $50, it doesn't offer everything you would need in a full-fledged package.
The other thing that may be an issue for some is that the platform requires several manual configurations depending on your own specific requirements. But that's to be expected if you're looking for a tailored solution.
Winner: HubSpot. Both platforms share many similar features, but HubSpot gets ahead with features like buyer persona, team organization, and a comprehensive analytical suite.
2. Ease of Use / Customizability
After features, we move on to the user-friendliness of the two software. The easier it is to use the software interface, the better. So, let's compare both products and see which one wins out.
Unbounce
You will hardly find any other page builder that gives you more creative freedom and greater customizability than Unbounce.
The smooth and flexible page builder allows you to modify the layout of the selected templates and drag new items to any position you want.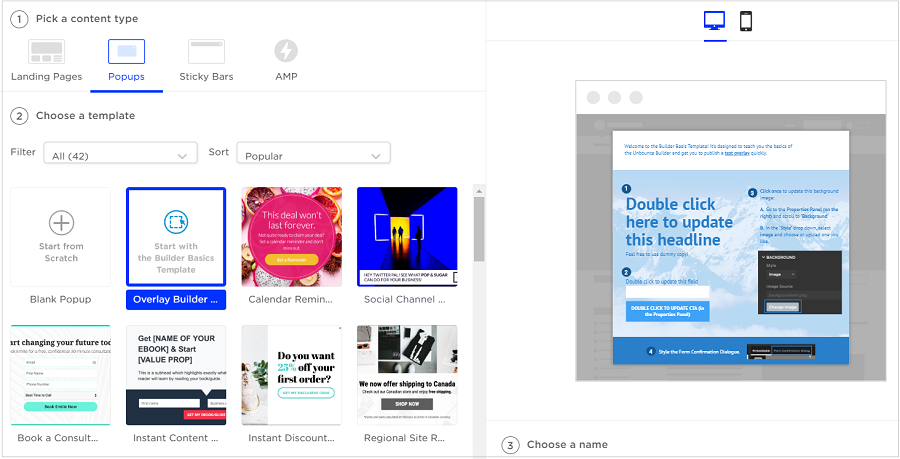 You don't have any strict gridlines. You are even free to ignore the suggestions of the builder, which it generates to help you align different elements properly. You can be as eclectic as you fancy.
You can choose to select a blank page or a desktop template version and even an AMP. Let's suppose you chose a desktop template.
You can easily change the text font, color, size, or background. You can add images, videos, widgets, or animations.
Unbounce gives you free access to the Unsplash Image library that contains a massive collection of high-resolution, professional-grade photos. You can rest assured what you can't put in words; you will find an image to describe that.
You can create multi-step forms with custom fields and even add radio buttons, checkboxes, and drop-down menus to them, as need be.
If you want to add custom codes, you can also do that. Unbounce lets you write HTML or Javascript code. You can also add your own Stylesheets.
Once your page is finalized, it's time to create variants with a few modifications here and there. You can do that simply by clicking on the 'Variant A' tab on the top of the page builder.
When the drop-down menu appears, click on "Create Duplicate of Variant A", and there you have it.
When you have created multiple variants of your page, next, you'll run A/B tests on them and see which one performs best of all versions. And that'll be your final landing page.
Unbounce automatically creates mobile versions of your pages which you can further customize as well. So you have full control over how you want your landing pages to appear on a mobile device.
Companies also create AMPs or Accelerated Mobile Pages for mobile users. The AMP route does put some restrictions on you like you can't create global scripts, variants, and even popups and sticky bars.
That's because these are lighter versions of your desktop pages and carry limited HTML, CSS, or Javascript coding. That's what gives them their lightning-fast speed.
You also can't run A/B tests on these pages. Similarly, dynamic text replacement and external conversion tracking are also out of the picture.
So maybe only go for this option when you've experimented with the desktop pages enough to know what is the optimal layout for you.
HubSpot
After signing in to your HubSpot account, you land straight on to your marketing dashboard. The first thing that hits you is the detail of it.
HubSpot probably has the most comprehensive dashboard that quickly gives you a look at all the goings-on of your projects such as landing page views, blog post views, email, and contact statistics, etc.
You can switch to other dashboards as well. The predefined dashboards include marketing, sales, service, and web analytics dashboards.
Furthermore, you can also create custom dashboards. For instance, you can dedicate a dashboard to landing pages alone.
While creating your landing pages, you can either choose from built-in templates. These are pretty straight-forward, and there are only a few of them.
You can also buy templates from the 'Asset Marketplace', where you have access to hundreds of professionally and aesthetically designed templates. You can also find some free versions to practice your page building skills and launch initial projects.
That's where the content editor comes in. It's relatively simple in functionality and easy to use. Many templates don't allow a change in the layout except for editing fonts, colors, images, backgrounds, or adding forms.
But for most, you can drag different items on to the page. The editor is nowhere as flexible as that of Unbounce. You can't drag around objects on the page. You can't put them side by side if they're not already in that order.
The only way you can move page elements is up, down, right, and left. You can, however, create new items on the page, such as rich text, image gallery, follow-me tabs, forms, page footer, etc.
You can also create custom forms, call to actions, and add a limited variety of widgets. You have the option to create dynamic forms to collect more targeted insights on your pages.
You can specify your page settings, SEO optimization options as well as publishing schedule inside the editor itself. You'll find the access tabs just below the top menu.
All the pages are automatically mobile and tablet-optimized, and you can preview these versions in the preview mode.
When your first landing page is complete, you can create A/B variants by simply going to your landing pages dashboard and hovering your cursor over the page listing you want to create variants of.
As soon as your mouse moves over it, three different tabs will spring into existence labeled Edit, Clone, and More. Click on the drop-down menu next to 'More,' where you'll find the tabs, 'Create A/B Variant," as well as 'Create Multi-language variations.'
You can make adjustments and improvements to these variants and then run them through an A/B test to pick out the best version for conversions. You can test two pages at a time; the traffic will be divided 50/50 between the two variants.
You can also run five different variants for the adaptive test, the most successful of which will be shown the most often to the visitors.
You can run both these tests directly from inside the content editor. The "Run a test" tab is located towards the top left corner of the screen.
You can even run A/B tests on different variations of your call-to-action buttons, images, videos, headlines, etc. to see which one works the best.
If everything goes well and you're happy with the results, you can then clone the final version of your landing page for use in future campaigns.
Under the setting tabs, inside the editor, you also have the option to add custom HTML code or attach Stylesheets.
You can set up tens of kinds of notifications for your page. The access to the Notifications Settings is from the top menu on the main dashboard. Just click on the clog shaped icon and then click on the Notifications tab down the left-side panel on the page that appears.
You can set up any number of alerts, including page visits, new comments, error alerts, follow-ups, replies, general-purpose notifications, etc.
You can also set up notifications for team members, for instance, to alert them to a new task or project.
You can also draft custom emails for follow-up with contacts, run A/B tests on different email versions, and set up notifications.
Additionally, you can create ads on different social platforms, including Facebook, Instagram, LinkedIn, and Google, and start promoting your page instantly.
Overall, the interface is quite user-friendly. There's nothing complicated about it. There are, however, a lot of settings to be done as you have an all-in-one solution, but nothing that'll break you in a sweat.
Winner: Unbounce. Unbounce has a lot more flexible visual editor, which gives users a far better ability to make customizations to their pages, whereas with HubSpot, page layouts are somewhat rigid.
3. Conversion Tracking Capabilities
Since the sole purpose of a landing page is to drive-in conversions, there's no point in starting with them in the first place if you can't track the performance of your landing pages.
So let's see how the two platforms stack up in this area.
Unbounce
Unbounce offers many conversion features through template design, page elements, tracking features, and analytics.
For starters, every single element on the templates is there to boost conversions. Then you can add many little widgets to keep customers on the page such as popups, sticky bars, and animations.
You can also create a sense of urgency using countdown timers.
You can use Dynamic Text Replacement utility as well, which automatically changes the content copy on your ads and landing pages to match the keywords in a user's search query.
This feature may sound like a gimmick for those who haven't used it. But in fact, it works wonders in driving more traffic to your pages.
For tracking purposes, you can use integrations like Google Analytics, Google Tag Manager, Google Ads, Kissmetrics, Geckoboard, FullStory, Formisimo, and many others.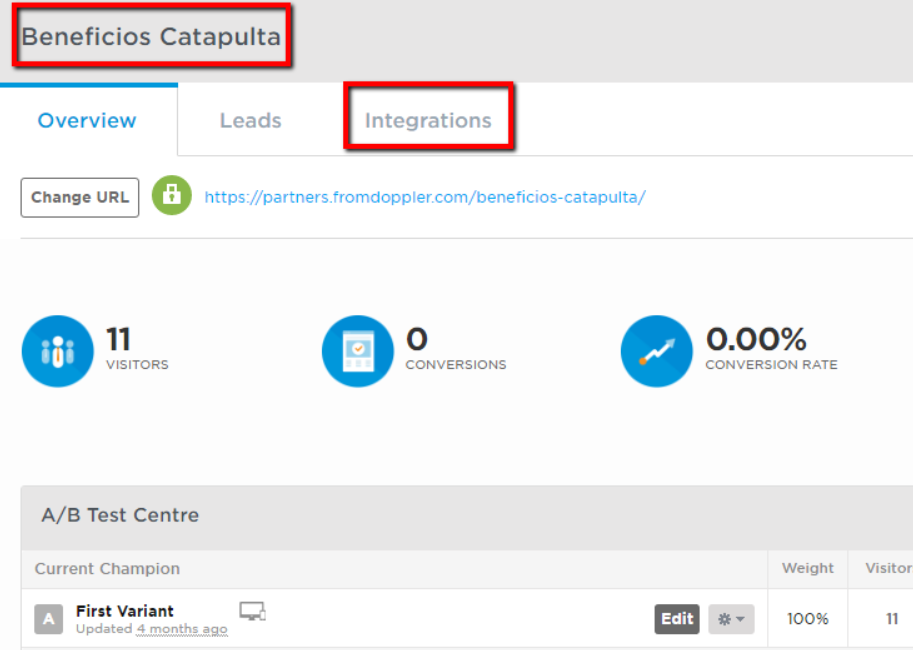 Unbounce has recently introduced the beta version for a new Ai tool, Smart Traffic™. It automatically sorts the visitors and sends them to your landing page variants that match up the most with their queries.
This way, every page gets the most relevant traffic, which in turn boosts their chances for conversions.
If the tool is as useful as the company claims, it'll be a hell of an addition to Unbounce's feature-set.
HubSpot
HubSpot offers a number of analytical tools right on its dashboard where you can analyze the performance of your landing pages, marketing campaigns – such as email marketing, and any other projects that you have going on.
You can examine what pages are attracting the most traffic, generating the most leads and prospects. You can also view your campaign and contact analytics.
You can assess the performance of your social media ad campaigns and see what ads are turning visitors into customers. You can also track your content performance, receive SEO recommendations for the best time to publish your ads to social media, and reach the right audience. The tool works automatically to show relevant content, images, and CTAs to visitors based on previous engagement statistics.
You can set up email tracking using Chrome extension, Office 365, and Outlook. Furthermore, you have access to various other tracking apps, such as Automation, Map My Customers, Databox, Lucky Orange, Supermetrics, AgencyAnalytics, and many more.
You can also integrate HubSpot's CRM tools with other CRM software like Jira Cloud for CRM, ChurnZero, Attribution, Versium REACH, etc.
Winner: HubSpot. Both platforms support some cool features. However, HubSpot offers far more comprehensive tracking and analytics compared to Unbounce.
4. Integrations
Integrations play a key role in helping you make sense of the data and processes that follow a marketing campaign.
We use apps and tools to communicate the marketing intelligence between various platforms and make further use of it. That's why the software that provides a bigger set of integrations will also be the preferred choice for marketers.
Unbounce
Unbounce gives you access to a wide selection of integrations, including in-app and third-party integrations.
You can also connect to a ton of additional apps and tools via Zapier and Webhooks, and easily set up any process under the following categories:
Utilities
CRM
Chat
Social Media
Email Marketing
Marketing Automation
Customer Support
Call Tracking
Education
Analytics
Webinars
Optimization/ Testing
HubSpot
HubSpot is a comprehensive all-in-one software that connects you to over four hundred free and paid integrations in a variety of categories, such as:
Marketing
Sales
Customer success
Productivity
And Finance
You can seamlessly integrate with any app and share data across different platforms, projects, or teams.
You get access to thousands more apps, tools, and services via Zapier. You can easily find an app to get anything done, no matter the size or scale of the job.
Winner: HubSpot. HubSpot is a comprehensive software which is why it offers many integrated apps and tools that you may have to buy with Unbounce, like CMS. That's why HubSpot wins this category.
5. Pricing
Let's compare both Unbounce and HubSpot on their pricing plans and see which one gives you more bang for your buck.
Unbounce Pricing
As you probably would have guessed, Unbounce tilts more on the pricier side of platforms out there.
Essential, Premium, and Enterprise are the three tiers of coverage from Unbounce. On a monthly basis, you'll be paying:
$99 per month for Essential – 75 landing pages and 8 popups & sticky bars
$199 per month for Premium – 150 landing pages and 16 popups & sticky bars
$499+ per month for Enterprise – 375+ landing pages and 40+ popups & sticky bars
If you plan on using the page builder for the long term, you can also go for an annual subscription and save 20% off the monthly charges.
HubSpot Pricing
HubSpot offers several packages and pricing plans targeted at different types of customers. Here, we are only going to talk about marketing plans.
HubSpot has three different packages in this category, out of which the first one, called Starter plan only costs $50 per month. But you cannot create landing pages using this plan.
For that, you'll have to get the HubSpot CMS plan for $300 per month that includes everything you need to create compelling landing pages. Or you can go for the Starter + HubSpot CMS plan, which also covers integrated marketing support.
If you think this is steep, the next suite, called Professional plan, comes for $800 per month and includes marketing automation, smart content, SEO Optimization, A/B testing, and traffic and conversion tracking.
If you're an enterprise requiring to run larger projects involving many teams, brands, and multi-touch revenue attribution and analytics as well as features like CMS membership and adaptive testing, you're looking at a $3,200 per month.
You can also create custom bundles to suit your needs, which makes the pricing much more scalable for you, but in any case, you're looking to shed a few hundred bucks every month.
Winner: Both. Unbounce is a lot more affordable compared to HubSpot. On the other hand, there's no comparison between the kind of value you get from both platforms. Therefore, we can't pick any one software as the winner in this category.
6. Customer Support
Of course, customers' opinions can make or break a brand, and their opinion is directly affected by the technical support extended by a company, even more so in the service industry where customer engagement is crucial.
Therefore, an excellent customer service is a great tool to engage with customers and shape their perceptions favorably.
Let's see how focused both Unbounce and HubSpot are when it comes to support services.
Unbounce
Unbounce is one of the very few platforms that offer all three support channels to their users, i.e., phone calls, emails, and live chat.
Customers love the 'phone call' option as it makes them confident to know that help is just a call away.
However, live chat is even more favored by the modern customer as it is quick and readily accessible and doesn't involve the long wait on calls.
It is also cost-effective for the service provider, so really, it's a win-win solution for both parties.
You can also learn the step by step process of page creation and conversion optimization at the Online Knowledge Center of the company.
You can connect to many successful marketers at the Unbounce Community Forum and receive valuable advice.
Finally, Unbounce also offers one-on-one coaching for Enterprise users.
It seems that Unbounce has really thought through its customer support system and taken care of all the significant aspects.
HubSpot
HubSpot provides phone and email support to all its paying customers. Alternatively, you can submit a ticket online or connect with the support department via Twitter.
The company usually responds to tickets within one working day. For more personalized help, Technical Consulting is also available for paying customers.
Moreover, you can access HubSpot's complete Knowledge Database either on their website or through in-app support. You can run a search query and find a solution to most of your problems.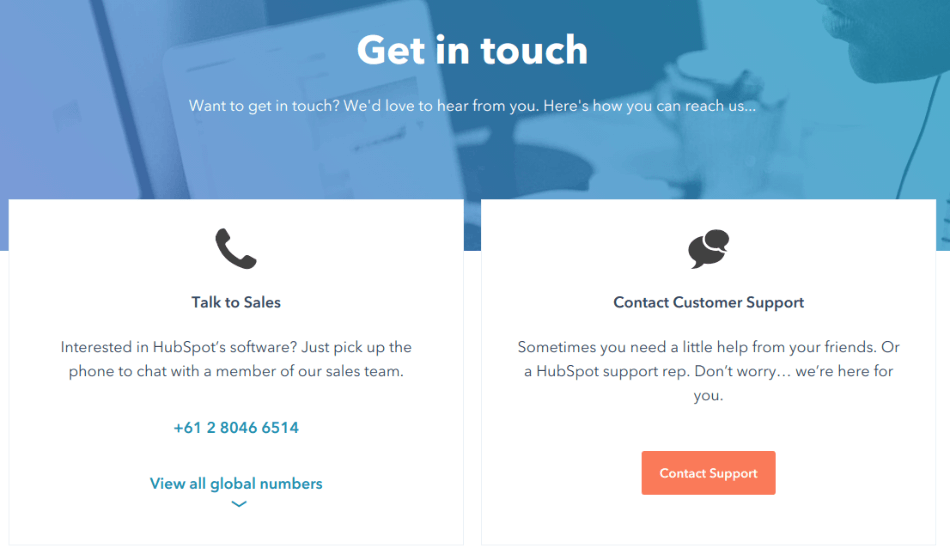 You can also get in touch with the HubSpot Community at their Customer Forum to exchange ideas or advice.
Other resources include the company's blog, customer stories, Ebooks, online guides, and research & reports. You can also register for free courses and certifications if you want to get a thorough understanding of the software from the get-go.
HubSpot supports one of the most extensive knowledge bases for its customers and provides many contact points for customers in need of help.
Winner: Both. Unbounce offers live chat support, whereas HubSpot offers support through Twitter and an extremely extensive knowledge base.
Although Unbounce is more hands-on with live chat, HubSpot is also very accessible in other ways. That's why this category is a tie.
Bottom Line
Both platforms are pretty comprehensive in their own right. However, HubSpot is an all-in-one software and naturally offers many different integrated features that you don't get with Unbounce because it's solely a landing page builder.
For that reason, HubSpot wins this comparison. However, the two platforms will attract very different users. Users that are simply looking to get a top-ranking, highly customizable and conversion-focused landing page builder, will find a great deal with Unbounce.
But if you're someone who wants everything incorporated into a single package with landing pages, websites, and many of your marketing, sales, and CRM processes automated, then HubSpot is a better option for you.
Related Comparisons